Amanda Phegley, a 6-4 MB from Berkeley Preparatory School (where her Penn State teammate-to-be, Jenna Hampton, is also enrolled) signed on November 8, 2017 to play for the Penn State Women's Volleyball team, starting in the 2018 season.  Here's the link to the video of the 2017 Signing Day Ceremony at Berkeley Prep, which is also Amanda's High School. And below is a photo from that event. Amanda is in the first row, far right.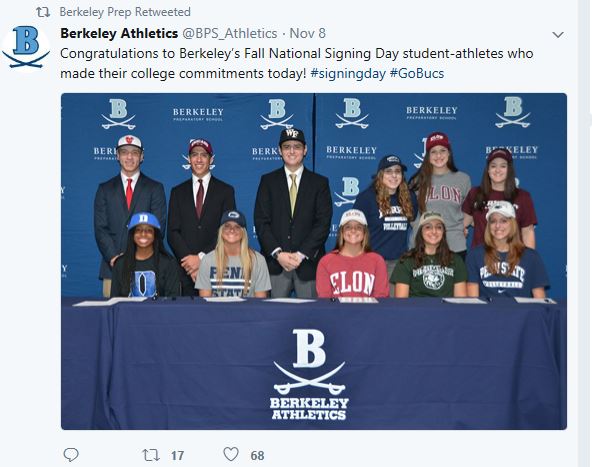 Amanda enjoyed great success during her high school career, highlighted — at least on a national stage — when she was honored in 2018 by PrepVolleyball.com as the #56 2018 PrepVolleyball.com Senior Ace, and was listed on VolleyballMag.com's 2018 Fab 50 list.  (VolleyballMag.com ranked fellow Penn State recruits Kaitlyn Hord , Jonni Parker, and Serena Gray #4, #5 and #6, respectively, while Gabby Blossom and Jenna Hampton — also members of Penn State's great 2018 recruiting class — also made VolleyballMag.com's list!)
From a Florida/Tampa Bay perspective, the highlight of Amanda's career probably came on November 16, 2017, when her high school — Berkeley Prep — won it's 16th state volleyball championship in a grueling five-set match (24-26, 25-21, 25-17, 23-25, 15-10) against Orlando Lake Highland Prep in the Class 5A state final at the University of North Florida.   Here's an excerpt about the match from The Tampa Bay Times:
"There was excitement and relief," said senior outside hitter Jenna Hampton, who ended the match with 11 kills. "Lake Highland is a very good team and we knew that. They really challenged us."

Lake Highland Prep won the first set, but Berkeley Prep rallied to win the next two. The Highlanders (24-3) battled back to win the fourth and set up the decisive fifth set.

"I knew they were tired, their brains were getting fatigued," Berkeley Prep coach Mackenzie Dagostino said. "But we had to push. We had to find every ounce of energy left, whether it's in your toes, your fingers, your head, the tips of your hair. Find the energy and we will win this."

And they did.

The Bucs (27-2) jumped out to a 7-3 lead and managed to stay on top. Whenever they need a big point, Hampton, Amanda Phegley (12 kills) or Kellyn Trowse (17 kills) was there to deliver. The lead shrunk to 13-9, but two Lake Highland errors allowed the Bucs to finish it off.
For the complete article from The Tampa Bay Times, Click Here.
Statistics
Here are selected stats for Amanda for the 2017-2018 and 2016-17 seasons, courtesy of MaxPreps.  For complete stats for Amanda Phegley from MaxPreps, Click Here.


Credits
Photo of Amanda Phegley and teammates, courtesy of The Tampa Bay Times.