[Updated 5-19-18]
Gabby Blossom and Team West Fall Short at 2017 Under Armour All-America Volleyball Match
Gabby Blossom, who has signed with Penn State for the 2018 season and was the #28-ranked 2018 Senior Ace for PrepVolleyball.com, was the starting setter for Team West in the 2017 Under Armour All-America Volleyball Match, which was held on December 15, 2017 at the Sprint Center in Kansas City, Mo.
Here's a link to the Rosters for Team West and Team East (2018 commit Jonni Parker, 6-1 RS/Setter, played for Team East):
After dropping the first two sets 25-19 and 25-21, Team West fought back to take sets 3 and 4 (23-25, 22-25), before falling short in the 5th set 15-12. Here's the link to FloVolleyball's 2017 Under Armour All-America Volleyball Match Video HighlightsAnd here's a and a link to the AVCA's full write-up on the match.  Below is the box score for Team West: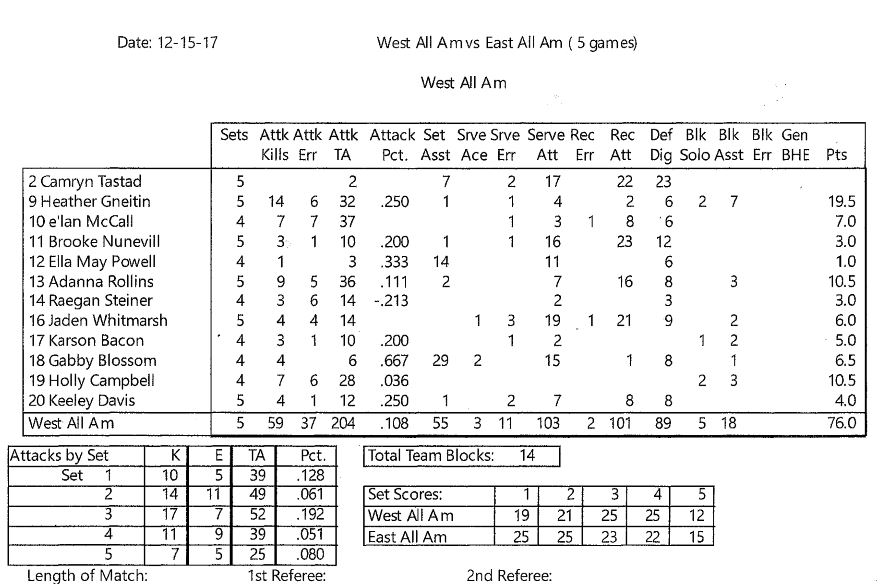 Gabby Blossom: Missouri Gatorade Player of the Year
By Joe Harris | Special to STLhighschoolsports.com Dec. 10, 2017
It was only after that elusive state championship trophy was firmly in her grasp did St. Joseph's senior Gabby Blossom reluctantly admit she felt a little pain.

Less than 24 hours earlier in Class 4 girls state volleyball pool play against St. Teresa's, Blossom crashed into the media table chasing after a ball. The crash rang throughout a temporarily hushed Show Me Center in Cape Girardeau as the St. Joseph's faithful held its breath while Blossom, the team's standout setter and team leader, picked herself off the floor.

"The adrenaline kicks in," Blossom said moments after winning the state championship with her leg wrapped in ice. "It's the state championship your senior year. It's what you work four years for."

Blossom finished the semifinal match with a noticeable dent in her leg as St. Joseph's clinched a spot in the championship match the following night against Ozark.

Still, the question of how she would come back 24 hours later remained. Would she be able to move as well? Would any limitations affect the Angels' well-oiled attack?

Blossom, the Post-Dispatch All-Metro girls volleyball player of the year, wasted no time answering those questions, racking up 20 assists to lead St. Joseph's to a convincing 25-20, 25-13 sweep of Ozark to claim its ninth state championship. It is the most state titles in Class 4 and is second only to Hermann (12), Incarnate Word (11) and Borgia (10) for most state titles in Missouri history.
For the complete article, Click Here.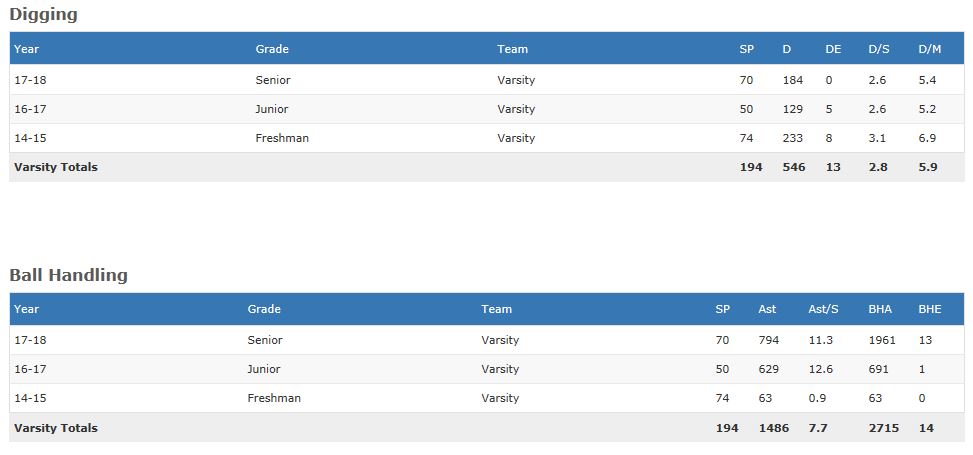 2018 Setter Verbals to Penn State
Gabby Blossom, a 5-9 rising So. Setter at St. Joseph's Academy in St. Louis, Missouri, has verbally committed to play for the Penn State Women's Volleyball team, starting in 2018.  PrepVolleyball.com noted that Gabby, "[a] natural setter, . . . played out of position as a right-side to lead the Angels to a 26-9 record. She was the team's 3rd leading blocker with 68, passed a 2.3 as a primary passer, and posted 268 digs and 50 kills. 'She did a great job of blocking and played good defense,' said coach Karen Davis, 'She is very composed, especially for a freshman.'"
So proud of this girl on her commitment to Penn State! Living her dream. #Big10#nittanylionspic.twitter.com/ss24KoWnOD

— Jay Blossom (@wgbasketball) August 11, 2015
Video of Gabby from the 2014 Nationals