Jonni Parker, a 6-1 RS/S from Miami East High School in Casstown, Ohio, and the Munciana Volleyball club, signed on November 8, 2017 to play for the Penn State Women's Volleyball team, starting in the 2018 season.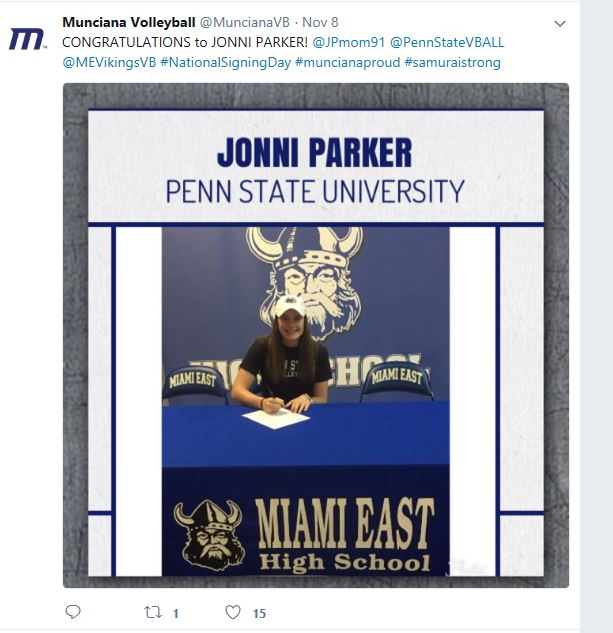 Jonni earned plenty of praise and numerous awards throughout her high school career, highlighted when she was honored in 2018 by PrepVolleyball.com as the #14 2018 PrepVolleyball.com Senior Ace, was a 2017 Under Armour All American, and was ranked #5 on VolleyballMag.com's 2018 Fab 50 list.  (VolleyballMag.com ranked fellow Penn State recruits Kaitlyn Hord and Serena Gray #4 and #6, respectively, while Gabby Blossom, Jenna Hampton and Amanda Phegley — also members of Penn State's great 2018 recruiting class — also made VolleyballMag.com's list!) Parker also was named as Ohio's Gatorade State High School Volleyball Player of the Year.
Welcome Jonni!
Below are articles and videos on Jonni Parker:
Miami East senior Jonni Parker led the 2017 Viking squad with 449 kills and 315 assists, but perhaps the most impressive line item on her stats sheet is the 153 aces; that mark ranks her fifth in state history for aces in a single season, according to the Ohio High School Athletic Association website.

Last year, as a junior, in the process of leading Miami East to a Division III state title, Parker racked up 161 aces, which ranks fourth in the Ohio High School Volleyball record books.
For the complete article by FloVolleyball.tv, Click Here.
Jonni Parker and Team East Triumph at 2017 Under Armour All-America Volleyball Match
Jonni Parker, the #14 2018 PrepVolleyball.com Senior Ace, played for victorious Team East in the 2017 Under Armour All-America Volleyball Match, which was held on December 15, 2017 at the Sprint Center in Kansas City, Mo.
Here's a link to the Rosters for Team West and Team East (2018 commit Gabi Blossom, 5-10 Setter, played for Team West).
After taking the first two sets 25-19 and 25-21, Team East dropped sets 3 and 4 (23-25, 22-25), before prevailing in the 5th set 15-12. Here's the link to FloVolleyball's 2017 Under Armour All-America Volleyball Match Video Highlights. And here's a and a link to the AVCA's full write-up on the match. Below is the box score for Team East: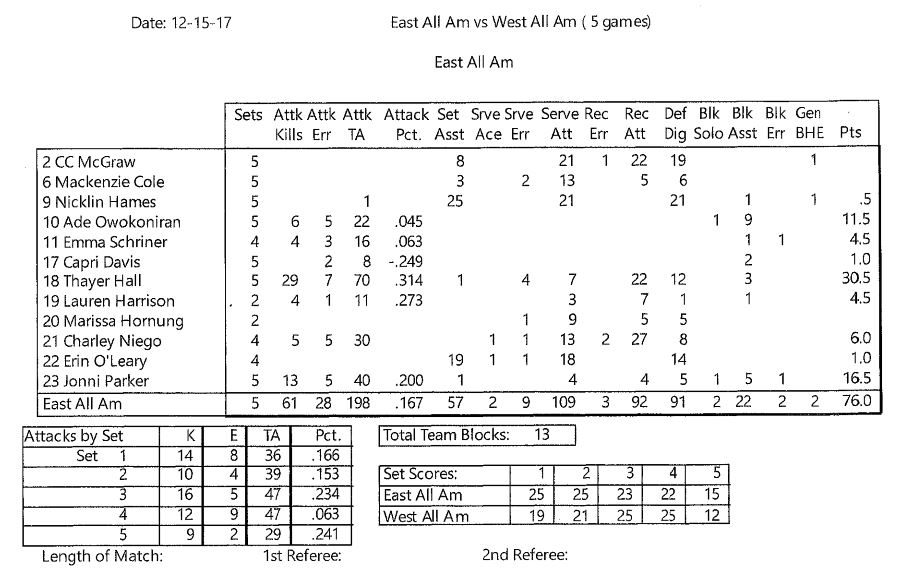 October 24, 2017, FloVolleyball Staff
Everything you need to know about Jonni Parker can be gleaned from a single play she made during Ohio's Division III high school state championship last year.

Jonni's team, the Miami East Vikings, had won the first two sets of the match before their opponent, the Tuscarawas Valley Trojans, stormed back to win the next two. The Vikings responded valiantly in the fifth set and were three points away from winning their first state title since 2012 when a bad pass by one of Jonni's teammates appeared to be heading out of bounds on their side of the court.

"The ball was going to a spot where I didn't think anyone could get to it," Miami East's second-year head coach Dan Peterson said. "Then Jonni comes out of nowhere."

Sliding on one knee with her back to the net, Parker hurled her 6-foot-1 body across the floor and managed to whip the ball over the net before landing on her back. It was an incredible display of hustle and skill.

But Jonni wasn't finished. In less than a second she got back on her feet and sprinted toward the net. She arrived just in time to make a point-winning and momentum-sustaining block.
For the complete article on FloVolleyball.tv, Click Here.
Here's video of her making the play described in the FloVolleyball.tv article, which MaxPreps described as the "Volleyball Play of the Year":
A Girl Named Jonni
by Greg Billing, PressProMagazine, July 24, 2017
Just like her dominating serve on the volleyball court, the last 12 months have been a smashing success for Miami East High School senior Jonni Parker.

There was a Division III high school state championship last November. A verbal commitment to seven-time NCAA champion Penn State University this past winter. A few weeks ago she won an AAU national championship with her 18-Open Munciana Samurai club team. A runner-up finish in the world championship followed. And she even experienced a few minutes of fame after MaxPreps.com named awarded her its Play of the Year after a hustling, body-throwing, shot-blocking effort to win a point in the Vikings' state title game.

Parker has had much to smile about, including that serve her coach says "scares to death about 90 percent of the teams in the state."
For the complete article on PressProMagazine, Click Here.
The 6-foot-1 senior setter and right-side hitter recorded 449 kills, 315 assists and 153 service aces this past season, leading the Vikings (24-4) to the Division III state quarterfinals. Parker also collected 129 digs and 70 blocks while posting a kill percentage of .567 and a hitting percentage of .467. An American Volleyball Coaches Association First Team All-American selection, Parker is a three-time First Team Division III All-State honoree. She concluded her prep volleyball career with 1,697 kills and 505 service aces.
For the complete write-up on Jonni Parker's award as Ohio Gatorade Player of the Year, Click Here
2015 Highlight Video
And here's a video of Jonni from 2015:
Credits