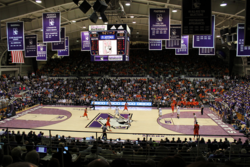 About Last Night
Following Penn State's 3-2 loss (18-25, 25-23, 24-26, 25-17, 12-15) to Northwestern (11-6, 3-3) Saturday evening in Welsh-Ryan Arena Saturday, many Penn State fans are wondering what has happened to this year's Nittany Lion team.  Particularly given 6-2 OH Megan Courtney's end-of-match injury — and no, we don't know her status.  (Best wishes go out to Megan and her family for a speedy recovery.)
But to put things in perspective, the Nittany Lions are still 15-2 on the season — 4-2 in the B1G.  Not what they would have wanted, but not bad in a conference as tough as the B1G is this season.  We're certain Penn State Head Coach Russ Rose wants to win them all, and hates to lose, but he also realizes that every team brings their "A" game against Penn State.  Just listen to Northwestern head coach Keylor Chan after the match:
I thought we hit the best we've hit all year.  You have to challenge the block, you have to take risks, and if they block you, so be it. This team is searching for a level of confidence and an identity and I've been talking about the process and how much work we have to put through that, and we don't want the wins and losses to define us.
Interestingly, Coach Rose made the same point about what defines a player and a team after last weekend's win over Iowa:
I told the players earlier today, losing, or your statistics, don't really define you.  They're just an indication of how you played.  How you bounce back from defeat or challenges is how people will define you and you can define yourselves.
How will Penn State respond to the loss to Northwestern?  Regardless of whether Courtney is available to play, we think the Nittany Lions will respond well against Indiana and Purdue next weekend.  It wouldn't be the first time Penn State has suffered a setback and come back even stronger.  One doesn't need to look back any farther than October 2010, when the Nittany Lions suffered back-to-back losses to Indiana and Purdue, on the road.  Here's an excerpt from our write-up ("Lost Weekend: Purdue and Indiana Drop Nittany Lions") following those matches:
It was that kind of weekend for the Penn State Women's Volleyball team — even GameTracker broke down, getting stuck in the third set of the Indiana match Saturday night, with Penn State leading 20-16.

GameTracker's message? Stop right here, this isn't going to end well.

And it didn't.  At least not for Penn State.

After dropping a 3-2 decision to Purdue on Friday night (25-21, 25-18, 16-25, 18-25, 11-15) — the first time Purdue had defeated Penn State since 1987 — the Nittany Lions went on to lose the match to Indiana, 3-1 (19-25, 25-27, 25-18, 24-26).  It was another streak-breaker, as the Hoosiers, after 40 consecutive losses to Penn State, won for the first ever in a series that started in 1982.
We seem to recall that 2010 season turned out OK.  Not that we're predicting another NCAA Championship this season.  May happen.  May not.  But alot can change — both good and bad — between now and December.
This is a very young team — six freshman/sophomores, and only three seniors, among the top ten players.  We're looking forward to seeing whether the Nittany Lions accept the challenge, and how they bounce back.  It's why they play the games.
Match Recap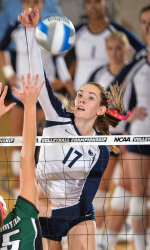 Once again, Sr. OH Megan Courtney was the standout player for Penn State, totaling 14 kills and 23 digs.  6-1 So. OH Simone Lee also registered 14 kills (a career high) to go with 4 blocks.  6-4 RS Sr. MB/RS Aiyana Whitney tallied 13 kills and 5 blocks, while 6-3 So. MB Haleigh Washington ended with 9 kills (.368 attack %) with a team-high 8 blocks.
RS Fr. setter Bryanna Weiskircher collected 43 assists and 17 digs (her fifth consecutive double-double this year), while 5-6 Fr. libero Keeton Holcomb totaled 15 digs.
Northwestern's outstanding 6-0 So. setter Taylor Tashima directed the Wildcats with 52 assists and added 10 digs and 7 kills. 6-1 So. Symone Abbott registered 17 kills, while 6-2 Jr. Kayla Morin totaled 15 kills and 14 digs.
Video Recap
(courtesy of Northwestern)
Not sure we agree with commentator's statement that Northwestern "dominated" Penn State, but they won, and won going away in the 5th set.
Match Stats
(Courtesy of GoPSUsports.com)