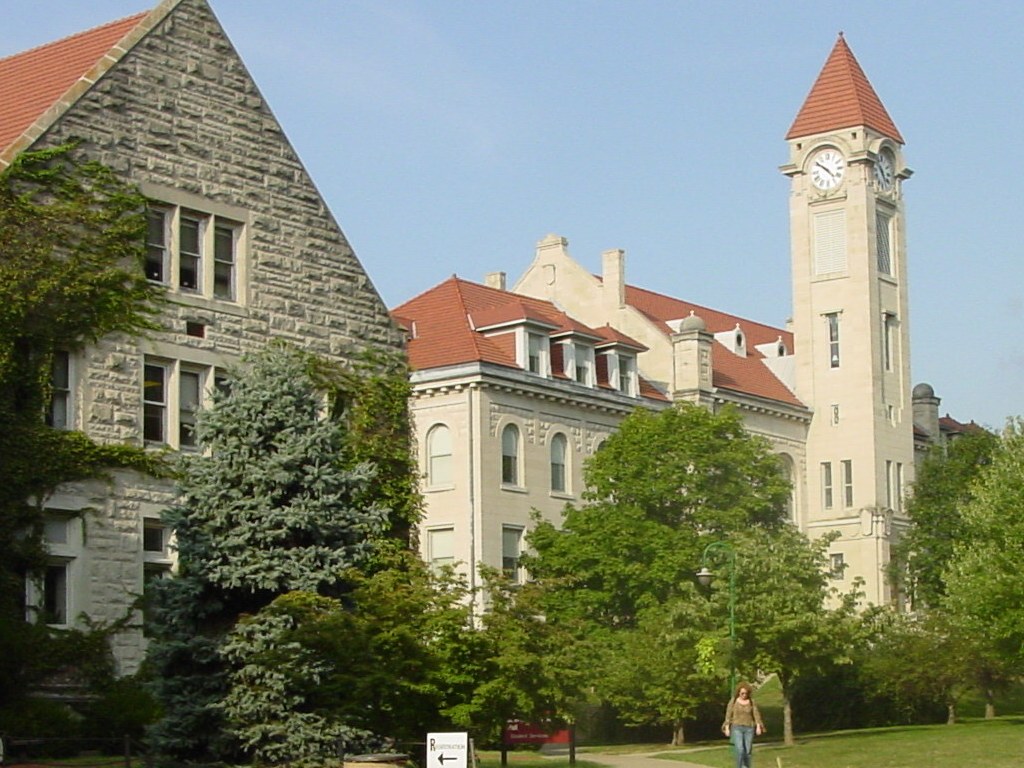 Photo by jdfrens, Wikipedia Commons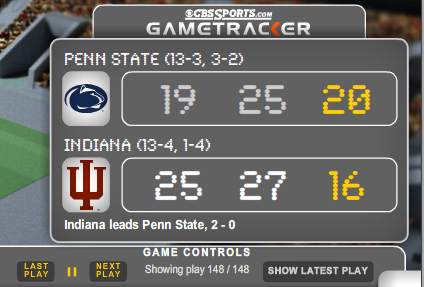 It was that kind of weekend for the Penn State Women's Volleyball team — even GameTracker broke down, getting stuck in the third set of the Indiana match Saturday night, with Penn State leading 20-16.
GameTracker's message? Stop right here, this isn't going to end well.
And it didn't.  At least not for Penn State.
After dropping a 3-2 decision to Purdue on Friday night (25-21, 25-18, 16-25, 18-25, 11-15) — the first time Purdue had defeated Penn State since 1987 — the Nittany Lions went on to lose the match to Indiana, 3-1 (19-25, 25-27, 25-18, 24-26).  It was another streak-breaker, as the Hoosiers, after 40 consecutive losses to Penn State, won for the first ever in a series that started in 1982.
Penn State v. Purdue
We didn't expect a loss to Purdue, but we knew the Boilermakers were talented.  Still, when Penn State jumped off to a 2-0 lead after the first two sets, we were feeling pretty good.  Then someone seemed to let all the air out of the Nittany Lions' balloon, as they dropped the next three sets and the match.   For their Big Ten opponents, it must have been a bit like this Darth Vader balloon deflating:
Many will be tempted to say that Penn State played badly against Purdue (and statistically, it's clear they had a lot more hitting errors, for example, than they do when their game is on – Sr. Opp Blair Brown  had 8).  But from all reports, it's clear this wasn't just about Penn State — Purdue had a big role in the result.  The Boilermakers played great!
A good example is Kristin Arthurs, who reportedly was matched up with Arielle Wilson throughout much of the match, and held Wilson to 5 kills and a .000 attack %! That's a wow, folks.  Arielle doesn't hit .000 for a match.  Ever.  So you have to give a lot of credit to Arthurs and her teammates.   Although we didn't see the match, from most reports, Purdue's block shut down Penn State at critical points, and that played a big part in the Boilermakers' big win.
Purdue held Penn State to a .155 attack %, compared to a .218 attack % for the Boilermakers, and outblocked Penn State 13.0 to 10.0.
We're Penn State fans, so we wish Purdue hadn't chosen this match to play out of their minds.  But they did.  Hats off to the Boilermakers.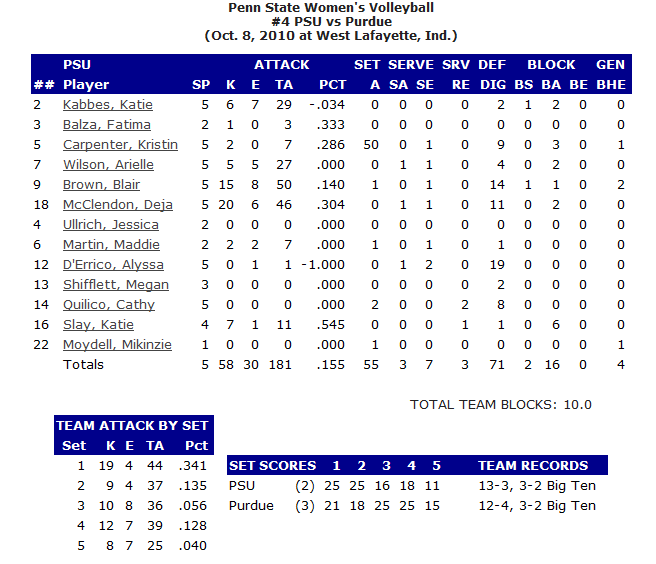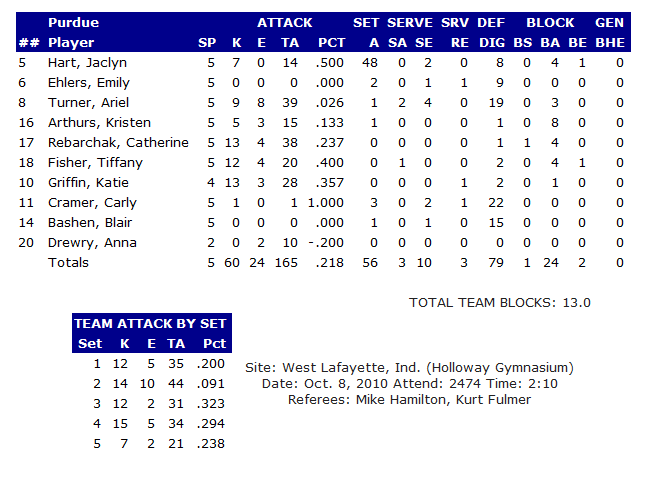 Penn State v. Indiana
Statistically, this match looked better for Penn State — well, except for that troublesome "How Many Sets Did You Win?" category.  In that one, they came up short, 1 to 3.   Senior Opp Blair Brown had 16 kills,  6-3 Sr. MH Arielle Wilson  had 15 (after being held to 5 by Purdue), and 6-1 Fr. OH Deja McClendon  had 14.   The Nittany Lions attack % was .313, compared to Indiana's .254.  Penn State outblocked Indiana 12 to 9.
But as in the Purdue match, Penn State made alot of hitting errors.   Prior to this weekend's matches, Penn State had made 176 hitting errors in 15 matches.  For the weekend, Penn State totaled 50 more — an astonishing 25 per match, compared to 11.73 in the prior 15 matches.   Undoubtedly, some — maybe even most — of that is due to the play of Purdue and Indiana.  But some of it is on the Penn State players.
Below are the statistics.