Part II: The Back Row Players
This is Part II of a two-part series looking at the 17 players, including nine new players, Coach Rose will welcome for the start of pre-season practice on August 7th.  That's a lot of players, which is good news, because Penn State lost 12 players from its 2017 roster. But the sheer number of newcomers also poses a challenge — where does everyone fit in? What's the best system to run to maximize their talent?
We don't have the answers to those questions. But our slacker staff has done considerable research (or so they claim), and they have assembled pieces of information here and there. (We suspect where information was lacking, they made things up used their creativity to "fill in the gaps.")
In Part I, we looked at who might play where on the front row and at setter this season.  In this article, we take a look at the back row players. (Note – the players are listed alphabetically).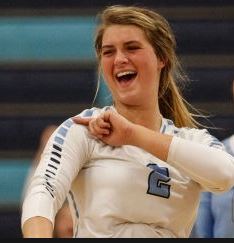 Jenna Hampton had a terrific 2017 season — capped off by being named the #31 PrepVolleyball.com Senior Ace and a member of VolleyballMag.com's 2018 Fab 50 team.  The Tampa Bay Times, which honored her as the 2017 Hillsborough Player of the Year, said that "On a team loaded with talent, and 10 seniors, Hampton stood out. She was a consistent outside hitter who usually converted the big points. She had 224 kills, 44 aces and 344 digs on a team that went 30-2 and won the Class 5A state championship in Jacksonville in five sets over Lake Highland Prep."  Yes, you read that right — 5-6 1/2 Jenna Hampton, soon-to-be libero/defensive specialist for Penn State, stood out as an outside hitter!
Still, don't expect to see Jenna Hampton crushing balls as an OH at Penn State.  She'll be playing in the back row, and probably playing very well — she is, after all, the highest rated back row recruit at Penn State since Kristin Carpenter.  Having said that, she will be a true freshman, competing against 2nd Team AVCA All American (and returning starting libero) Kendall White, among others covered in this article.
The Takeaway: Regardless of how the competition for starting libero plays out — reports are that the margin between White and Hampton is pretty thin — Jenna Hampton will be a leading contender for a spot as a key back row player.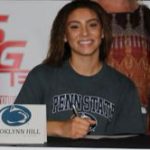 Brooklynn Hill wasn't the highest-profile recruit in Penn State's 2018 class (she earned 2nd-Team All-Area honors from the Daily Bulletin in 2016, though it's worth noting that only frontline players were selected to the 1st team).  However, she reportedly had a really good spring with her club team (San Gabriel Elite — the same team as fellow PSU freshman, Serena Gray) and improved significantly.
The Takeaway: Brooklynn Hill is a very quick player who covers a lot of ground and serves pretty well.  She is poised to push the other back row players for playing time in 2018.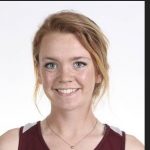 Bayleigh is a transfer from the University of Louisiana – Monroe, where she played both indoor and beach volleyball. She was a setter at ULM, and we debated whether to include her as a setter in Part I of this series.  We'll see how things play out.
We couldn't find statistics for Bayleigh for indoor volleyball for the 2016 or 2017 seasons, but in 2015, as a sophomore, she started 31 of 32 matches for ULM, leading the team with 912 assists (8.5 assists/set), was 5th on the team with 213 digs (2.0 digs/set) and led the team with 36 service aces.
The Takeaway: We expect Bayleigh Hoffman to provide senior leadership to this very young 2018 squad.  Whether she plays at setter or in the back row, or both, remains to be seen.

Keeton Holcomb has been a major contributor for the Nittany Lions since her freshman year in 2015, when she played in 32 matches, making 28 starts, and led the team with 3.05 digs/set. In 2016 she played in all 34 matches, starting 25 with 113 total sets played.  For the 2016 season, Keeton totaled 186 digs, 35 assists, and six service aces.  In 2017, she played in 49 sets and 23 matches, with 23 digs for the season, with a 98.7-percent serve receive success rate in 78 attempts.
The Takeaway: During her time at Penn State, Keeton has been a better passer than defender.  If she can improve her defense, she will strengthen her case for increased back row playing time.

Kristin Krause is a versatile athlete with strong leadership skills.  A trained setter as well as a back row player, Kristin saw action in eight sets in 2017, recording one dig.  She was a four-year letter winner at Parkland High, earning numerous honors in 2015, including PrepVolleyball.com High School All-American, MaxPreps All-American, Under Armour First Team All-American, and Pennsylvania's volleyball Gatorade State Player of the Year.   Kristin is the sister of Taylor Krause, who played for Penn State women's volleyball team (2012-16), and was coached at Parkland by her father, Mike Krause.
The Takeaway: Kristin will be competing with a number of players for back row opportunities in 2018, looking to build on her experience from 2017.  She also can fill-in at setter if needed.

Emily saw her playing time increase in 2017, playing in 31 sets over 22 matches, with nine digs and two aces as a sophomore.  In her freshman campaign in 2016, Emily played in eight matches and 11 sets, recording five digs and two service aces.
The Takeaway: Emily has been a better defender than passer, so she will be looking to improve her passing this season.  If she is successful, she'll push for an increased role.

In 2017, sophomore Kendall White earned AVCA Second Team All-American honors –the first libero to earn All-America status for Penn State since 2005, when Kaleena Walters was named to the AVCA Honorable Mention team.  Kendall also was named as an All-Big Ten honoree, the only libero so-honored.  Kendall started all 35 matches in 2017 at libero, leading the team with 462 digs (3.76 digs/per set).  She ended the season with a 96.3% serve receive success rating for 537 serve receive attempts.  In 2016, Kendall was named to the Big Ten All-Freshman Team and played as the starting libero in all 34 matches and in 121 sets.  That season, Kendall totaled 500 digs, 81 assists, 13 service aces and three kills.  She was PrepVolleyball.com's #38 Senior Ace in 2016.
The Takeaway: For the past two seasons, Kendall White has been an exceptional player and an emotional leader for Penn State.  We expect that to continue in 2018.
Credits
Six Rubik's cubes — Kilominx, Megaminx, Master Kilominx, Gigaminx, Elite Kilominx, and Teraminx (all made by Shengshou), by By Hellbus – Own work, CC BY-SA 4.0, https://commons.wikimedia.org/w/index.php?curid=61354293. This file is licensed under the Creative Commons Attribution-Share Alike 4.0 International license.
Jigsaw puzzles, by Colinking. This file is licensed under the Creative Commons Attribution 3.0 Unported license.