[Updated 1-26-19]
Sydney Ferguson, 6-3 OH, North Stafford (Stafford, Virginia), VA Juniors
Coach Rose's Comments after Lauren Signed with Penn State on November 14, 2018
Coach Rose on NLI Signees Lauren Clark, Sydney Ferguson & Gabi Bailey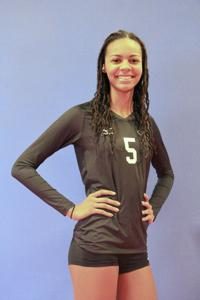 Sydney Ferguson verbally committed to Penn State in early 2017. She's now made it official by signing her National Letter of Intent. Here's what Penn State Head Coach Russ Rose had to say about Sydney Ferguson, PrepVolleyball.com's #44 Senior Ace, who led her team to a win in the State Semifinals:
Sydney is a natural outside hitter. She has a good arm swing and is about 6-3. She's coming off an injury but is healthy now [Sydney underwent complete left ankle reconstruction surgery in May 2018, but with 22 kills in the State Semifinals, appears to have fully-recovered.] We've had both Sydney and Lauren in camp a couple of years, and we like their potential both as good players and, more importantly, as good teammates.

I think Sydney probably has a better chance than Lauren of being a six-rotation player. She's played a little more volleyball as a six-rotation player. Most of the teams Lauren has played on she's been the designated scorer, and then they take her out — but that's not to say she can't learn to play. These kids are 17 years old, and I think it would be wrong to put them in a certain place and assume they can't improve. When Megan Hodge came in, she didn't have any experience with receiving serve or with passing. And she went on to be on the National team.

So my concern isn't that some players aren't better than all the other players in their class at certain skills. Every player has different strengths and weaknesses. Lauren has her physical strength — she'll come in and be stronger than a lot of college players. Sydney has a lot of experience as an all-around player, but similar to Kaitlyn Hord, she's going to have to catch up with the speed of the game and the physical nature of the game because the players are so much bigger and stronger.
By Taft Coghill Jr. – The Free Lance-Star
WILLIAMSBURG—There was something amiss about the North Stafford volleyball team early in the second set of the Class 5 state championship match Friday night.
The Wolverines had dropped the opening set to Princess Anne—an unbeaten program from Virginia Beach—but that was nothing new.
North Stafford also dropped the opening game in postseason victories over Massaponax, Stone Bridge and Freedom South–Riding.

But this time, the Wolverines' confidence was shaken despite only losing the first set by two points, 25–23.
"I think after losing the first set a lot of people, especially the younger people on our team, their emotional state wasn't strong enough to be able to battle that long in a [match] with that many people in an arena in a [match] that's being streamed for people to watch," Wolverines' senior co-captain Sydney Ferguson said. "It's a big thing for people to handle and I think that really got to a lot of people and started to show in our play immediately as soon as we started the second set."

For the complete article, Click Here.
Sydney's Verbal Commitment to Penn State – 2-25-2017
The Virginia Juniors Volleyball club has confirmed on its website that Sydney Ferguson, a 6-2 OH (2019), has given a verbal commitment to join the Penn State Women's Volleyball team in 2019:

Media Wrap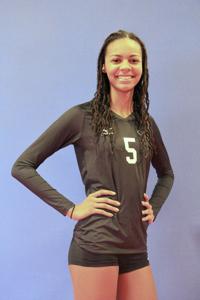 Ferguson reportedly received ten scholarship offers, including the University of Maryland, before committing to the Nittany Lions.  Here are two articles on Sydney:
If not for the sinking, searing serves Sydney Ferguson unleashed with casual precision Monday during North Stafford's volleyball practice, the rising sophomore's orange tie-dye University of Virginia T-shirt might've stuck out more.
Don't worry, though: Ferguson's recruiting profile is already plenty colorful.
The Cavaliers, along with Maryland, West Virginia, N.C. State and High Point, have already offered the Wolverines' outside hitter, and roughly 40 Division I programs have expressed interest, she said.
For the complete article, Click Here.
Nicole Candelora accepted North Stafford's volleyball coaching position knowing she had a potential future star on the roster.  Candelora was well aware that North Stafford boasted 6-foot-2 freshman Sydney Ferguson.  "Her ceiling is very high," Candelora said of Ferguson. "She has good court awareness. She really knows the game pretty well for that age."
For the complete article, Click Here.