November 14th was the first day for 2019 D1 women's volleyball recruits to sign a National Letter of Intent with their school of choice.  Three high school seniors — Lauren Clark, Sydney Ferguson, and Gabi Bailey — signed with Penn State.  We spoke with Penn State Head Coach Russ Rose today for his thoughts about these three players and how they may fit into the Penn State program in 2019.
Lauren Clark, 6-0 OH, Champlin Park (Champlin, Minnesota), MN Select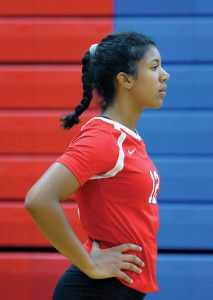 Since Lauren Clark committed to Penn State in 2016, she has been named the #31 Senior Ace by PrepVolleyball.com, which described her as "one of the hardest hitters in the country."  Here's what Coach Rose had to say about Lauren:
Lauren is a really physical outside attacker, who has made a real strong commitment in the weight room.  She's not a huge high flyer — at camp she was at 10'3″ — which is still close to three feet above the net.  I really think her strength is her physicality.  She led her team to the State championship in Minnesota.  Minnesota is one of the states where I think volleyball is played at a very competitive level.

Lauren has a good arm swing, she has a great work ethic, and she has shown great improvement this past year.  She'll be coming in mid-year, which is a good thing in this case, with both our outside hitters being done with their eligibility.  She's a good volleyball player, but someone who has worked really hard in the weight room to get stronger and I think her strength right now is that she's stronger than a lot of her peers.

I think her game will get better as her volleyball IQ and comfort level playing the game improve.  She's not a true six-rotation player right now.  She's probably more of a front row player.  Lauren is probably similar to Nia [Reed], except Nia is bigger and touches close to 10'10".
Sydney Ferguson, 6-3 OH, North Stafford (Stafford, Virginia), VA Juniors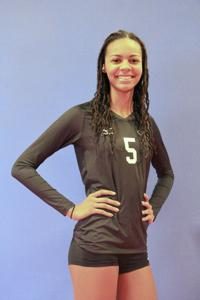 Sydney Ferguson verbally committed to Penn State in early 2017.  She's now made it official by signing her National Letter of Intent.  Here's what Penn State Head Coach Russ Rose had to say about Sydney Ferguson, PrepVolleyball.com's #44 Senior Ace, who led her team to a win in the State Semifinals:
Sydney is a natural outside hitter.  She has a good arm swing and is about 6-3.  She's coming off an injury but is healthy now [Sydney underwent complete left ankle reconstruction surgery in May 2018, but with 22 kills in the State Semifinals, appears to have fully-recovered.]  We've had both Sydney and Lauren in camp a couple of years, and we like their potential both as good players and, more importantly, as good teammates.  I think Sydney probably has a better chance than Lauren of being a six-rotation player.  She's played a little more volleyball as a six-rotation player.  Most of the teams Lauren has played on she's been the designated scorer, and then they take her out — but that's not to say she can't learn to play.  These kids are 17 years old, and I think it would be wrong to put them in a certain place and assume they can't improve.  When Megan Hodge came in, she didn't have any experience with receiving serve or with passing.  And she went on to be on the National team.  So my concern isn't that some players aren't better than all the other players in their class at certain skills.  Every player has different strengths and weaknesses.  Lauren has her physical strength — she'll come in and be stronger than a lot of college players.  Sydney has a lot of experience as an all-around player, but similar to Kaitlyn Hord, she's going to have to catch up with the speed of the game and the physical nature of the game because the players are so much bigger and stronger.
Gabi Bailey, 6-1 OH, Lawrence Academy (Groton, Massachusetts), AVC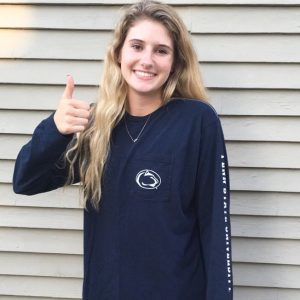 Gabi was the #93-ranked PrepVolleyball.com Senior Ace.  Here's a brief rundown on Gabi from Penn State Head Coach Russ Rose:
Gabi comes from a competitive family.  Her sister played volleyball at Ohio State and then transferred to Clemson.  Her mom played volleyball at Pitt and her Dad played basketball at Pitt.  I think she has a good volleyball IQ.  She has a great touch on the ball — she's a really good passer — and she has experience playing all of the front row positions.  It's necessary to have somebody who can pass and play the various positions, and Gabi is that type of utility player.  Her progression will correlate to the development of the physical nature of her game.