(Click Images for More Info)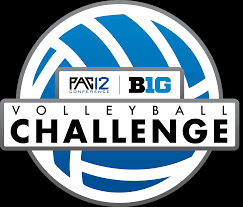 Last season, Colorado hosted the Big Ten/Pac-12 Challenge, but when it faced off against Penn State, it wasn't very hospitable, taking down the Nittany Lions 3-2 (25-22,20-25,19-25,25-20, 3-15 — that 5th set still stings).  In that match, Tori Gorrell had a career-high 14 kills, while Simone Lee registered a team-high 19 kills. The problem for Penn State was its total of 33 attack errors, which led to a team .154 hitting % for the match.  For good measure, the Nittany Lions offered up  12 service errors.
The 5-0 Nittany Lions are hoping this year will be a different story, but CU has started out hot.  Its 6-0 record to date ties a school record, as it has swept Wake Forest, Rice and Abilene Christian. The Buffs are 18-2 in sets to start the season as they have only dropped two this season (at the NIKE Invitational in Norman, Okla.)
From the Colorado SID:
Junior Alexa Smith leads the Buffs and ranks sixth in the Pac-12 with 4.29 kills per set. She is also 10th in the league in hitting percentage at .377. Three of Smith's teammates are hitting higher than her, including Pac-12 leader senior Anna Pfefferle at .508. Junior Naghede Abu is fourth in the conference (.413) and senior Joslyn Hayes ranks ninth (.387).

Colorado's offense is being directed by freshman setter Brynna DeLuzio. She is third in the Pac-12, 17th in the NCAA, with an 11.70 assists per set average and has directed the Buffs to the league's second best hitting efficiency (sixth in the NCAA) at .326. Defensively the Buffs are led by Abu, who is recording 1.65 blocks per set (16th in the NCAA, fourth in the Pac-12). Junior Gabby Carta-Samuels is seventh in the conference with a 3.67 digs per set.
From GoPSUsports.com:
Haleigh Washington

was the first Nittany Lion to earn a weekly conference award this season as she was named the

Big Ten Player of the Week (9/4).

She was also then named the

Sports Impact / AVCA National Player of the Week

for the first time in her career.

Abby Detering recorded her first career triple double against Stanford (9/1) with a career-high 11 kills, 23 assists, and 10 digs. Detering was named espnW National Player of the Week.
After the second weekend of action, Penn State is No. 3 in the nation in hitting percentage at .368 as a team. Senior Haleigh Washington holds the top spot for the highest hitting percentage for an individual with a clip of 0.575.
At the WVU tournament, Haleigh Washington was named MVP, and Simone Lee was named to the All-Tournament team.
At the Texas A&M Tournament, Simone Lee was named MVP, Haleigh Washington was named `Best Blocker' and Abby Detering was named "Best Setter.'
This is the 21st season under Coach Russ Rose that Penn State has started a season with a 5-0 record.
Since 1979 under Coach Russ Rose, the Nittany Lions have had a 381-55 (.874) record during September. However, since 1995, the Lions are 223-21 for a 91.4-percent mark.
Penn State moved up two spots in the Week Two poll with a ranking of No. 3 from the AVCA. Seven Big Ten teams remain ranked in the Aug. 28 poll: Minnesota (1), Wisconsin (6), Nebraska (12), Michigan (16), Purdue (17), Michigan State (21) and Ohio State (24).