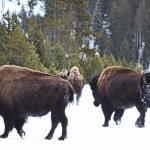 For the second straight match, Penn State fell in five-sets (25-22,20-25,19-25,25-20, 3-15), this time to the Colorado Buffalos (not pictured at left) in the first of two matches for the Nittany Lions in the Big Ten – Pac-12 Challenge.  Today's opponent: Stanford and its cast of Trees.
Penn State's 6-2 Fr. MH Tori Gorrell had a career-best 14 kills (.333 attack %) and five blocks (the team had a total of 16), 6-1 Jr. OH Simone Lee put down 19 kills, and 6-1 Jr. OH Ali Frantti registered 11 kills, but 33 team attack errors, 12 service errors, and 5 serve-receive errors proved too much to overcome.   6-3 Jr. MH Haleigh Washington totaled eight kills and a team-high nine total blocks (three solo.)
Talking Head's Recap
About the 5th Set
I think if you've been in this game long enough, most coaches and players have been on the receiving end, and on the giving end, of a Game 5 like the one that we saw last night.  There often isn't too much to take from those kinds of games, and last night, Penn State looked like a team in Game 5 that had been starting to find its identity (particularly in game 4) but it hasn't done that yet.  And in Game 5, it wasn't able to fight six-against-six, as a team.  For many of the points, it looked like six (Colorado) on one (Penn State) — by which I mean that many of the points were decided by one Penn State player making a mistake, or a poor decision.  It wasn't a case of bad pass, bad set and bad hit, it was one of those (or some other kind of mistake).  The cumulative effect was the 15-3 loss.
On Colorado's Performance
Colorado played well all night long.  Even in the fourth set, after Penn State had taken command by four point, then up to a seven point lead, Colorado put together a four-point run to almost close the gap.
Is There Light at the End of the Tunnel?
As I said, this team looked like it was starting to find its identity.  And I think they played much better against Colorado than they did against North Carolina.  They showed some real grit in sets 2 and 4.  So I think the team made progress, and I think it can continue to do that.  But one thing to keep in mind is that this is a different kind of team than the NCAA Championship squads.  They don't have a roster filled with All-Americans with big arms and a front row with overpowering blockers.  For most of the past 10-12 years, Penn State's offense often was "Here's what we're going to do, now try to stop us."  The Nittany Lions may not have the players to do that this year.  If you look at Colorado, they ran a fast offense that relied on keeping Penn State guessing.  Both Penn State setters were running a pretty conservative offense — even when the passing was good.  They didn't push it to the middle at times when I think that would have worked better.  Too often, Colorado didn't have to guess much at all — Colorado had time to set up its block, and even though the Nittany Lion hitters were taking big swings, they often were towards the center of the court, where the Buffs were digging everything.  So I think there is light at the end of the tunnel, but Penn State may need to change its approach a bit.  Of course, I'm not the one sitting with seven NCAA Championships and a display case filled with personal and team awards — that would be Coach Rose.  He always has a plan, and it's not random.  He knows what he's doing and he won't panic.  It will be interesting to see how the season progresses.  I certainly wouldn't give up on this team.
Match Stats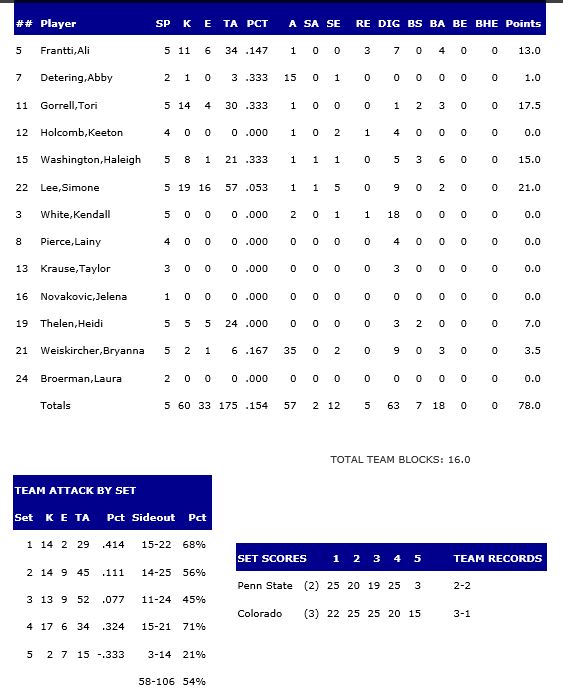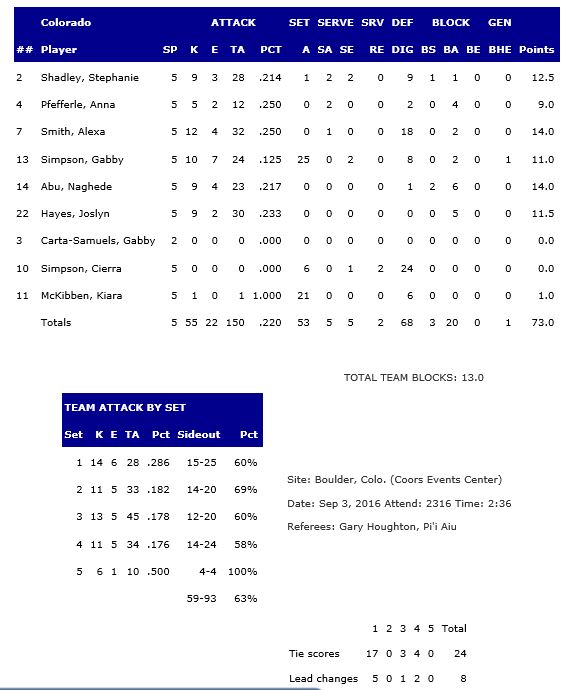 Credits