No. 4 Penn State women's volleyball lost to No. 17 Purdue 3-2 (25-11, 25-22, 23-25, 22-25, 18-20) Saturday night at Rec Hall.
Taylor Leath and Bryanna Weiskircher recorded the match's lone double-doubles, but it wasn't enough to slow down Sherridan Atkinson. Weiskircher returned to the starting lineup after missing Friday's sweep of Indiana.
Purdue's 6-foot-5 outside hitter finished with a match-high 32 kills (.518) in the narrow victory over the Nittany Lions, who saw their nine-match winning streak snapped. The referees took an eternity reviewing Jonni Parker's shot on match point, upholding the call on the court of an error.
Leath led Penn State with a season-high 21 kills and 12 digs, while Weiskircher had 52 assists and 10 digs. Nia Reed and Kaitlyn Hord tallied 18 kills and 10 kills, respectively. Parker and Serena Gray combined for 16 kills in the loss.
Junior libero Kendall White notched a match-high 17 digs, four assists, and a rare kill, while Jenna Hampton tallied five digs, an assist, and one of the team's five service aces off the bench.
The Nittany Lions (18-4) travel to Lincoln for a rematch against No. 9 Nebraska next Friday at 8 p.m. on Big Ten Network. Penn State won 3-2 earlier this season in Rec Hall.
Post-Match Quotes
Coach Rose on the loss: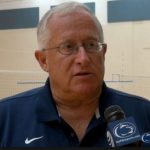 "Well, I'm terribly disappointed in how we played after the first two-and-a-half games, but I think I've been identifying the fact in my mind that we have a lot of young people. I think with young people there's a tendency to maybe lose their focus and concentration. We certainly exhibited that a great deal tonight.

"I'm not surprised. We knew Purdue was very good. We knew that every team in the conference — if you give them an opportunity to get some momentum and get some belief — that they can cause you a lot of difficulty.

"Certainly tonight was an example of that. As I just indicated to the players, I've been here for a really long time and there haven't been very many matches where we had a match won and we gave it away. I don't have a good taste in my mouth about the effort, and I don't have a great vision in my eyes for the players who participated in it this evening."
Coach Rose on the lengthy video replay:
"As I said to the players, it doesn't make a difference. You don't beg. You don't beg for an opportunity in life. The match lasted close to three hours. You had opportunities to win. I would never want to enter into that conversation. That's really inconsequential. The referee identified the fact that he didn't think anything was conclusive and that's fine. But you don't want it to come down to a play like that.
"We had opportunities to seize control of the match and we didn't do that. I would never want to take anything away from Purdue's effort. I thought Purdue competed really hard. I'm sure their coach would agree, but I thought it was one of Atkinson's great performances since she's been in the conference. We had a gameplan and it wasn't for Kendall to catch the ball on a bounce."
Coach Rose on the ebbs and flows of the match:
"I thought we were really good early. The first game we were in great control. The second game could have gone either way and we got some good performance at the end and won that. The third game was kind of sloppy and ended up being a deuce game. I thought that we had the game in hand at certain points. Between me giving some people opportunities to play and just careless errors and people getting a little nonchalant instead of putting the hammer down, Purdue had life and at the end of the game they had momentum as well.
"There's no switch that you can flip. I thought that we got a good effort tonight from Taylor. I thought she passed well. She hung in there passing-wise. She led us in kills tonight, so I thought she had a really strong effort. I thought Kaitlyn was certainly the best of the freshmen this evening. Jonni kind of tweaking her ankle early and having to battle through that impacted our effort tonight, but that's part of the game. A lot of factors play into it, but the bottom line is we didn't get it done tonight and we should have been better."
Kendall White on her message to the team this week:

"I think that heading into this week we need to compete more in practice. I think that the way we played is the way we practiced this week. We've got to compete every single week. There are no guaranteed wins.

"Yeah, we beat Purdue once, but they came out and kicked our butts in the last couple sets. You can't expect anything. Like coach said, I think we got complacent in the end and I think coming into practice this week we've got to make sure we just compete on every ball and compete every day in practice."