No. 4 Penn State women's volleyball swept Indiana 3-0 (25-18, 25-19, 25-18) Friday night at Rec Hall in the program's annual Dig Pink match.
Jonni Parker and Nia Reed combined for 28 kills in the victory, which saw the Nittany Lions hit .486 as a team in the third set.
Parker finished with a match-high 16 kills and eight digs against the Hoosiers. Freshman setter Gabby Blossom had a career-high 41 assists and 12 digs to secure the lone double-double of the night.
Bryanna Weiskircher was in uniform on Penn State's bench, but didn't see any playing time versus head coach Steve Aird's squad. Kendall White tallied a match-high 19 digs and five assists against her home state Hoosiers.
Kaitlyn Hord, Taylor Leath, and Tori Gorrell combined for 18 kills to round out the scoring, with freshman middle blocker Serena Gray failing to connect on any of her four swings. Jenna Hampton recorded five digs off the bench.
The Nittany Lions (18-3) return to Rec Hall Saturday at 8 p.m. when they host No. 17 Purdue. Penn State beat the Boilermakers 3-1 on October 10 in West Lafayette.
Post-Match Quotes
Coach Rose on the win:
"I thought we needed to play well, and we came out and played really well at the beginning of the first game. I thought we hit really well in the third game. We had to change the lineup around a little bit, but I thought Gabby did a terrific job in the setting position. Kendall and Jenna passed well and played good defense. Nia and Jonni scored well offensively.
"Tori came in when somebody else didn't play well, and that's what you need older players to do — not wait for a conversation to find out if they're ready if somebody's playing bad. It's time to make a switch and that's it. I thought Tori came in and did a nice job in the third game especially. It's nice she ended it with a block and had a couple of great swings out of the middle. That's what we need to see."
Coach Rose on Gabby Blossom: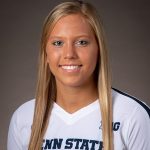 "I think she connects well with the hitters. I recruited her to play. She identified to me she's been a back-row player for a couple months, so I wanted to see if she could handle more than just being a back-row player. She was brought in to play.

"I didn't say she was going to come in and play immediately. I don't tell anybody they're going to play immediately. I tell people that they have to work hard and the goal of the program is to compete at a high level. The best players are going to play. The goal is for the team to win. Tonight she did a really nice job."
Gabby Blossom on the sweep:
"It's exciting. Like coach said, we come here to compete and to win. Winning's the expectation. We passed super well so it made my job really easy. Our hitters are our hitters. They can score. My job's not too hard when we can pass and we have good hitters."
Tori Gorrell on Kaitlyn Hord:
"I just love the way Kaitlyn comes on the court and is always just smiling. Kaitlyn's a beam of energy and sunshine. You know what she's going to do. You know where she's going to be. Dennis [Hohenshelt] is telling her where to go and she goes and does it. She doesn't hesitate. She goes for balls.

"She sees the block so well. She kind of reminds me of Haleigh [Washington] in the way that she just sees the block and is like, 'Well, I'm not going to hit at it because I'm better than you.' She hits around the block so well and I just think Kaitlyn's a great player."
Coach Rose on having two reliable setters:

"I've known that all season. So much of what we want to do is based on the health of players. We haven't had a week of practice where everybody's healthy. Part of our system was like their system, where there's always two setters going in and out and you need multiple hitters. We've been limited by people who have been dinged up. Sometimes they can practice. Sometimes they can't practice, and when you can't practice it's hard for the team to get better.

"We're just trying to fill holes a little bit. Whether I have two setters or three or four middles, it's still a team game. You need contributions from everybody. We have Purdue tomorrow and Purdue's ranked in the top 15 in the country and hasn't lost since the last time we played them. They have two of the top hitters in the conference. We're going to have to play better than we played this evening."
Kaitlyn Hord on Tori Gorrell:

"Tori's just a positive person. She always gives advice. It's really great to look up to somebody, not only an older person, but someone in your same position. She's just a great person. Tonight she blocked really well. She came in and did a really good job."