Penn State's 3-2 loss to host Colorado in last season's Big Ten/Pac-12 Challenge (25-22,20-25,19-25,25-20, 3-15) may have taken place at 5430 feet above sea level, but that 3-15 loss in the fifth set was definitely one of the low points of the 2016 season.  So this senior-laden Penn State squad may have had payback on its mind when it faced off against the Buffs yesterday afternoon in Huff Hall.
Whether it was payback, or simply wanting to play better, Penn State came through with a 25-22, 25-18, 25-21 sweep.
We caught up with Coach Rose after the match.  Here's what he had to say:
I thought we played hard, but we needed to.  Colorado is a good team, they play really fast, and we had a lot of problems with that last weekend against Texas A&M.  We got a couple of early leads and Colorado battled back.  It was a good match for us.  They beat us last year, so I'm sure the players wanted to have a better outcome than last year.  I thought we had good production.

Simone Lee was very good tonight [11 kills and 8 digs — which put her over 300 digs for her career], and I thought Ali Frantti played well [17 kills to lead all players, hitting .469, with 6 digs].  We kind of had a revolving position out there.  Abby Detering played well — she plays really hard [Detering had 10 kills, hitting .692, and added 21 assists.  Setter Bryanna Weiskircher registered 27 assists and added 10 digs.]  And  Kendall White was good [she led all players with 14 digs.]  When we pass well, we have options.  Tori Gorrell didn't play a lot [but led the team with three blocks.]

But we're going to have to be a lot better tomorrow against Stanford.  Stanford is much different with [6-8 RS] Merete Lutz back in the lineup.
Match Stats
(courtesy GoPSUsports.com)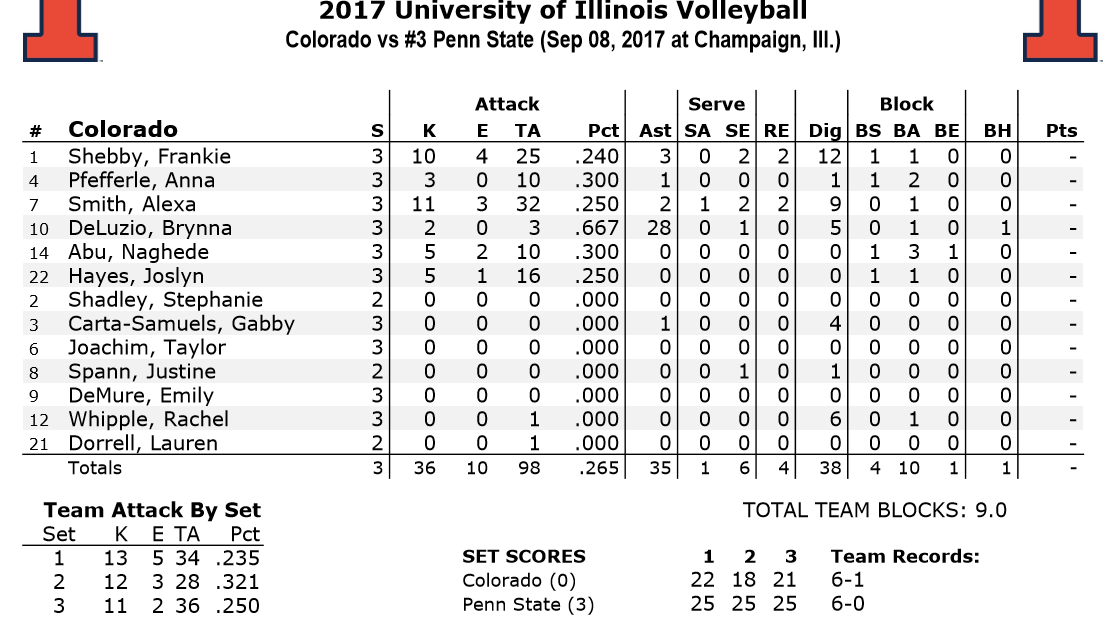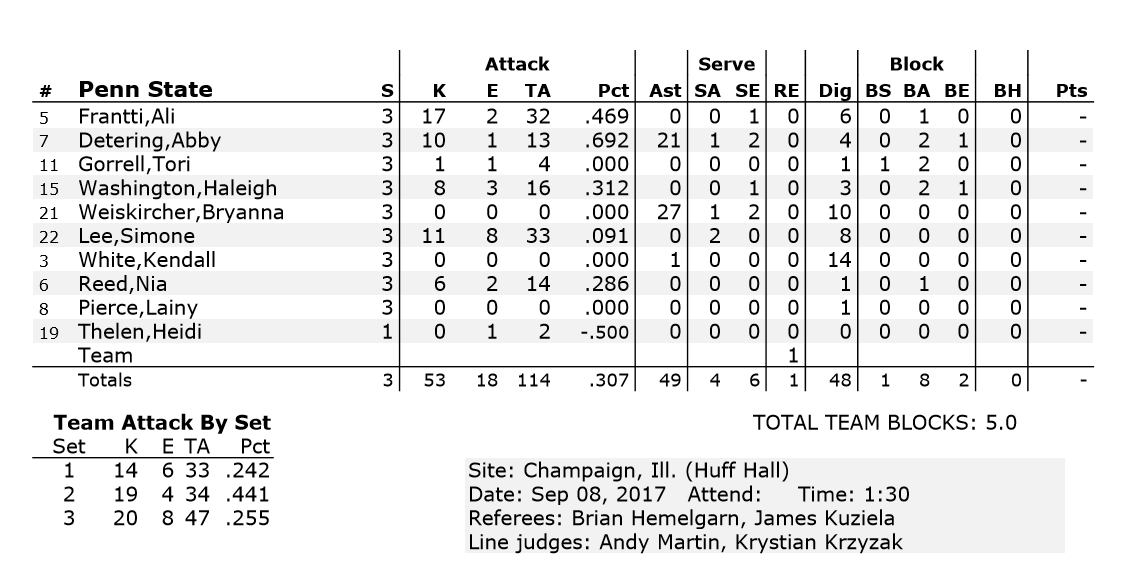 Credits
Huff Hall, by DigNittanyVolleyball Slacker Staff
Huff Hall Warmups, by DigNittanyVolleyball Slacker Staff