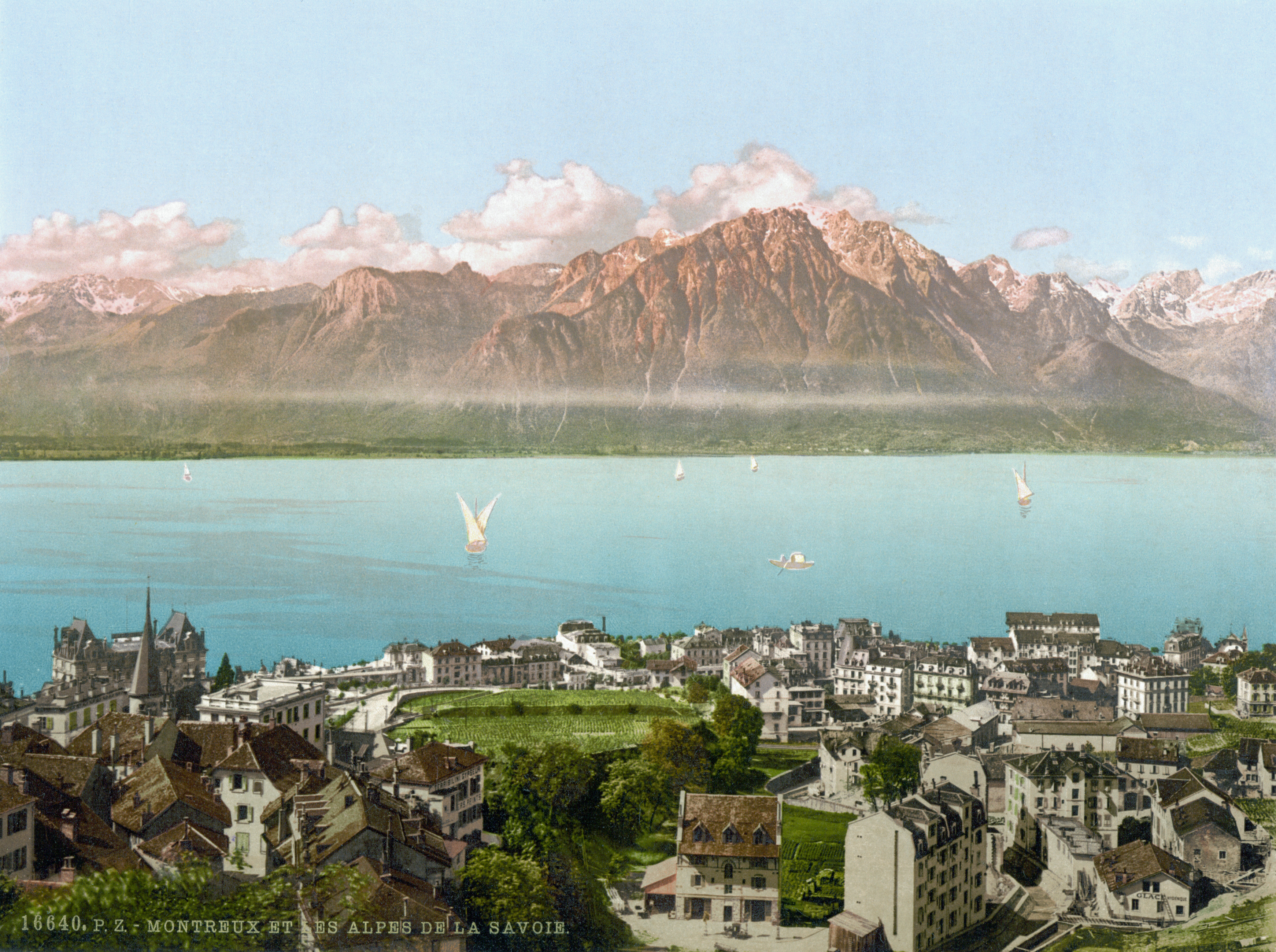 Montreux, Circa 1900
USA vs. Germany: "The most beautiful match we have seen so far"
On Thursday, the U.S. Women's National Team defeated Germany 3-2 ((25-19, 22-25, 25-23, 15-25, 16-14), in what the Montreux Volley Masters website described as "certainly the most beautiful match we have seen so far since the beginning of  this competition."  Bill Kaufman, of USA Volleyball, put it this way:
COLORADO SPRINGS, Colo. (June 9, 2011) – The U.S. Women's National Volleyball Team edged Germany 25-19, 22-25, 25-23, 15-25, 16-14 Thursday evening as six Americans scored double-figure points during the Montreux Volley Masters being held June 7-12 in Montreux, Switzerland.

The U.S. (2-0), ranked second in the world by the FIVB, concludes Pool A play versus China (2-0) in a battle of unbeaten teams on Friday at noon PT. Earlier today China defeated Peru 25-17, 23-25, 25-16, 25-15 in Pool A to improve to 2-0. Crossover semifinals take place on June 11, followed by the final classification matches on June 12.

The opening set witnessed six lead changes and 11 ties before the U.S. scored five unanswered points to take a 19-15 lead in the opening set en route to the 25-19 victory. Germany led the entire second set and pushed ahead from an 11-10 advantage with a 7-1 scoring run, but needed six set point chances to put the set away 25-22. Team USA recovered from a 21-19 deficit in the third set to claim a 25-23 victory. Germany took an 8-2 lead in the fourth set, then weathered a Team USA run that closed it to 11-9 before winning 25-15 with seven of the final eight points. The Americans battled back from an 11-8 deficit in the deciding set to win 16-14 on its second match-point opportunity.
For Bill Kaufman's complete write-up of the match, Click Here.
On Friday, the USA will face China.  Here's a complete list the Qualification Matches for June 10, 2011:
ITA vs. NED 16:30 LiveScore
CUB vs. JPN 18:30 LiveScore
USA vs. CHN  21:00 LiveScore
Although both teams have already qualified for the semi-finals, the winner of the match will top the standings for  Pool A (see the Tournament standings through 6-9-11 below).
Video Replay

Watch live video from TAWAGOTO volleyball broadcasting on Justin.tv
Match Stats
Here are the complete stats for the match: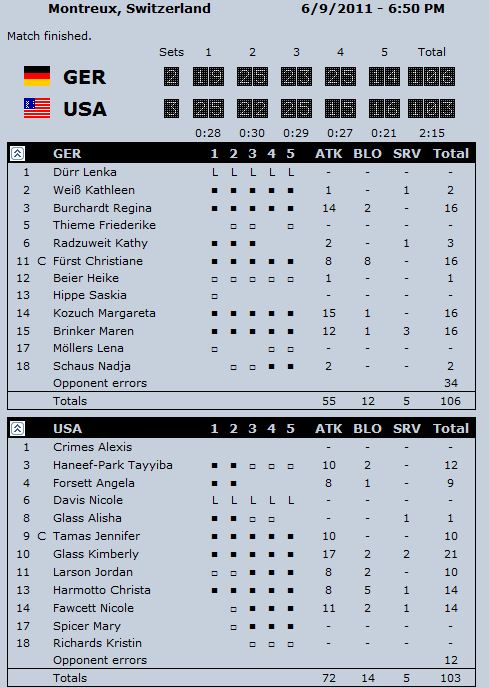 Tournament Standings Through 9-9-11