Tori Gorrell is having the best season of her career as a redshirt senior for Penn State women's volleyball after switching from middle blocker to outside hitter over the summer.
After a somewhat slow start to the season in which she had more than seven kills in a match just once (nine against Stanford) and didn't tally a single kill in a 3-2 road win at Pitt, Gorrell came alive in a five-set win over Maryland on October 11 at Rec Hall and has been firing ever since.
The Oakville, Ontario, native had 60 kills during the first 13 matches of the season, but has exploded for 190 over the last 18 matches, including a career-high 17 kills in Penn State's 3-1 loss to Minnesota in the regular season finale. 
"Tori I think is having her best year this year even though she's in a different position and has a different role, so that's great," head coach Russ Rose said.
"I just think she's really continued to expand certain parts of her game. I think she's just really working hard and hitting the ball hard and high. She's doing as much as she can to help the team. I think that's what you would want from a fifth-year senior and somebody who's played as much as she's played previously. Like I said, I'm real pleased with where Tori is right now."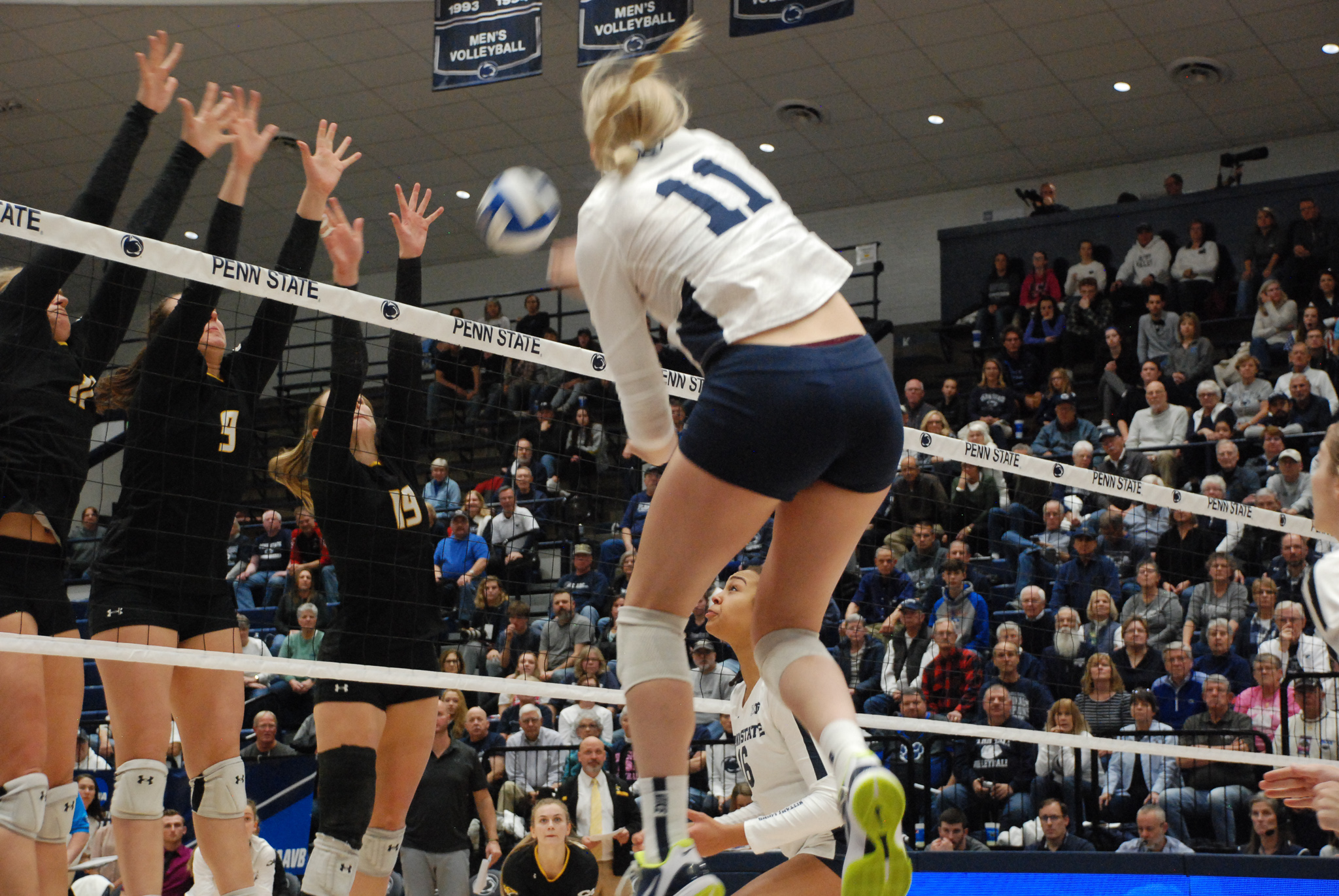 Despite being relegated to a backup role behind then-freshman phenoms Serena Gray and Kaitlyn Hord in 2018 following two seasons as a starter at middle blocker, Gorrell maintained a positive attitude and was ready to go when Rose called her number in the NCAA tournament last year. 
While Gray was sidelined due to injury for nearly the entire postseason — save for a quick appearance in the sweep of Washington — Gorrell stepped into her familiar starting job and recorded 60 kills, including a match-high 11 against Syracuse in Rose's 100th NCAA tournament win.
On top of proving herself as an effective server with 11 aces this season, Gorrell is also having by far her best year in the back row, with 42 digs heading into Friday's Sweet 16 showdown against Cincinnati in Stanford, California. That's two shy of her digs total through her first three seasons contributing for the Nittany Lions.
The 6-foot-2 Gorrell, who has started 19 matches this fall, discussed why she thinks she's been able to heat up toward the end of the season the last two years following her big performance in the Minnesota match. 
"It's always good to play better at the end of the year, but I should have been doing this all year. I had a tough beginning of the season," Gorrell said. "I think I just get excited. I want to fire my team up. I want to win. At the end of the year is when we've got to put our foot on the gas and go."
Gorrell also touched on Penn State's spectacular duo of Gray and Hord, who have established themselves as perhaps the scariest one-two punch at middle blocker in the Big Ten. They are eerily close in terms of production, too, with 296 and 295 kills, respectively, through the first 31 matches of 2019.
"Serena and Kaitlyn are such dominant players, and when they're on fire it just changes the momentum for our team," Gorrell said. "It really opens up the pin hitters so that the other team's middles have to commit with them, and it gives everybody more options to swing where they want."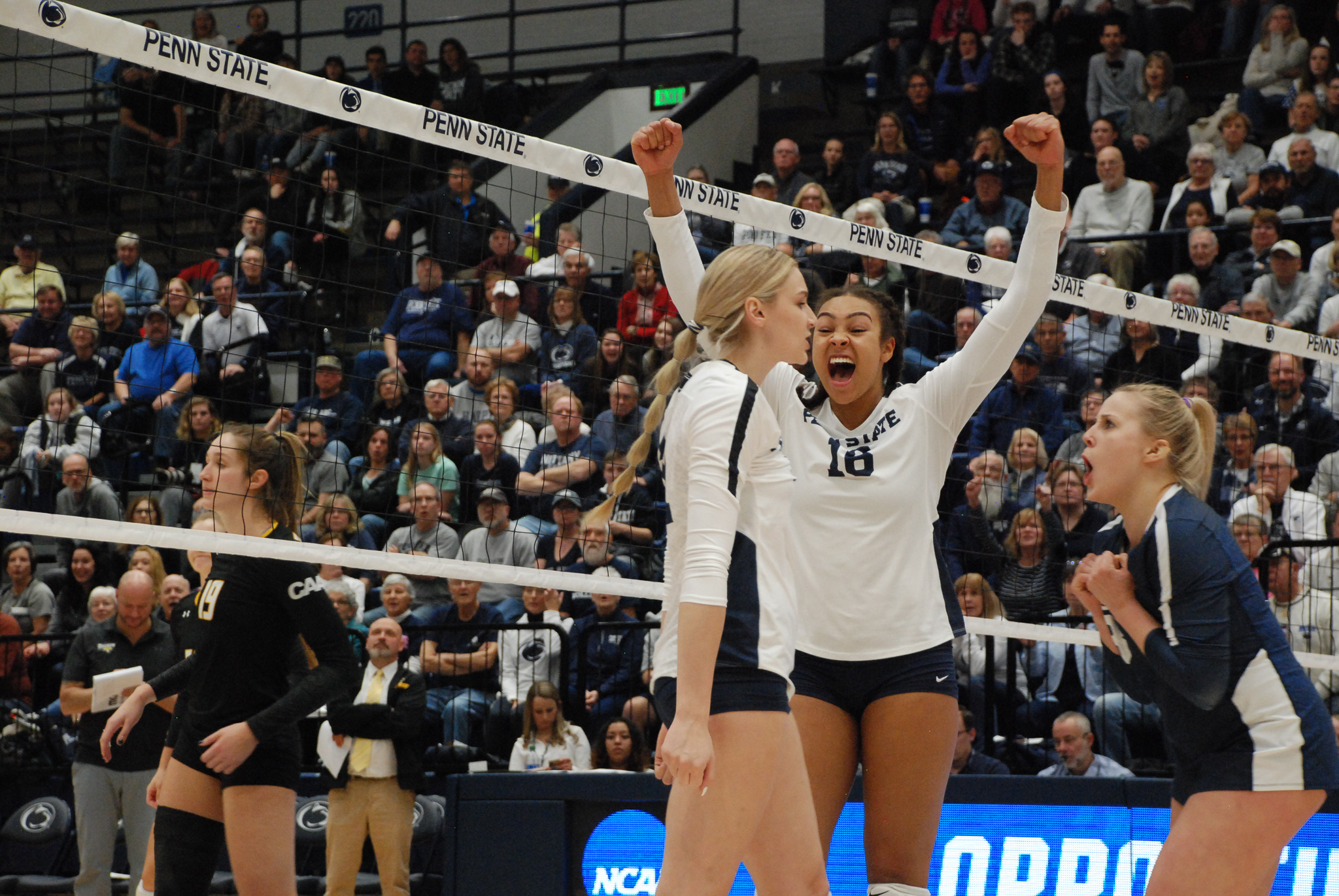 Like sophomore defensive specialist Jenna Hampton, who traveled to Japan with the Big Ten foreign tour this past June, Gorrell had the opportunity to visit the Czech Republic, Slovenia, Italy, and Austria during the summer of 2017 and play some exhibition matches with a group that included former Illinois and current U.S. national team setter Jordyn Poulter.
While reflecting on some of the proudest achievements of her college career, Gorrell made sure to mention the overseas experience and how exciting it was to show the world what Penn State is all about.
"When I got to go to Europe a couple years ago and represent the Big Ten, I got to represent Penn State volleyball and that was a really amazing experience," Gorrell said. "Just being able to represent Penn State volleyball on a bigger scale is one of the most amazing feelings."
Gorrell was recognized alongside the rest of Penn State's senior class, including Kendall White, Keeton Holcomb, Emily Sciorra, and Kristin Krause, prior to a 3-1 win over Purdue on November 9. Gorrell allowed herself to envision what life will be like after Penn State for a brief moment earlier this season prior to practice at Rec Hall.
"I obviously love my girls in my senior class. They're a great group," Gorrell said. "It's different to think about moving on. We're all going to be going on to different parts of our lives, which is really interesting but also scary."
Gorrell, who will soon earn her recreation, park, and tourism management degree, has no plans to stop playing volleyball after she graduates. Her ability to play all three positions in the front row is a huge value booster and should serve her well when pro clubs and maybe even the Canadian national team come calling. 
"My goal since I was 12 was to play professional volleyball and I knew that I wanted to come to Penn State because I thought it would give me the best opportunity after school to play professional volleyball."