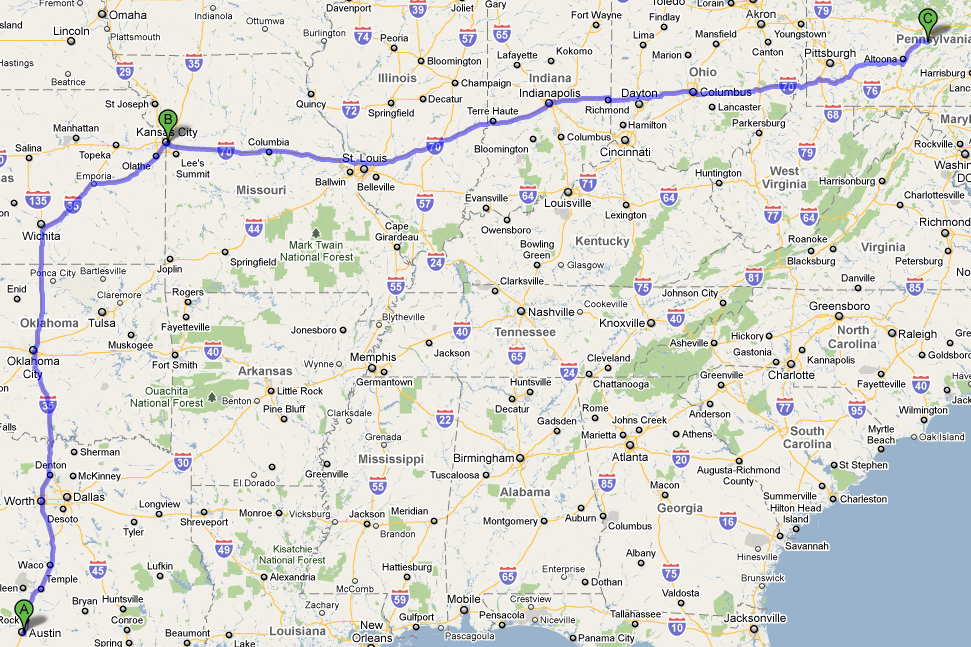 Penn State Downs Duke, Heads to National Semifinal Match with Texas
We'll get right to our analysis of the Duke-Penn State match, but first, a little traveling music:
Back to the subject at hand.  It wasn't entirely smooth sailing (it's a cliche, yes, but it fits in with our traveling motiff, no?), but in the end, #4-seeded Penn State (30-5) downed #12-seeded Duke (27-7) 3-1 (25-19, 25-18, 23-25, 25-17) to claim a berth in the 2010 NCAA Women's Volleyball National Semifinals in Kansas City on Thursday, Dec. 16th. 
With Friday's upsets of #1-seeded Florida by Purdue and #2-seeded Nebraska by Washington, and the defeat of #3-seeded Stanford on Saturday by #6-seeded USC, Penn State is the highest-seeded team to reach the National Semifinals.   Not that seedings or rankings will make any difference in Kansas City.  We expect one or (hopefully) two really tough matches, as Texas, USC and Cal are all really talented, well-coached teams. 
But that's a week of hard practice and game-planning away.  Last night after the match, 6-5 Sr. Opp. Blair Brown was named the University Park Regional [aka "the Bracket that Can't Get No Respect"] Most Outstanding Player, and was joined on the All-Tournament Team by  6-3 Sr. MH Arielle Wilson and 5-6 So. S Kristin Carpenter.  Also named to the All-Tournament Team were Missouri's Paola Ampudia, Oklahoma's Brianne Barker, and Duke's Kellie Catanach and Sophia Dunworth.
With the win over Duke, Penn State extended its NCAA record home consecutive win streak to 94 consecutive matches and its NCAA record for consecutive NCAA tournament wins to 22 straight. 
Against the Blue Devils, Penn State was led offensively by 6-1 Fr. OH Deja McClendon (20 kills, .347 attack %, 10 digs),  Blair Brown (16 kills, .220 attack %) and Arielle Wilson (12 kills, .385 attack %).  Carpenter registered 45 assists and contributed 13 digs, guiding Penn State to a .272 attack percentage.  5-9 Sr. L Alyssa D'Errico led Penn State in digs with 18. 
Penn State's block was a big part of the victory, as the Nittany Lions totaled 17.0 team blocks to only 7.0 for the Blue Devils.  Arielle Wilson finished her Rec Hall career in style, as she led the way with 8 total blocks, with Blair Brown close behind at 7 total blocks.  Deja McClendon and 6-3 Sr. MH Fatima Balza chipped in with 5 blocks each.
In an interview with Emily Kaplan of Penn State's Daily Collegian, Penn State Head Coach Russ Rose, acknowledging that the match wasn't easy, had this to say about the performance by the Penn State players:
They had to fight.  I never let them off the hook of what the goals of this team are and what the expectations of this program should always be.
Blair Brown told Kaplan that although Penn State is pleased with the victory, the team knows there is more work ahead:  
It's great to be going to the Final Four.  But we have a game, hopefully two games ahead of us, so we want to get back in the gym and focus on that.
Here's a video wrap-up courtesy of GoPSUSports.com:
Post-Match Comments from Duke
We take our hats off to Duke.  They played with grit and heart and managed something no other team had accomplished so far in this year's NCAA Tournament — they won a set against Penn State. 
In her post-match press conference, Duke head coach Jolene Nagel had this to say:
I can say for our entire coaching staff how proud we are of our team, how hard they've worked all year and what they've accomplished.  We had no intention to end tonight, and I think they've been a really tremendous, hard-working group. They've built a strong foundation for Duke volleyball for years to come.
Here's a video of the entire post-match press conference:
Match Stats – Duke vs. Penn State
Here are the final stats, courtesy of GoPSUSports.com: