After combing through the transcript of every media availability from the 2019 Penn State women's volleyball season, we compiled this collection of our favorite quotes from head coach Russ Rose and a host of Nittany Lions.
Hear from Kendall White, Tori Gorrell, Kristin Krause, Gabby Blossom, Kaitlyn Hord, Jonni Parker, Serena Gray, Jenna Hampton, Allyson Cathey, and Emily Oerther about what it's like to play for one of the most accomplished programs in NCAA volleyball history.
Some of these quotes are from Penn State's post-match press conferences at Rec Hall, while the rest are from the team's weekly media availability prior to practice on Tuesday afternoons during the season.
Gabby Blossom on her favorite part of setting Jonni Parker: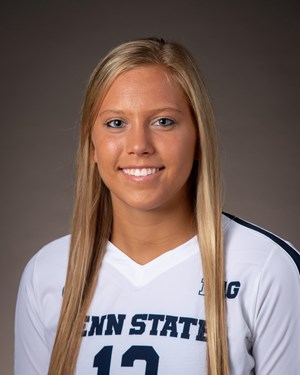 "She's smart. She can make a bad set look really good. It's a big advantage when you're a setter and your hitters make you look good on a bad set. She's definitely one of those people."
Coach Rose on working the ball to Penn State's middle blockers:
"I think, again, you want to go to your strengths. It's just part of the theory of the sport. If we can run middle, it forces the other team's middles to identify, spend some time with those people, and then hopefully it'll open up some opportunities for our outside hitters to get some one-on-one swings where maybe they can score or maybe they can beat the blocker or beat the digger."
Coach Rose on Serena Gray's strengths: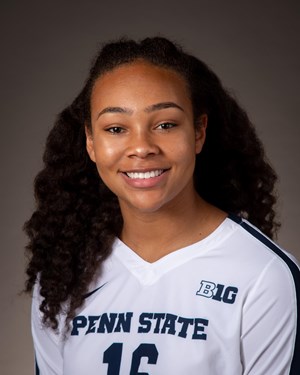 "Certainly, off the court, one of Serena's great attributes is she's an incredibly strong student. I think she's an independent thinker. I think those things serve her really well. On the court, she's just really a physically strong athlete."
Coach Rose on the culture he's tried to establish within his program:
"It's what you do when no one's watching, not what you do when people come in with a camera and set it up and you need to make sure that you have your makeup on and everything is looking good because it's a TV game. It's what do you do every day when you don't feel like getting up and working out and getting your rest and watching your diet and doing the things that you have to do to give yourself a chance to be successful. There's no guarantee that you're going to be successful, you just have to control all the variables to give yourself the best chance to be successful. The fact that it's a team sport — so many variables don't really rest with just you. The best team players are the ones who don't care who gets the accolades; they care that the team wins. I care that the team wins. I don't care which players you guys write about. I just want you to write about them and not me."
Coach Rose on having patience with certain players:
"I'm not thinking I've ever been known for having great patience, but I think I have patience for the people who I think I should have patience with. Those people, I let them kind of simmer on their own. The people who I think should be able to carry a heavier load and they have experience, the expectations for them are a little bit higher. My focus is on them a little bit more and the expectations are therefore a little bit higher than all the others who are coming along at their own speed."
Coach Rose on whether his team showed perseverance in an early season loss to Stanford:
"It's about the results, it's not about the fight. If you don't get the results, the fight doesn't really seem to have the same impact."
Coach Rose on there being no moral victories:
"I've been doing this here for 41 years, and I want to win every match. I don't look at it like, 'Gee, we were so close.' I look at it as, 'Hey, if you're going to do something, you either do it the best or you shouldn't do it at all.'"
Coach Rose on the Pitt-Penn State rivalry:
"I'm from Chicago, so I'm not a part of the Pitt-Penn State thing. Although I've been here for 41 years, I'm not a card-carrying member who's caught up in some of the nonsense that I've heard over the years that I've been here. I guess if you grow up in Pennsylvania, you have an allegiance to one of the schools and you want to voice your opinion on things."
Kaitlyn Hord on fellow middle blocker Serena Gray: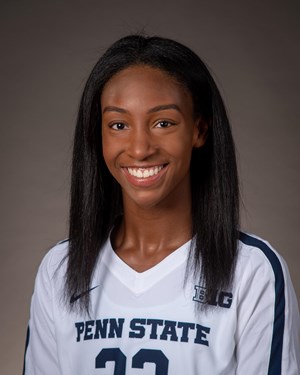 "I think the thing she's improved the most is her vision on the court. Last year, a lot of us, because we were young, we just kind of hit the ball just to hit the ball. Now, she's mixing up her shots and she's incorporating tips. She's hitting different shots, not just swinging one way or the other, but actually seeing where it's open on the court and going for it."
Jonni Parker on Jenna Hampton's hustle following a particularly strong performance:
"I think it just describes Jenna in every aspect and the type of player she is. She's a hard worker. She's gonna do that for her teammates. I think she did pretty well this game, but our effort — that's what we need from everybody every single point of every match, so I think for her to show that is a lot."
Coach Rose on how recruiting has changed since he got to Penn State:
"When I started the job, all of the envelopes for recruiting were just in a milk crate, and I just opened them one day and started calling people."
Gabby Blossom on young fans coming up to her after matches:
"It's honestly so weird. Even last year, they were like, 'Can we have your autograph?' I was like, 'You want my autograph?' It's really cute and it's fun, because you remember when you were that age and you were watching college volleyball on TV. It's definitely a cool experience and it kind of makes you step back and be like, 'I play this sport because I fell in love with it when I was their age.' We have camps and some of my campers were up here a couple weekends ago and it was so fun. Our fans have always been incredible to us."
Emily Oerther on playing in Rec Hall: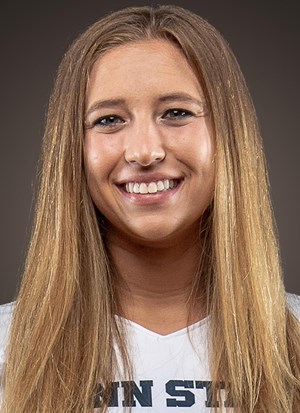 "It's insane. I don't even know how to describe it. It's just awesome to have so many people there and the band and how loud and crazy the atmosphere is. It's absolutely what you practice so hard for. I love it."
Jonni Parker on hosting the Gallaudet Bison volleyball team for a match:
"I think it's awesome that they were able to come out and come to a game, especially a home game. Support from anybody is amazing, of course, but to see them there, it meant a little bit more to me. Their coach has always kind of kept in touch with me over the years and it's nice to have a familiar face in the stands. It was awesome to be able to talk to the girls."
Jonni Parker on what being a leader means to her: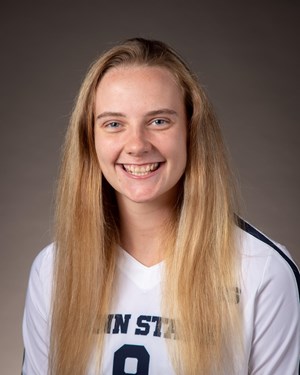 "Being a leader I think, to me, is not only being able to take care of yourself, but more importantly, being able to help out your teammates and helping them succeed. I think it's really important if maybe I'm not so much having a good game, I can still help my teammates and make sure they're succeeding."
Serena Gray on Haleigh Washington's influence:
"I've talked to her a couple times when she visits. Just watching her play as a prep player when I was younger, just seeing her competitiveness and her fierceness for the game, she's not afraid to cheer and get in her teammates' faces and scream. I think that's amazing how she can really pump up her teammates — not only by example but also by encouraging them through her energy that she brings onto the court. That's contagious."
Coach Rose on the common qualities of his best leaders:
"I think the common qualities of good leaders are their confidence, their commitment to the team more than themselves, their ability to make others better. Those are some of the intangibles that separate the difference between being a captain and being a leader, because captains might be elected and leaders emerge."
Allyson Cathey on whether or not a perfect set exists:

"I would say there's no such thing as a perfect set. Every set is going to be different. There's not going to be a consistency of a set. There can be a consistency of a play, but not necessarily a set. As a hitter, whatever set you get you have to take care of it. You have to try to find shots, you have to try to get a kill. It's more the hitter's aspect to take on whatever you get. Just as the setter has to take on whatever pass she gets."
Serena Gray on her biggest fear:
"Coming in second. But legit. Not like in sports, just like — in life."
Coach Rose on seeing his players succeed after graduation:
"Players have to step up and do different things, and that's just like life. I think probably the greatest success stories that I can appreciate from the players are the ones where the players have to demonstrate the resilience that they had to demonstrate when they were in college, and that they can do it with their head held high and just realize that that's part of life. [They] realize that they have to find a solution and not get distracted by the problem."
Kaitlyn Hord on what it means to her to represent Penn State:
"It's something that's really hard to describe, because it's just an amazing feeling. You put on the jersey, you look in the mirror, and you're just like, 'Wow! I'm playing for not only the team that I'm with now, but also everyone who's done something good or been on the team in the past.' It's just an amazing feeling to put on the jersey and play with these girls."
Kristin Krause on her advice for Penn State volleyball's incoming freshmen: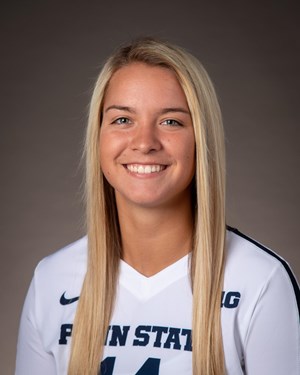 "I think it's just knowing that every day you're giving it your all and you're never going to look back and think about what I could have done. Just knowing every time you walk into these doors of South Gym that you're giving everything you can to be your best. Kind of just taking in these relationships that you build with all these amazing people and honoring them, because, before you know it, you're a senior and you're leaving and it's really sad. Just taking it day by day and not wishing any of it away."
Allyson Cathey on what makes volleyball celebrations unique:
"I would say just the volleyball community as a whole, because I feel like with some sports it's different, but with volleyball, when we're celebrating, everybody's involved. Our boosters, the team, people off the court, people on the court, our coaches. Just getting to celebrate with everybody is very rewarding and it makes us feel good."
Coach Rose on Jonni Parker's personality:
"I think one of Jonni's great traits is that she plays really well with other people. While a lot of players complain about everything, Jonni doesn't complain about anything. It's a really fabulous thing to have if you're involved in a group is to have a player like that or a person like that around you who is low maintenance, no less no maintenance. There are some people who are so incredibly high maintenance that it's almost like you need to hire people to take care of the high maintenance people. And then there's Jonni who doesn't complain about anything."
Serena Gray on how her Penn State experience compares to her pre-college expectations:
"It's a lot more real. It's not just volleyball, volleyball, volleyball. You're actually a full-time student. I wasn't expecting it to be as hard as it is, but I'm glad that it is, because it challenges me. It gets me to focus on more than one thing and have more than one priority than just volleyball, so that's definitely something I wasn't expecting."
Coach Rose on the common characteristics of his championship teams:
"I think some of the championship teams that we've had were very competitive and were self-starters and were able to monitor each other's behavior. They were able to keep themselves on task and were very rarely distracted even when other teams made runs. I wouldn't say this [2019] team has demonstrated all of those things up to this point in time, nor should they. This team is different than those teams. Every team is different, as I think most players are different from some of the players in the past."
Gabby Blossom on what drives her to succeed when times get tough: 
"We have so many goals as a team. Playing for this program, you grew up watching them win Big Ten championships and national championships. That's why me and I know all my teammates come here is for those moments. You know it's going to be hard at some points, but you have those dreams in the back of your mind and you have teammates who you want to push through for, because I know I have teammates who go hard every single day. If they're going hard for me, I want to go hard for them."
Kaitlyn Hord on the best part of playing in the Big Ten:
"My favorite moment would probably be playing in front of crowds that just love volleyball, because in the Big Ten, whether or not you're at home, the crowds are going to cheer for great volleyball no matter what. That's always fun playing in that environment."
Serena Gray on the importance of Kendall White's leadership in the postseason: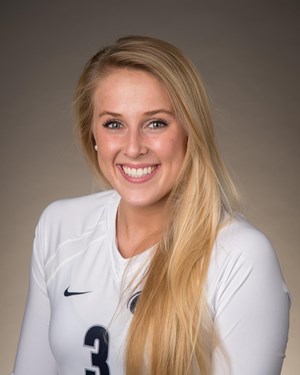 "She is definitely important to keep the competitiveness on the floor and make sure that everyone is holding each other accountable. She really brings that fire that makes people want to compete just seeing her scream. She brings a lot of emotional energy — and you need that when it comes to the tournament — when maybe you aren't as confident as some of the other players on the court and you need that fire power to count on."
Kendall White on breaking Penn State's career digs record:
"It's awesome. Now I'm going to cry. It's really cool. That's all I can say. There's a lot of great players who came to this program, so yeah, it feels cool."
Coach Rose on Kendall White's contributions to the program:
"She's a very unique individual and plays really hard. She has one speed. She's been really resilient, very physically tough, very mentally tough. I recruited her for some specific characteristics and she is as I expected her to be. A lot of it is energy, a lot of it is toughness, a lot of it is things that I think other coaches might not have been as open to dealing with as I was. I think I feel the same way. I think a lot of us are acquired tastes. I'm a big fan of what Kendall brings to the table. I'm willing to deal with that and have enjoyed the four years that we've been together. I would just say that, 'What you see is what you get.' She's very competitive, she's aggressive, and she's not shy."
Tori Gorrell on how she wants Penn State volleyball fans to remember her: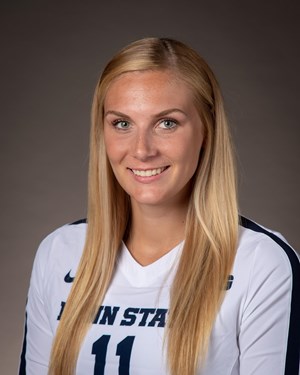 "I was actually told this a little while ago that, 'You can be a nice person and also be really fierce and scary on the court.' I hope people remember me like that. Hopefully I'm a little bit intimidating on the court, but also a really nice person to talk to after the games or when passing by me on the street or something."
Jenna Hampton on what she's learned from Kendall White: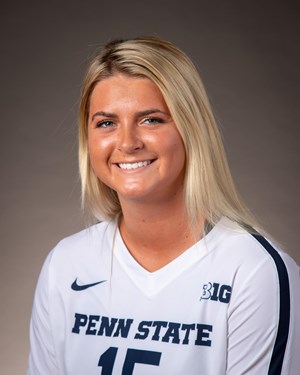 "Like everyone says, Kendall's an amazing player. She's someone who is definitely super inspiring, because her love for the game is just so strong. It makes you want to play harder for her, too, because of how hard she goes for her teammates. I'm definitely going to miss her a lot. I've learned so much from her. She's definitely going to be missed. She's an amazing player and really embodies a true Penn Stater."
Coach Rose on appreciating special players when you have the chance to watch them compete:
"When we're fortunate enough to have great players playing the game, we should just really appreciate having them in the game when you have them. I feel the same way when I've had national players of the year who played at our program is that you know the ones who are really special. You also recognize the ones who are really good people. From the interactions that I've had with [Stanford's] Kathryn Plummer and meeting [Cincinnati's] Jordan Thompson, I would say they're both great representatives of their school and college volleyball."