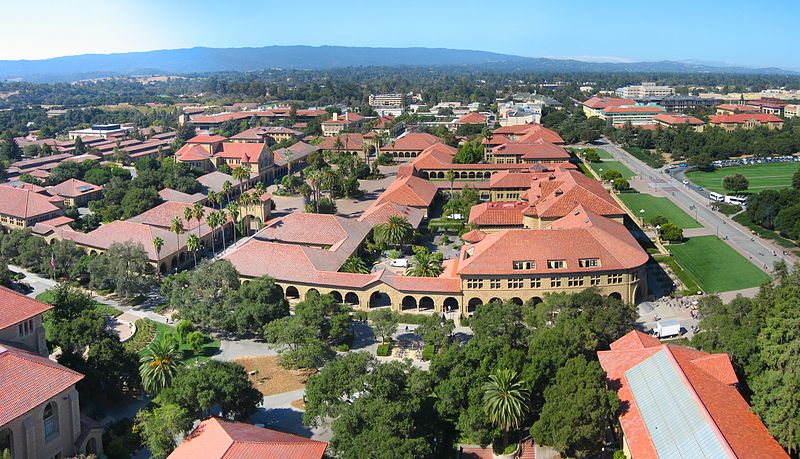 First Texas Win Over Penn State Since 1989
For two and a fraction sets, Penn State fans had dreams of 2009 dancing in their heads.  Led by 6-1 So. OH Deja McClendon (who posted a  career and match-high 25 kills) and 6-5 Fr. OH Aiyana Whitney (15 kills, .367 attack %), Jr. libero Kristin Carpenter (career-high 23 digs), and 6-6 So. MH Katie Slay(8 blocks), the 2011 Penn State Women's Volleyball team rallied from a 0-2 deficit against Texas in the Nike Big Four Volleyball Classic to force a fifth set. But unlike 2009 in the NCAA Finals, when Penn State stormed back to win the title after dropping the first two sets, deja vu ended in set five, as Texas held on for a 3-2 victory (25-23, 25-20, 19-25, 14-25, 15-10).  Freshman DS Lacey Fuller saw increased playing time and chipped in with 13 digs, while freshman setter Micha Hancock had 12 digs, 4 kills (on 5 swings), 5 service aces, and 5 blocks.
Even though four Nittany Lions hit poorly against Texas –6-4 So. Ariel Scott (-.045 attack %),  6-2 Fr. Nia Grant (-.059), 6-5 Sr. Katie Kabbes (-.333) and 6-2 So. Maddie Martin (.000), Penn State managed to out-hit, out-kill, out-serve, out-dig and out-block the Longhorns.  But in the area that counts the most, Texas won three sets to the Nittany Lions' two, and won the match.  It was the first victory by Texas against Penn State since September, 1989.
Here are the match stats: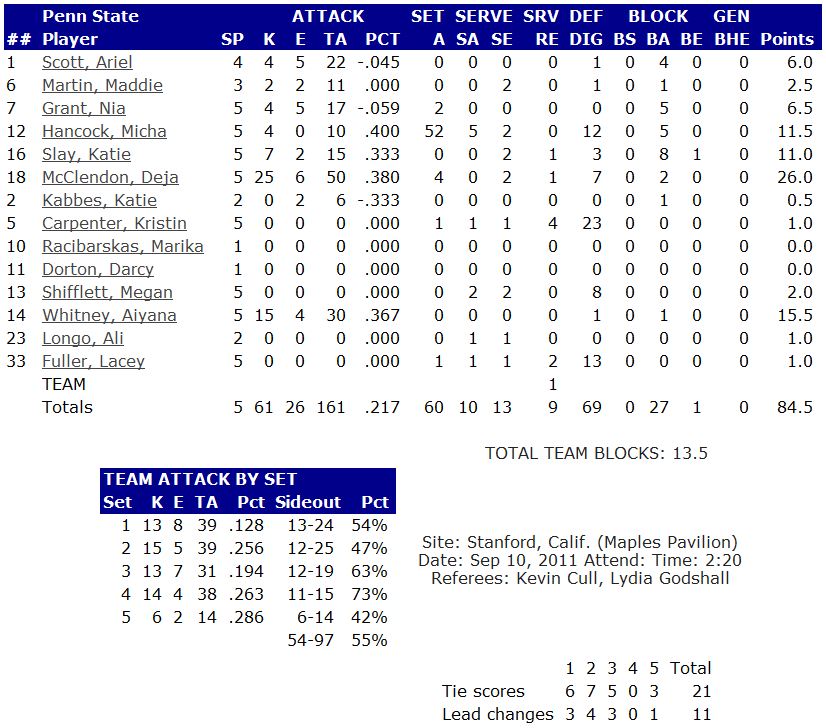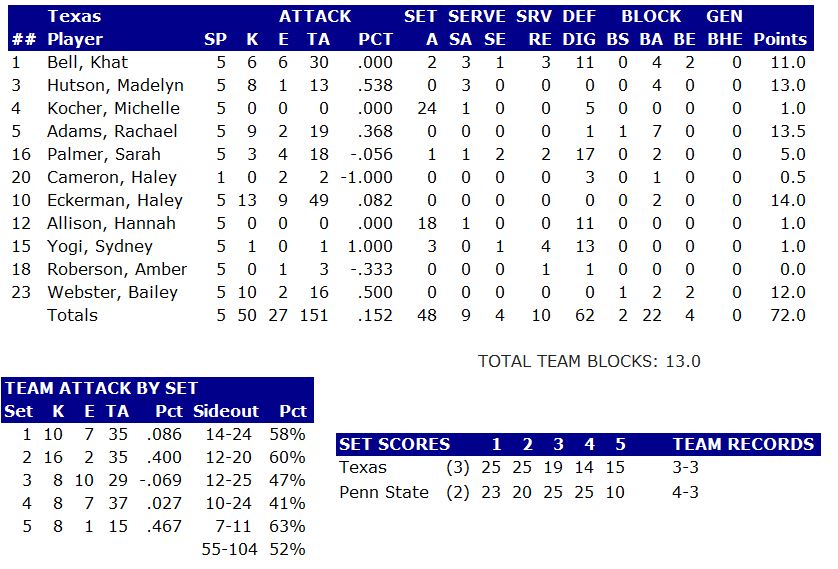 On Expectations and Frustration
In an interview with Dan Norton of the Daily Collegian, Head Coach Russ Rose gave his take on the season so far:
I think everybody has different level of frustration. We haven't played consistent volleyball. My frustration is I don't really know if the expectations I have for this group is too high.
Of course, last season, Penn State was swept by Stanford in the Nike Big Four Volleyball Classic, and that season turned out fairly well.  But this year's team lacks the senior leadership and experience of Blair Brown, Alyssa D'Errico, and Cathy Quilico.  Coach Rose has been juggling the line-up to try to come up with a winning combination.  Inserting Whitney against Texas was the latest move, and it paid some dividends — just not enough to bring home the win.
Rose: Team Lacks "Connection"
But this is a very young team.  Of the 17 players on the 2011 Roster, only Deja McClendon (122 sets in 2010), Kristin Carpenter (119 sets in 2010), Ali Longo (64 sets in 2010), and Ariel Scott (63 sets in 2010) played in more than half of the team's 123 sets last year.  Learning to play together with cohesion, communication, and "connection" (to use Coach Rose's word) takes time.  As Coach Rose noted to Dan Howland of the Daily Collegian in "Coach Russ Rose says women's volleyball lacking connection," an article posted on September 13, 2011:
It's a team game.  Right now we don't have a great connection out there.
Developing that "connection" will take some time and alot of hard work in the gym.  Hard work and time to improve the timing and communication between Fr. S Micha Hancock and her hitters.  Hard work and time to hone the blocking.  As to whether there's enough time before the Big Ten season starts, who knows.  Here's RaymondLuxuryYacht's take on the weekend's performances and what they say about the 2011 season for Penn State:
Certainly, it's disappointing to see PSU drop both matches [to Stanford and Texas], but encouraging to see how close the matches were, especially considering Penn State's youth, inexperience, and constantly morphing line-up. The overall outcomes aren't as important as the lessons that will come from those matches for the longer term benefit of the team.The search is still on for an effective offensive line-up. PSU's side-out percentage couldn't have been more than about 55%, certainly not good enough to win against these teams.  Aiyana Whitney may have secured a spot, given her performance against Texas, while Kabbes does not appear to be up to the task, at least offensively. The team has a lot of room to grow.

But the Big Ten opener against Nebraska is just 10 days away, and Russ has one tournament left for wholesale experimentation with his line-up.  Oh , and I'm completely inept at picking winners in high-stakes matches, currently being 0-4.
RLY, you had alot of company on that 0-4 thing.  As to the team getting "connection" in time for Nebraska, for an away match?  That's a tall order.  But we're fans.  So we're optimistic.