Quote of the Day

"It was a big-time environment tonight. We're really proud of the university and community's support, and where they're helping us take this program.  Penn State's playing really well as they prepare for the postseason. I obviously have a tremendous amount of respect for Russ Rose and his program and players. It's a learning experience for this team and our young players, and I think we're getting better and making improvements with each match."  Maryland head coach Steve Aird, courtesy of umterps.com.
On BTN2Go, the crowd at XFINITY Center looked sizeable — our guess was about 3,500. We were low, as a record-setting crowd of 4,522 fans came to watch the Maryland Terps (9-20, 2-16) take on the AVCA #4-ranked Penn State Nittany Lions (28-3, 16-2). The fans appeared to enjoy themselves overall, though the Terps fell in straight sets (15-25, 18-25, 14-25). Still, it was great to see Maryland Head Coach Steve Aird having success building fan support (and seeing that his enthusiasm hasn't waned (his estimate was 6,000 or 7,000 fans).
For Penn State, 6-4 RS Fr. Opp/RS Aiyana Whitney registered 11 kills (.350 attack %), with 6-1 Fr. OH Ali Frantti totaled 9 kills (.600 attack % — zero errors), 6-2 Jr. OH Megan Courtney finished with 6 kills (.750 attack % with zero errors), and led the team with 9 digs, and  6-3 Fr. MH Haleigh Washington put down 6 kills (.667 attack % — also no errors).  5-11 Sr. setter Micha Hancock guided Penn State to a .421 team attack % (compared to .123 attack % for the Terps), and added eight service aces, to reach the century mark for the season.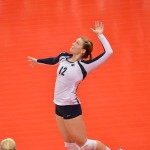 6-2 Sr. MH Nia Grant registered 4 blocks, as did Whitney, while 5-6 Sr. libero Dominique Gonzalez totaled 8 digs.
6-1 Sr. OH Ashleigh Crutcher led the Terps with 7 kills, 6-2 So. MB Ashlyn MacGregor finished with 4 (.800 attack %), and 5-7 Jr. libero Amy Dion came up with 6 digs.
Match Stats (Courtesy of GoPSUsports.com)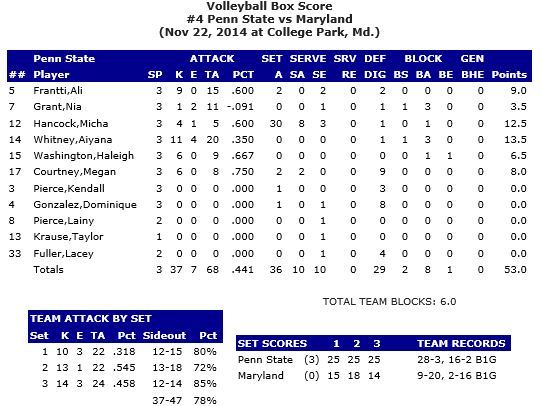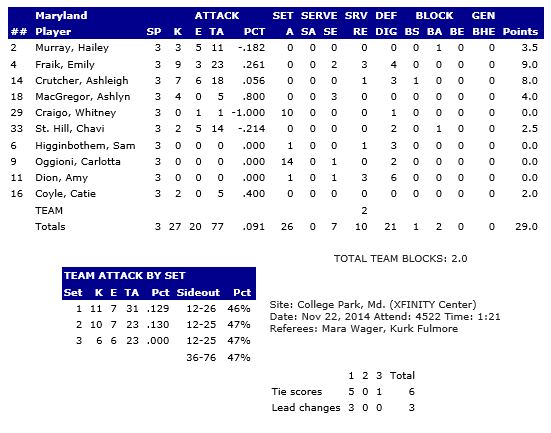 ______________________
Photo Credits
Red eared sliders turtles.  By Gary M. Stolz, U.S. Fish and Wildlife Service.  This work has been released into the

public domain

by its author, Gary M. Stolz, U.S. Fish and Wildlife Service. This applies worldwide. 

In some countries this may not be legally possible; if so:

Gary M. Stolz, U.S. Fish and Wildlife Service grants anyone the right to use this work for any purpose, without any conditions, unless such conditions are required by law.
Photo of Micha Hancock courtesy of GoPSUsports.com