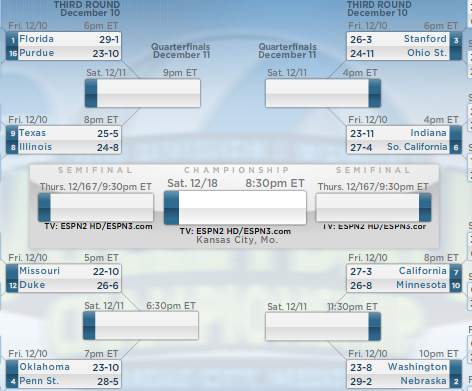 The Match: Oklahoma (23-10)  vs. Penn State  (28-5)             
When & Where: December 10, 2010, 7:00 p.m. ET.; Rec Hall     
Media Coverage: GameTracker; Live Stream: NCAA AllAcess.com                             
Match Snapshot
In some respects, Penn State is in the classic "heads you win, tails I lose" situation in its match against Oklahoma on Friday.  If the Nittany Lions win (and we believe they will — they're the more talented team and they're playing on their home court — they should win), many folks will yawn and say "big deal."  If they lose, get ready for a chorus of "overrated" and shouts of satisfaction that "the Evil Empire" has finally been defeated.  
Fair enough.  But two things need to be said: message board chatter aside, Oklahoma is a solid team that won't roll over for the Nittany Lions.  Virginia Tech pushed Penn State in two of the three sets they played last Saturday.  Oklahoma could do that too — and more. 
Second, everyone gets that Penn State's bracket has given Penn State an easier road to the Final Four than other highly-rated (or highly seeded) teams.  
But if Penn State gets to the Finals  (far from guaranteed), it will have beaten the #1-ranked (and seeded) Florida Gators, or the team that beats the #1-ranked (and seeded) Florida Gators (#8-seeded Illinois, or #9-seeded Texas, or #16-seeded Purdue).  And, taking a look at those other brackets, Penn State managed a very respectable  7-5 record against other Sweet 16 teams (with a 28-18 advantage in sets won in those matches) during the regular season, and finished in front of five of them (Minnesota, Illinois, Purdue, Ohio State, and Indiana) in the Big Ten standings.
None of which means anything unless Penn State continues to win.  But if it does, then maybe this will help put some perspective on the knashing of teeth and wringing of hands that accompanied the announcement of the brackets. 
Sure, Penn State was given an easier road — at least in the early stages — than other highly-seeded teams.  But to win it all, it will have to win it all.  If that happens, we'll be cheering just as loudly as any of the other four times Penn State's Women's Volleyball team has accomplished that very difficult feat. 
And if they don't, no regrets, and hearty cheers for the team that does!
Even after Oklahoma defeated Wichita State (3-0) and #22 Tulsa (3-2) in the 1st and 2nd rounds of the NCAA Tournament in Norman Oklahoma, there are still some who believe that Oklahoma head coach Santiago Restrepo's Oklahoma Sooners have no business being in this Sweet Sixteen match against Penn State. 
Don't include the Penn State Nittany Lions or their coaches in that camp.  As Penn State Assistant Coach Kaleena Walters notes in the video interview below:
Oklahoma has a very spunky setter [5-9 Jr. S. Brianne Barker, who was named to the AVCA All-Central Region 1st Team on Tuesday] who, along with Coach Restrepo, has alot of energy, and together they lead the team, will the team, to win.  She funs a really quick offense, so I think we'll have to keep an eye on her.  They have a good lefty Right Side that can cause trouble.  They run down balls that you would never expect them to get.  So I think they'll be ready to put up a fight here.
In addition to Barker, Oklahoma has enjoyed solid performances from 6-1 RS Jr. OH Suzy Boulavsky  (3.46 kills/set; .275 attack %), and 6-2 Fr. MB Sallie McLaurin (2.36 kills/set; .315 attack %).  5-7 So. DS Maria Fernanda  leads the team with 4.29 digs/set, while McLaurin has averaged 1.28 blocks/set, followed by 6-4 Sr. MB Sarah Freudenrich with 0.75 blocks per set.
Penn State advanced to the Regional Semifinals by sweeping Niagara on December 3rd and Virginia Tech on December 4th.  The win against Virginia Tech was surprisingly tough, and left many Penn State fans grumbling that the team had played poorly.  But Virginia Tech's Head Coach Chris Riley, for one, wasn't surprised.  As he told Jake Kaplan in a December 6th interview in Penn State's Daily Collegian:
 I think our strength and our speed were difficult for them to handle as big [as Penn State is] and as well as they move. I think it's difficult for anyone to handle.
Penn State Head Coach Russ Rose seemed to agree.  As he told Ryan Loy of the Daily Collegian in a December 6th interview:
We needed to block because I didn't think we would dig. They run such a fast offense behind the block. Really for us, it was about blocking. 
 In his interview with Jake Kaplan, Riley agreed that blocking was a key to the match:
"They were physical and had a humongous block.  Against a team with 6-foot-6 and 6-foot-5 [players] blocking you, you've got to be able to move them around, and we struggled to do that at times tonight.
Looking ahead to Oklahoma, Penn State has the statistical advantage in almost all areas.  6-5 Sr. Opp. Blair Brown leads the team with 4.10 kills/set (.318 attack %), 6-1 Fr. OH Deja McClendon follows with 3.34 kills/set (.332 attack %), with 6-3 Sr. MH Arielle Wilson averaging 2.68 kills/set (.424 attack %).  5-6 So. S. Kristin Carpenter has averaged 11.29 assists/set in leading Penn State's offense to a .313 attack % (2nd in the NCAA).   5-9 Sr. L Alyssa D'Errico leads the team with 4.09 digs/set, while the top-three blockers are Wilson (1.12 bps), 6-3 Sr. MH Fatima Balza (1.34 bps) and 6-6 Fr. MH Katie Slay (1.58 bps).
Assistant Coach Kaleena Davidson on Virginia Tech, Oklahoma, Duke and Missouri
Here's a video interview with Penn State Assistant Coach Kaleena Davidson, talking about last weekend's matches and about Oklahoma, Duke and Missouri:
Stat Joust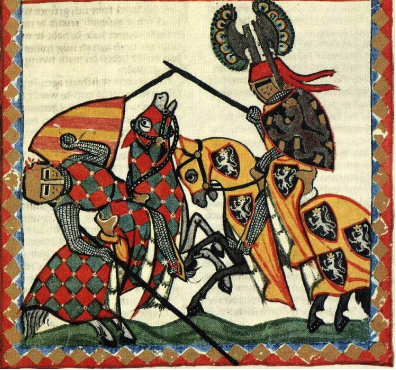 Below are comparisons of Oklahoma's and Penn State's team and individual statistic:
Oklahoma vs. Penn State (Team Stats)
| Category | Oklahoma | Penn State |
| --- | --- | --- |
| Points/Set | 16.6 | 18.4 |
| Attack % | .227 | .313 |
| Attack Errors/Set | 5.1 | 3.9 |
| Opponent Attack % | .190 | .128 |
| Kills/Set | 13.60 | 14.12 |
| Assists/Set | 12.52 | 12.97 |
| Service Aces/Set | 0.73 | 1.27 |
| Service Errors/Set | 1.7 | 2.2 |
| Digs/Set | 15.51 | 14.40 |
| Blocks/Set | 2.27 | 2.97 |
| Reception % | .953 | .954 |
| Reception Errors/Set | 0.9 | 0.8 |
| Ball Handling Errors/Set | 0.2 | 0.3 |
Oklahoma - Penn State (Player Stats)
| Player | Team | Category | Statistic |
| --- | --- | --- | --- |
| Brown | Penn State | Points | 519 |
| Boulavsky | Oklahoma | Points | 474 |
| Brown | Penn State | Points/Set | 4.7 |
| Boulavsky | Oklahoma | Points/Set | 3.8 |
| Wilson | Penn State | Attack % | .424 |
| McLaurin | Oklahoma | Attack % | .315 |
| Brown | Penn State | Kills/Set | 4.10 |
| Boulavsky | Oklahoma | Kills/Set | 3.46 |
| Brown | Penn State | Kills | 451 |
| Boulavsky | Oklahoma | Kills | 436 |
| Carpenter | Penn State | Assists/Set | 11.29 |
| Barker | Oklahoma | Assists/Set | 10.39 |
| D'Errico | Penn State | Service Aces/Set | 0.41 |
| Barker | Oklahoma | Service Aces/Set | 0.16 |
| Fernanda | Oklahoma | Digs/Set | 4.29 |
| D'Errico | Penn State | Digs/Set | 4.09 |
| Slay | Penn State | Blocks/Set | 1.58 |
| McLaurin | Oklahoma | Blocks/Set | 1.28 |
| McLaurin | Oklahoma | Solo Blocks | 30 |
| Wilson | Penn State | Solo Blocks | 10 |
| 3 tied | Oklahoma | Sets Played | 126 |
| 4 tied | Penn State | Sets Played | 110 |
Below are the team and individual NCAA rankings for Oklahoma and Penn State in selected statistical categories (through December 5, 2010):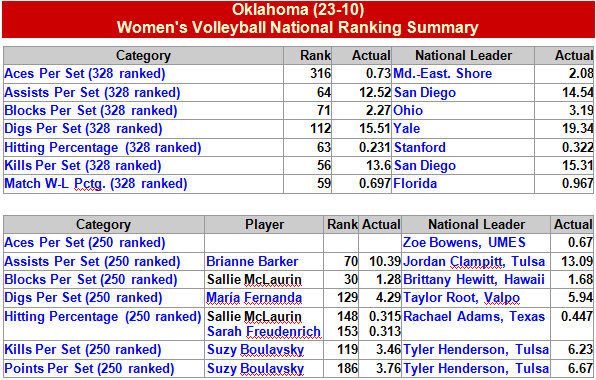 Team Rosters
Oklahoma 2010 Team Roster
| | | | | | | | | |
| --- | --- | --- | --- | --- | --- | --- | --- | --- |
| No. |   | Name |   | Yr. |   | Ht. | Pos. | Hometown (Last School) |
| 1 |   | Barker, Brianne |   | JR |   | 5-9 | S | Amarillo, Texas (Amarillo) |
| 2 |   | Boulavsky, Suzy |   | JR |   | 6-1 | RS/OH | Houston, Texas (Clear Brook) |
| 3 |   | Cowan, Kylie |   | JR |   | 5-10 | S/DS | Odessa, Texas (Odessa) |
| 12 |   | Disarro, Chrissy |   | SR |   | 6-1 | MB | Plano, Texas (Plano East) |
| 4 |   | Fernanda, María |   | SO |   | 5-7 | DS | Rio Piedras, Puerto Rico (Colegio Adianez) |
| 13 |   | Freudenrich, Sarah |   | SR |   | 6-4 | MB | Broken Arrow, Okla. (University of Arkansas) |
| 5 |   | Gowen, Mindy |   | FR |   | 5-2 | DS | Edmond, Okla. (Santa Fe) |
| 10 |   | Higgins, Caitlin |   | JR |   | 6-0 | OH | Amarillo, Texas (Tascosa) |
| 9 |   | Kittle, Emma |   | SO |   | 5-11 | OH | Iowa City, Iowa (University of Iowa) |
| 14 |   | McLaurin, Sallie |   | FR |   | 6-2 | MB | Midwest City, Okla. (Carl Albert) |
| 7 |   | McQuaid, Andrea |   | FR |   | 5-10 | DS/S | Ovilla, Texas (Red Oak) |
| 8 |   | Reynolds, Morgan |   | SO |   | 6-2 | OH/OPP | Blue Springs, Mo. (Blue Springs) |
| 17 |   | Rodriguez, Keila |   | FR |   | 5-9 | OH | Gurabo, Puerto Rico (Colegio Bautista de Caguas) |
| 15 |   | Warren, Cortney |   | FR |   | 6-0 | MB | Houston, Texas (Elkins) |
| 6 |   | Williams, Eden |   | FR |   | 5-4 | DS | Amarillo, Texas (Amarillo) |
2010 Team Roster
Number
Name
Position
Year/
Class
Height
HS
(Club)
State/
Nation
1
Scott,
Ariel

Opp/OH
1/Fr.
6-4
Immaculate Heart Academy
(Team Complete
Athlete)
NJ
2
Kabbes,
Katie

OH
3/Jr.
6-5
Cardinal Gibbons
(Triangle Volleyball)

NC
3
Balza,
Fatima

MH
4/Sr.
6-3
Liceo Caracas
VE
4
Ullrich,
Jessica

DS
4/Sr.
5-8
Wheaton North
(1st Alliance)
IL
5
Carpenter,
Kristin

S/DS
2/So.
5-6
Hanover
(Richmond Volleyball Club)
VA
6
Martin,
Maddie

OH
1/Fr.
6-2
H.B. Plant
(Tampa Bay
Juniors)
FL
7
Wilson,
Arielle

MH
4/Sr.
6-3
Proviso East
(1st Alliance)
IL
8
Denney,
Erica

MH
1/Fr.
6-5
Grandview
(Front Range
Volleyball Club)
CO
9
Brown,
Blair

Opp
4/Sr. (RS)
6-5
Loudoun Valley
(Renaissance)
VA
10
Racibarskas,
Marika

S
2/So.
6-0
Chatham
(Team Complete
Athlete)
NJ
11
Dorton,
Darcy

OH
2/So.
6-2
Delta
(Munciana)
IN
12
D'Errico,
Alyssa

L/DS
4/Sr.
5-9
Byron-Bergen
(VolleyFx Magic)
NY
13
Shifflett ,
Megan

DS/S
3/Jr.
5-6
Langley
VA Elite
VA
14
Quilico,
Cathy

L/DS
4/Sr.
5-1
Westlake
(Gene's Team)
CA
15
Harding,
Maggie

DS
1/Fr.
5-6
State College
Area
PA
16
Slay,
Katie

MH
1/Fr.
6-6
Raleigh
(Triangle Volleyball
Club)
NC
18
McClendon,
Deja

OH
1/Fr.
6-1
Dupont Manual Magnet
(KIVA)
KY
19
Pabst,
Krosby

DS
1/Fr.
5-7
Woodrow
Wilson
(Mizuno Long Beach)
CA
22
Moydell,
Mikinzie

S
1/Fr.
6-0
Chaparral
(Front Range Volleyball Club)
CO
23
Longo,
Ali

DS
1/Fr.
5-6
Chatfield
(Juggernaut Volleyball)
CO