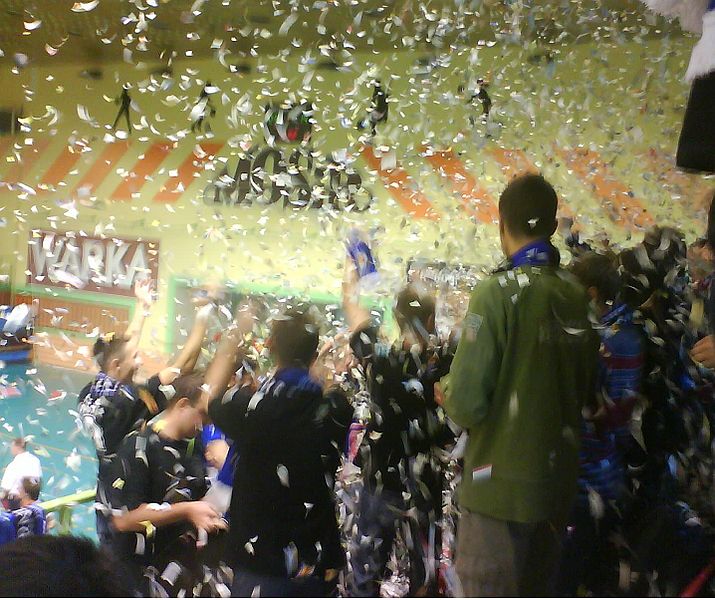 Lions Sweep Wildcats
After the Illinois match, it was obvious the Penn State women's volleyball team would need to refocus and regroup to defeat a sky-high Northwestern team, fresh from it's 3-2 blackout victory over Ohio State Friday night.  Well, the Nittany Lions did just that, in impressive fashion, sweeping the Wildcats 25-19, 25-14, 25-17.  6-1 So. OH Deja McClendon had another strong match, with a team-leading 20 kills (and 10 digs).  5-11 Fr. S Micha Hancock totaled 42 assists in directing Penn State to a .346 attack % (compared to .126 for Northwestern), and two consecutive service aces, which brings her season total to 80 (with four matches remaining).  5-6 So. L Ali Longo led the team with 12 digs, while 5-6 Fr. DS Dominique Gonzalez had 10.   6-6 So. MH Katie Slay and 6-2 Fr. MH  Nia Grant both had very solid matches, with a collective 10 kills on .500 hitting.  Slay registered a match-high six blocks, while Grant had four.
Fanalysis (by PhillyTom)
After the loss at Madison and then the sweep at Illinois, the last thing I would have expected was for the PSU women to travel to Evanston and play a really good match, shutting down a Northwestern team that they had almost lost to at Rec Hall.  

But go figure. PSU played consistently, broke NW's back early and just dominated.  Just 10 hitting errors — only 5 by players not named Ariel.  Amazing what is possible when you just hit the ball in bounds — all of a sudden your size and athletic ability starts to matter! 

So it's seven losses on the year, which is a lot if you're Penn State, but the interesting thing is, only two of them were to teams PSU arguably shouldn't have lost to  — Oregon in the first match of the season and Wisconsin in that match at Madison. 

Playing against elite teams, I see PSU with 5 losses (Texas, Stanford, Nebraska and Illinois twice) and 5 wins (Nebraska, USC, Minnesota (twice) and Purdue). 

So the good news is, considering all this team's youth and the problems they have experienced, they are capable of going toe-to-toe with great teams.  The bad news is, it's getting late enough in the season that it's probably not realistic to expect that this errors/inconsistency/lack of focus problem is going to suddenly go away.  It will bite them at some point, and when it bites them after the 2nd round of the NCAA, their season is over. 

Being realistic, making a regional final would be an accomplishment for this team. Winning a regional final — unlikely. 

But next year is another matter.
Alumni Sightings
One of our readers who attended the Northwestern match e-mailed us to say she saw two PSU volleyball alumni at the match — Carrie Schonveld and Kate Price.  Our reader wasn't sure if we report on alumni sightings, and we haven't, but it's always nice see that kind of support from former players.  
For the record, Schonveld was part of Penn State's class of 1999, which ended the 1999 season with a 36-1 record (and the NCAA Championship) after losing their season opener to Florida on Aug. 27th.  That class – Schonveld, Bonnie Bremner, Lauren Cacciamani, and Kalna Miller – ended their careers with a 137-5 record, earned a share of the Big Ten title in 1996 and 1997, and won the title outright in 1998 and 1999.  They never lost a home match.
Kate Price was the 2004 Big Ten Freshman of the Year and a member of the 2007 NCAA Championship squad. 
Match Stats