Below are selected individual and team statistics through 9-19-2019 for the 2019 Penn State Women's Volleyball team.  My Slacker Staff has added very limited commentary (a limited effort from the Slacker Staff.  Shocker, right?).  You can add more (and undoubtedly better) on the DigNittanyVolleyball Forum: http://forum.dignittanyvolleyball.com/thread/944/stats-update-comments-slacker-staff
Note that our staff is famously reluctant to check their own work, let alone the work of others. So mistakes invariably creep in. Please let us know if you spot one (or several). And our apologies in advance.
Points
By way of comparison, for the 2018 season, Nia Reed led the team with 3.74 points/set, Jonni Parker was second at 3.60 points/set, and Taylor Leath was third at 2.90 points per set.  Here's the link to the 2018 Stats: https://dignittanyvolleyball.com/2018-stats/
Points Leaders: as of 9-19-2019
Blocking
Kaitlyn Hord currently ranks 4th in the B1G in blocks/set.  The top ten in the B1G are listed after this table:
Blocking Leaders: as of 9-19-2019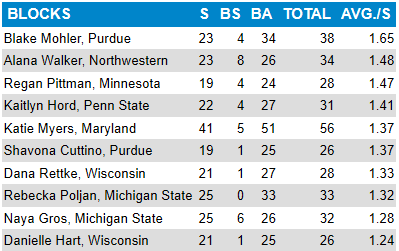 Attack
Penn State has three of the top ten in attack percentage in the B1G.  Those ten are listed after this table:
Attack Leaders: as of 9-19-2019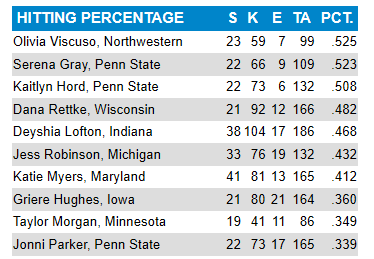 Setting
In 2o18, Bryanna Weiskircher averaged 10.91 assists/set and Kendall White averaged 0.77 assists per set.  Gabby Blossom ranks 2nd in the B1G.  The top ten are listed after this table:

Setting Leaders: as of 9-19-2019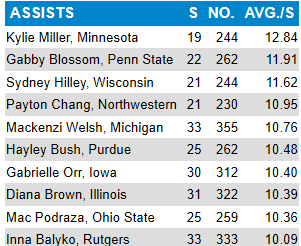 Serving
The team is averaging 1.27 aces/set and holding opponents to 0.45 aces/set.  In 2018, the team averaged 1.31 aces/set, with opponents averaging 0.69 aces/set.
Serving Leaders: as of 9-19-2019
Digs/Serve Receive
Kendall White's 4.00 digs/set is slightly behind her 2018 pace of 4.73 digs/set.  This year's team has a .970 serve reception percentage.  In 2018, the percentage was .891.
Recept/Dig Leaders: as of 9-19-2019
#
Name
Cl.
Pos.
SP
MP-
MS
Dig
Dig/
Set
RE
TA
Pct.
3
White,
Kendall

4/Sr.
L
22
7-
0
88
4.00
0
65
1.000
13
Blossom,
Gabby

2/So.
S
22
7-
7
46
2.09
0
1
1.000
9
Parker,
Jonni

2/So.
RS
22
7-
7
42
1.91
4
56
.929
12
Holcomb,
Keeton

4/Sr.
DS
22
7-
0
38
1.73
3
80
.963
15
Hampton,
Jenna

2/So.
DS
19
6-
0
29
1.53
1
67
.985
22
Cathey,
Allyson


2/So.

OH
22
7-
7
21
0.95
1
21
.952
21
Peed,
Macall

1/Fr.
DS
12
6-
0
11
0.92
1
22
.955
1
Clark,
Lauren

1/Fr.
OH
7
5-
0
5
0.71
0
1
1.000
16
Gray,
Serena

2/So.
MB
22
7-
7
8
0.36
0
5
1.000
11
Gorrell,
Tori

4/Sr.
(RS)
MB
21
7-
7
7
0.33
0
8
1.000
23
Hord,
Kaitlyn

2/So.
MB
22
7-
7
6
0.27
0
3
1.000
2
Sciorra,
Emily

4/Sr.
DS
12
7-
0
2
0.17
0
4
1.000
Team
n/a
n/a
22
7
304
13.82
10
337
.970
Opp.
n/a
n/a
22
7
248
11.27
28
495
.943