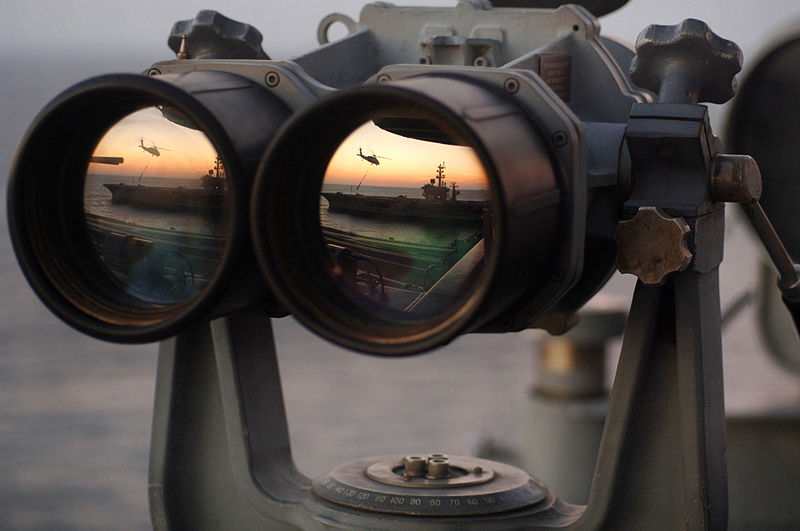 Stat Joust: Penn State, Northwestern and Illinois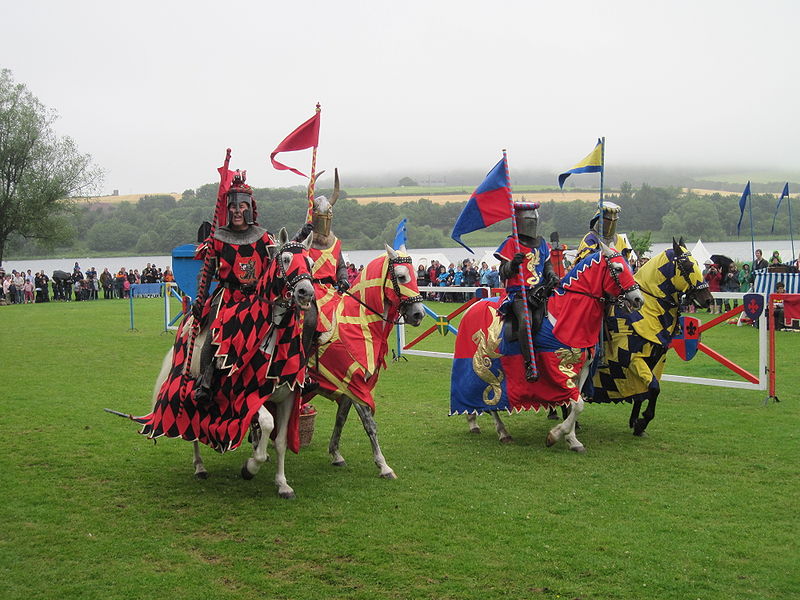 Below is the "Stat Joust" for Penn State, Northwestern and Illinois, based on all-opponents statistics through 10-3-12. What stands out? Penn State has done really well, statistically speaking (stop the presses on that one, right?), but we were impressed by Northwestern's ranking in team service aces (#3 in the B1G) and digs (#1 in the B1G), and not so impressed by Illinois' rankings in those categories (#12 in both).
Northwestern looks to be a tougher team than its 1-3 B1G record might suggest. This could be a trap-match for the Nittany Lions.
Individual take-aways? Illinois' 6-3 RS So. MB Anna Dorn, 6-2 RS Fr. RS Jocelynn Birks, 6-3 Sr. MB Erin Johnson, and 5-9 Jr. L Jennifer Beltran are studs.  Northwestern's 6-0 So. MB Katie Dutchman, 5-11 Jr. OH Stephanie Holthus, 6-2 Sr. S Madalyn Shalter, and 5-7 Sr. L Julie Chin are studs.
Penn State is, and should be, favored in both matches this weekend.  But these will not be easy opponents for the Nittany Lions.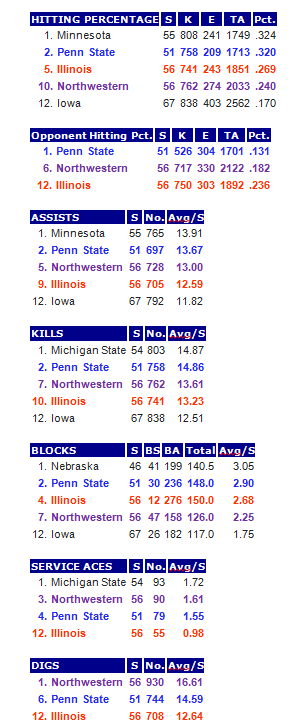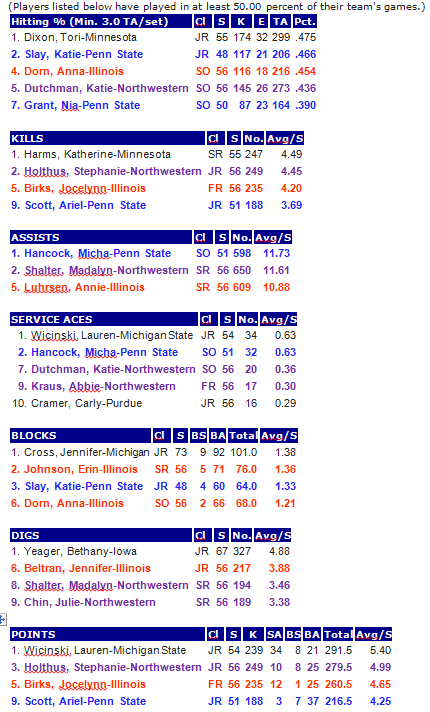 Match Previews
Penn State vs. Northwestern
Friday, Oct. 5 –  8 p.m. ET
Welsh-Ryan Arena, Evanston, Ill. •
Snapshot: Penn State
The Nittany Lions are 14-1 overall (4-0 in the Big Ten).  Among their leading players have  been 6-1 Jr. OH Deja McClendon (3.42 kps, .280 attack %), 6-4 Jr. Opp/RS  Ariel Scott (3.69 kps, .268 attack %), 6-6 Jr. MH Katie Slay (2.44 kps, .466 attack %, 1.33 bps),  5-11 So. S Micha Hancock (11.73 aps, .63 sa/set, 1.14 kps, .422 attack %), 6-2 So. MH Nia Grant (1.74 kps, .390 attack %, 0.98 bps)), 6-2 Fr. OH Megan Courtney (2.00 kps, .296 attack %, 2.22 digs/set, 0.72 bps), 5-6 So. L Dominique Gonzalez (3.33 digs/set), and 5-6 So. DS Lacey Fuller (1.42 digs/set). 
For Penn State's statistical leaders to date, Click Here.
Snapshot: Northwestern
Northwestern is 12-3 overall (1-3 Big Ten), having  defeated Indiana in its last outing, 3-1 (23-25, 25-18, 25-17, 25-23).  In that match, Northwestern excelled at minimizing errors, with only 11 for the match, and hit for a solid .353 attack %.  
For Northwestern's season statistics, Click Here.
Penn State vs. Illinois
Saturday, Oct. 6, 8 p.m. ET
Huff Hall, Champaign-Urbana, Ill.
Snapshot: Illinois 
Illinois went 1-1 last weekend, defeating Indiana 3-1 (22-25, 25-12, 25-17, 25-20), but dropping a 3-2 decision to Purdue (2o-25, 25-22, 20-25, 25-10, 7-15) win.
Jennifer Beltran hit a milestone against Indiana with her 1,394th career dig — good for third place on Illinois' career list, and 6-3 Sr. MB Erin Johnson registered her 400th career block in the Purdue match.
Deja Quizzes Nia