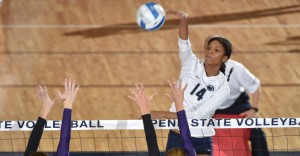 WEST LAFAYETTE, Ind. – Behind a trio of double-digit hitting performances, No. 7 Penn State women's volleyball (17-3, 5-2) outlasted No. 14 Purdue (16-3, 6-1) in five sets (26-24,23-25,22-25,25-23,15-9) on the road Friday evening in Holloway Gym to hand the Boilermakers their first Big Ten conference loss of the season.

Redshirt junior Aiyana Whitney led the offense with a career-high 18 kills, adding two digs and three blocks. Freshman Ali Frantti followed close behind with 16 kills, adding seven digs. Senior Nia Grant rounded out the group with 12 kills on a team-high .429 hitting percentage, while also tallying two aces, two digs and three blocks.

Senior Micha Hancock logged a stellar performance from the service line, registering a match-high six aces. Hancock also notched a double-double with 58 assists and 10 digs.

Five Nittany Lions recorded at least three blocks in the win, led by freshman Haleigh Washington who matched a career-high mark with eight blocks. Junior Megan Courtney finished second on the team with five blocks, while also tallying 14 digs. Senior Dominique Gonzalez aided in the defensive effort with a team-high 16 digs.

For the complete release from GoPSUsports.com, Click Here.
WEST LAFAYETTE, Ind. – The No. 14 Boilermaker volleyball team went the distance with the defending national champion No. 7 Penn State Nittany Lions, but fell 3-2 in front of a sellout crowd Friday night. PSU won the match 26-24, 23-25, 22-25, 25-23, 15-9.

The Boilermakers outhit the Nittany Lions .242 to .216, holding PSU well below its season average of .352, which is best in the nation. Purdue also outdug Penn State 64 to 59 and was within half of block of the Nittany Lions (11.5-11). PSU won the serving battle with 11 aces to Purdue's two.

Purdue's offensive attack was led by juniors Annie Drews and Sam Epenesa, who put down 23 and 17 kills respectively. True freshmen Azariah Stahl and Danielle Cuttino added seven kills apiece. Cuttino hit at a team-best .545 clip and also added a team-leading eight blocks.

Defensively, junior Amanda Neill led the way with 19 digs followed by redshirt freshman Ashley Evans (13) and senior setter Val Nichol, who added 11 digs to her 53 assists and four blocks.

For the complete release from PurdueSports.com, Click Here.
Match Stats (Courtesy PurdueSports.com)


_________________________________________
Photo Credits
Micha Hancock: Courtesy of GoPSUsports.com
Aiyana Whitney: Courtesy of GoPSUsports.com