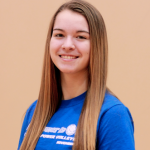 As part of our excruciatingly slow process of updating the write-ups for Penn State's incoming 2016 class, below are some new (to this site) stats and information about Kristin Krause, a 5-9 Setter/DS from Parkland High School (Allentown, PA) and ECPV 17-Titanium:
Name: Kristin Krause
Team: East Coast Power 17-Titanium
Hometown: Allentown, PA
High School: Parkland High School
Grad Year: 2016
Honors and Awards
2 time Prep Volleyball All American,
2 time MaxPreps first team All American,
MaxPreps National Junior Class All American,
Under Armour First Team All American,
Volleyball Magazine Second Team All American,
Prep Volleyball Honorable Mention Academic All American,
2015 Nike Tournament of Champions All Star Team,
2015 Pennsylvania Gatorade Player of the Year,
2014 Pennsylvania Gatorade Player of the Year Finalist,
MaxPreps 2014 Junior Player of the Year Finalist,
2 Time All State, 2 Time  District XI  First Team…
Stat Snaps
When running a 5-1 offense, she never lost a best of 5 match.
She was 52-0 in match play.
She established Parkland offensive career records in service aces 283, with a career 91.7% serving efficiency.
Her career Parkland team hitting efficiency was a record .425
She holds the school single season team hitting efficiency record of .428
This past season her top three hitters averaged  .608, .585 and .480
She  finished with 2938 assists.
Academic Achievements
GPA: 3.9
SAT/ACT Scores Provided Upon Request
Full Honors Curriculum
National honor Society
Spanish Honor Society
Honor Roll
Video Links
PVA Invit 2015 vs VA Elite Game 3 Championship