Updated 3-27-2019
6-2 RS Iman Ndiaye (Plano West HS, TX and TX Advantage VB) was born in France, but moved to the Dallas Fort-Worth area when she was 4.  She'll be heading east again in 2020, as she announced via twitter  on April 12, 2018 that she has verbally committed to Penn State for the 2020 season.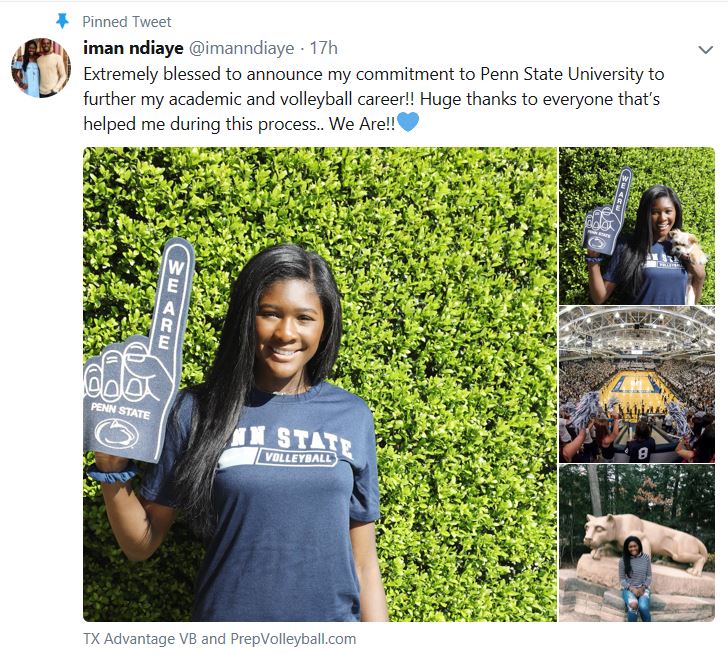 Iman is well-known in volleyball circles.  She recently was named by PrepVolleyball.com's Chris Tobelski as one of seven "17s Club Pre-Season All-Americans," and was named to the prestigious PrepVolleyball.com Top 50 Juniors (as a rightside hitter).  She also earned recognition as the VYPE Dallas-Fort Worth 2018 Player of the Year (garnering 32,626 votes to 24,184 for the runner-up), and was featured in a January 19, 2019 article "Plano West's Iman Ndiaye proves DFW volleyball is on fire." Here's a quote from her coach:
"She's amazing," Waters declared. "She's 'volleyball' smart; she's driven, she works as hard as anyone. She really buys into the 'team effort' concept.  . . . Her hard work really paid off; Iman really improved her game this season. In fact, other coaches were telling me how they noticed how she improved over last season. It was a great compliment to her and her hard work."
Those accolades are nothing new for Iman.  After the first day of the 2017 Triple Crown Sports Pre-Season NIT, PrepVolleyball.com, in its "Star Search" feature [Editor's Note: PrepVolleyball is a pay site, but we think it is well worth it], listed Iman as the leading "Supernova"at the event.  , describing her as having "sheer athleticism and ability to play so high above the net at such a young age."
As noted by DallasNews.com, after totaling 531 kills in the regular 2017 season and leading Plano West to the District 6-6A title (third round in the playoffs, losing to eventual state champion Hebron), Iman was named the District 6-6A Offensive Player of the Year.
Here's a link to an article from the PlanoStarCourier of an October 2017 match between Plano West and Denton Guyer.  Although Plano West lost the match 3-1, Iman totaled 28 kills
Videos
October 24, 2018: Allen vs. Plano West
October 9, 2018: Plano West vs. McKinney Boyd
September 27, 2018: Plano West vs. Plano East
2016 Season Highlights (Iman's freshman year)