Allyson Cathey — the #71 2018 PrepVolleyball.com Senior Ace — committed to Penn State in January of 2018 — the last 2018 Senior Ace to commit, and a terrific addition to what was already a great 2018 recruiting class for Penn State).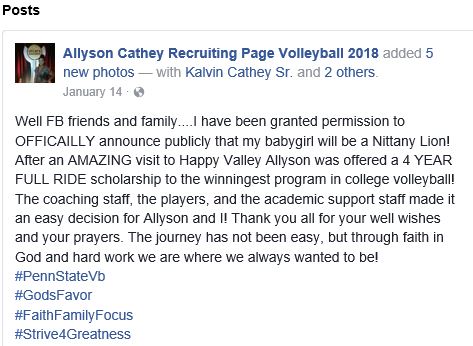 Allyson's commitment wasn't just big news in the Cathey family, it generated national buzz. PrepVolleyball.com did a feature article on January 18, 2018 "Recruiting Dish: Last is Not Least for Top 100 Senior Ace." Here's an excerpt:
How did the path to Penn State play out?

Cathey: I've been watching Penn State play for years. When I was 12, my dad would ask me what my dream school was and I would say Penn State. When I went on a visit, it shocked me. I was surprised how they handle things, the mentally of the program, the school as a whole. I saw myself fitting in there as a person and student. I see myself growing there. As for volleyball, they play similar to how I play and think. I love the program and what it stands for. It's everything I was looking for.
For the complete article, "Click Here." (requires a subscription).
Welcome Allyson!
Below are Allyson's career stats, as listed on the Allyson Cathey Recruiting Page:
1978 kills (New Albany record)
.373 hitting %
296 Blocks
843 digs
129 service aces
91.3 serving %
3 straight seasons of 500+ kills and .400+ hitting %
558 kills in one season (NAVB record )
48 kills in one match (NAVB record )
300 digs in one season (NAVB record)
4 All State and All Conference honors
And here are some video highlights of Allyson: