Thanks to Ethan Kasales for spotting this: 2021 setter Quinn Menger, a 5-11 Jr. from St. Catherine's High School in Richmond, Virginia, has verbally committed to play for Penn State starting in 2021.  She's a lefty, btw.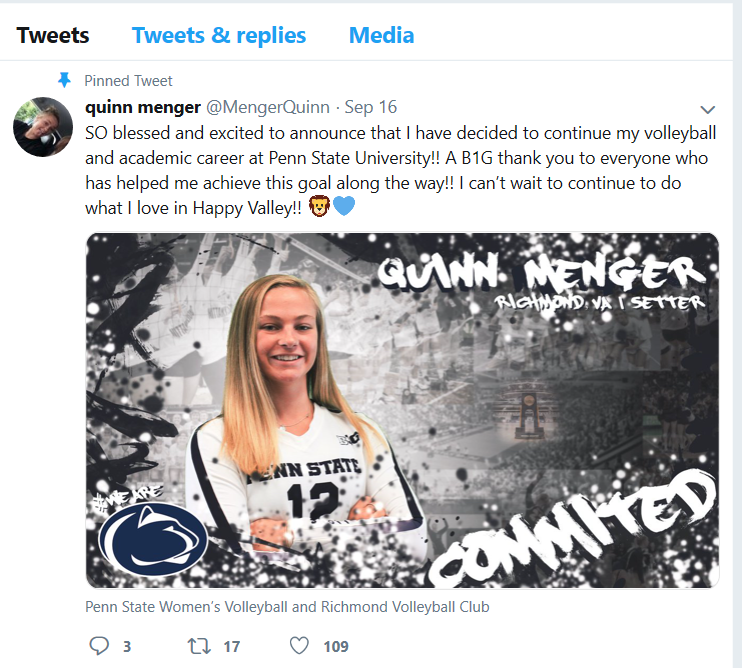 Here's an excerpt of an article by Nick Vandeloecht of the Richmond Post-Dispatch about Quinn on January 7, 2019:
RICHMOND – "There are times when she's made a play and I'm like, 'I don't know how she did that," Sherman Chung said of St. Catherine's volleyball player Quinn Menger. "It's just pure instinct, pure athleticism."
All-around, Menger has all the skills needed to play anywhere on the court, Chung noted.
"She can play defense. She can set. She can hit. She can block."

That versatility can be seen across Menger's 2018 statistics. She contributed 95 kills, 52 aces, 44 blocks and 553 assists to her St. Catherine's volleyball team as a setter.
"It makes lineup a lot easier to do," said St. Catherine's head coach Skip Weston. "Quinn is capable of doing whatever we would ask her to do."
The young Powhatan resident's stellar performance and tremendous leadership elevated her to a place on the 2018 Times-Dispatch All-Metro Team. She was the only player who wasn't a senior or junior to make First Team.
For the complete article, Click Here.
Here are some videos of Quinn:
Here are a few of Quinn's stats to date, courtesy of Max Preps. For her complete stats, Click Here: