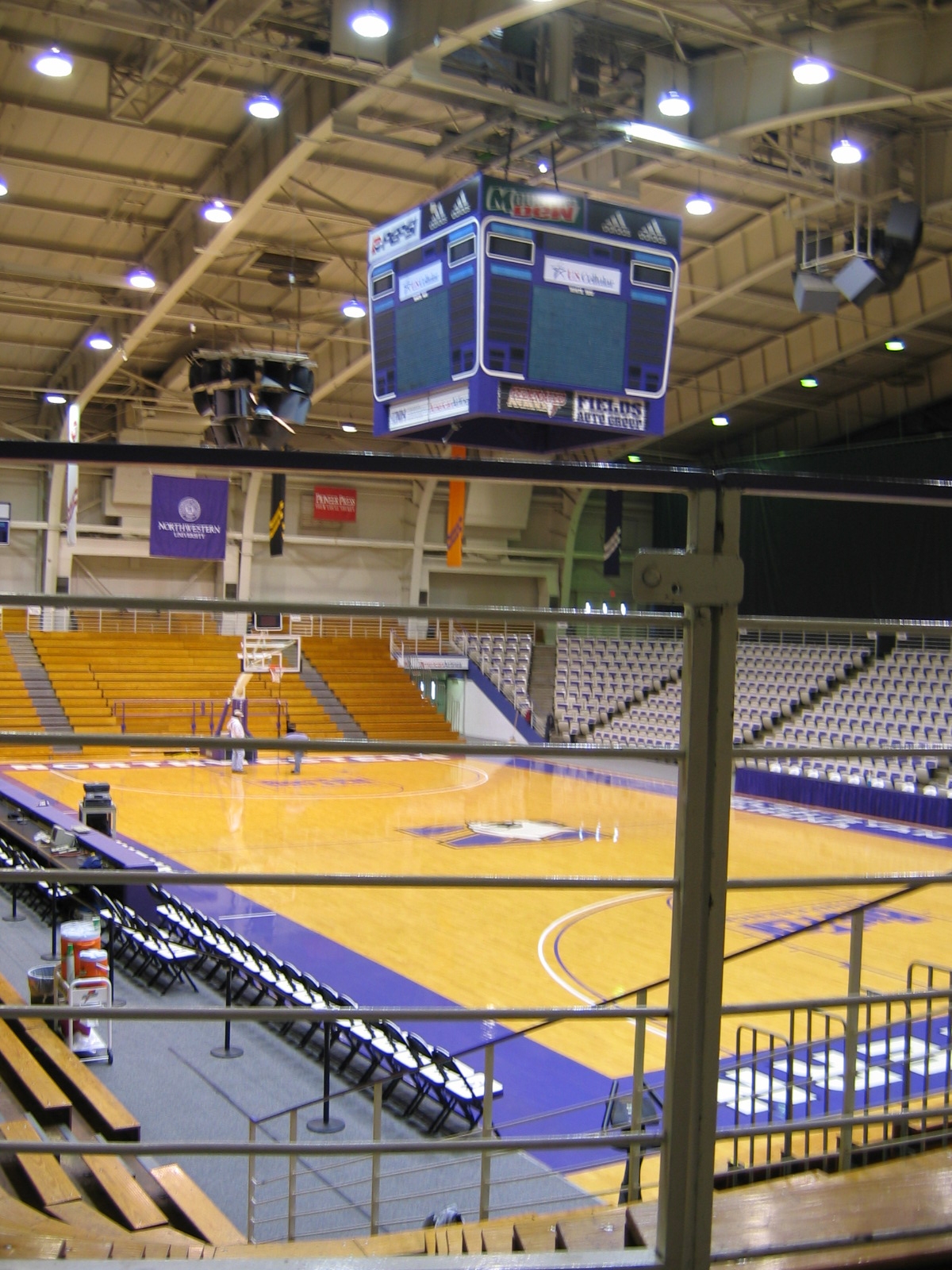 Welsh-Ryan Arena.  Photo courtesy of Wikipedia Commons.
Penn State's sweep of  No. 22 Northwestern (25-18, 25-18, 25-18) Saturday night in front of 1800 fans in Welsh-Ryan Arena, may not have answered all of the questions about the 2010 Nittany Lion Women's Volleyball team, but it was a solid win, on the road, against a quality opponent, and for us, that's not bad.   
Of course, in this year's Big Ten race, with third place Penn State (17-4, 7-3 Big Ten) still having to take on first place Illinois (17-3, 9-1 Big Ten) at Rec Hall, second place Michigan (19-3, 8-2 Big Ten) in Ann Arbor, and fourth place Minnesota (OK, it's a five-way tie, but it's still fourth place)  in Minneapolis, one good performance won't get it done.  It's going to be a long, tough, battle in which every match counts.  Like the ones coming up Friday against fourth place Indiana and Saturday against fourth place Purdue, both in Rec Hall. 
More about those matches tomorrow, but a quick preview: the Nittany Lions are 0-1 against both those teams. 
So the team better not rest on its laurels, but we're fans, so we can take a moment or two to reflect on Saturday's win.  Once again, 6-5 Sr. Opp. Blair Brown (12 kills, 5 blocks — two of which were solo) and 6-1 Fr. OH Deja McClendon (12 kills) came up big for Penn State, as did 6-3 Sr. MH Arielle Wilson (10 kills).  So. S. Kristin Carpenter had 40 assists, as Penn State hit .378 for the match, while holding Northwestern to a .129 attack %.  Sr. L Alyssa D'Errico  topped all players with 18 digs, while 6-3 Sr. MH  Fatima Balza  had another strong match with 6 blocks, 6 kills, and a sparkling .857 attack %. 
Northwestern head coach Keylor Chan had this to say about the defeat:
It was a tough night tonight, but Penn State showed once again why they are one of the elite teams in the country," said head coach Keylor Chan. "The crowd was amazing tonight and it was great to see so many fans come out and support the team. We're halfway through the Big Ten season and have a long ways to go, and hopefully we can learn from this weekend moving forward.
The Wildcats were led offensively by 6-0 RS Sr. OH Brittani Gray (7 kills), 6-3 Sr. MB Naomi Johnson (6 kills), Sabel Moffett (5 kills) and 6-0 Fr. OH Stephanie Holthus (5 kills).  6-1 Sr. S Elyse Glab dished out 25 assists.  Defensively, 5-7 So. L Julie Chin had 10 digs and 6-1 Jr. OH  Alex Ayers 8 digs for the Wildcats.  Sabel Moffett led Northwestern with 3 blocks.
Here are the statistics for the match: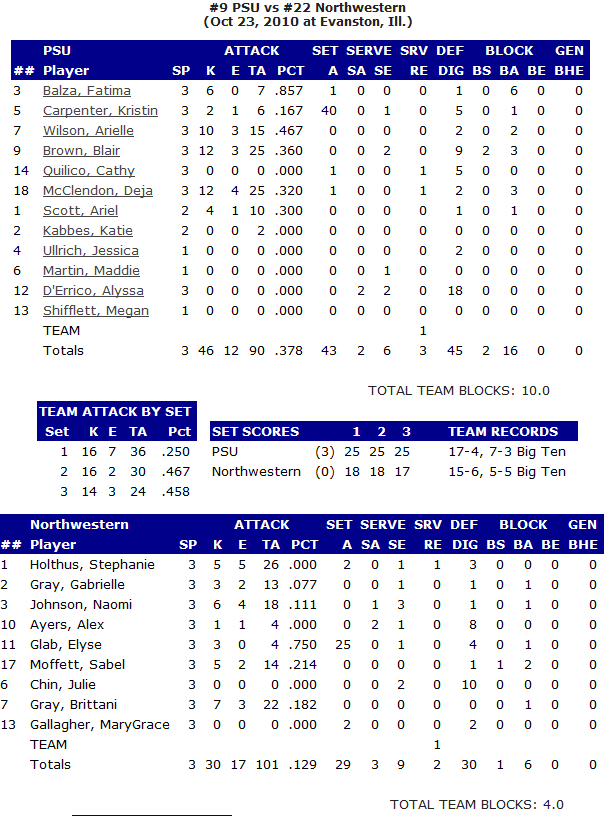 Last Year's Match
There have been plenty of comparisons of this year's Nittany Lion squad to last year's, so we decided to look at how Penn State fared last year against Northwestern in Evanston.  Not that it proves much of anything — other than that the statistics are still available on the web — we thought it was interesting.  Both matches were sweeps, with the scores being a bit more one-sided in 2009 (25-19, 25-12, 25-16) than this year (25-18, 25-18, 25-17).  In 2009, Penn State's attack % was a stellar .442 compared to this year's .378, but Northwestern hit at a .217 clip in 2009 compared to a .129 attack % this year. 
Here are the match statistics from 2009: