\
Here's a recap of Penn State's 3-0 victory over Colgate, from gocolgateraiders.com:
STATE COLLEGE, Pa. – The Coglate women's volleyball team dropped its second match of the season to top-ranked Penn State, 3-0 (25-14, 25-15, 25-15), at the Hampton Inn Classic.

Colgate (3-2) got six kills from sophomore Michelle McCarthy (Manhattan Beach, Calif.) and five from senior captain Casey Ritt (Colorado Springs, Colo.). Junior Blaire Safir (Oakland, Calif.) recorded 15 assists and five digs, while freshman Caitlin Cremin (Naperville, Ill.) also had five digs.

"As a team, it took us a while to shake the nerves of playing the National Champion," said head coach Ryan Baker. "However we got more aggressive and active with each point. The box score doesn't indicate how hard we played at times."

The Nittany Lions (5-0) increased their match winning-streak to 107 games with the win and has yet to drop a set this season. Deja McClendon led the way with 10 kills, but Penn State did a great job spreading the wealth as three others recorded seven or more kills. Blair Brown was one of those three and had eight kills on the day. Mikinzie Moydell handed out a game-high 23 assists, while Alyssa D'Errico had 11 digs in the win.

The Raiders hung around with Penn State for the first part of the opening set with leads at 2-1 and 5-4. Ritt had a pair of kills earlier on to lead Colgate. The Raiders stayed with the Nittany Lions, until Penn State opened a 10-7 lead, thanks to kills from Brown. Colgate made it 13-9 on a kill by junior Maureen Colligan (Odessa, Fla.), but that is as close as the Raiders would get. The Nittany Lions then opened up a 20-11 lead after a 6-1 run and cruised to a first set win at 25-14.
For the complete writeup by gocolgateraiders, Click Here
For the complete writeup from gopsusports, Click Here
Here are the complete match statistics, courtesy of gopsusports.com: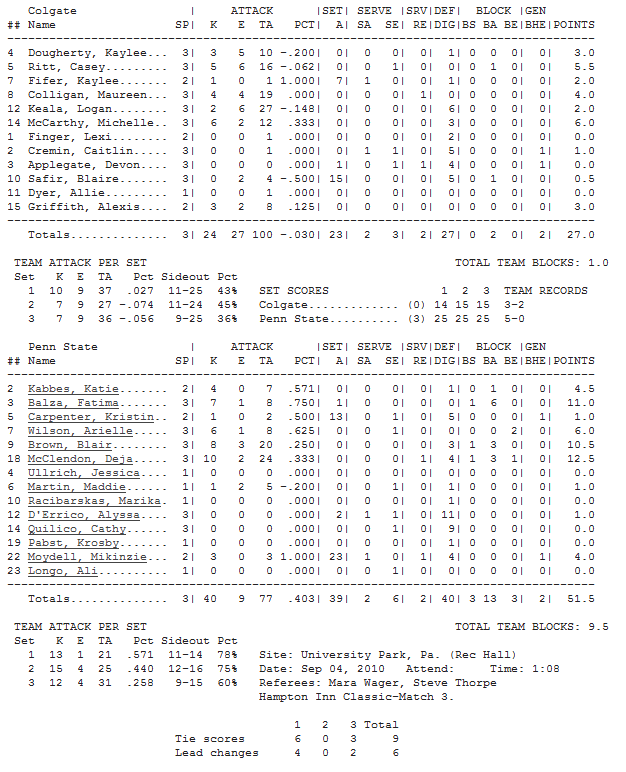 .