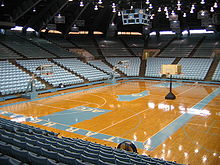 As expected, Penn State swept Campbell (25-15, 25-9, 25-16) to capture the Carolina Classic Championship, move to 3-0 for the season, and extend . . . well, in keeping with our solemn vow not to dwell on the streeeeeeeeeeeak (until we decide, for good, bad,  or totally capricious reasons, to dwell on it), we'll just say that the Nittany Lions winning streak is now somewhere between 104 and 106 consecutive matches.
Penn State was led by senior Blair Brown (Purcellville, Va.), who was named Carolina Classic MVP and had a career-best 19 kills (.679 hitting) and senior Arielle Wilson (Broadview, Ill.), who totalled 11 kills (.647 hitting), followed by freshman Deja McClendon (Louisville, Ky.) with eight.
Sophomore Kristin Carpenter (Mechanicsville, Va.) started her second consecutive match as setter and finished with 25 assists, six digs and two kills. Senior libero Alyssa D'Errico (Byron, N.Y.) had 19 digs and a career-high six aces. Wilson's six blocks led Penn State, while sophomore Katie Kabbes(Raleigh, N.C.) chipped in with four.
We're still trying to get our mind around the concept of the Fighting Camels.  Here's a look at some ostensibly "fighting camels":
Now, compare them to this Fighting Campbell (OK, it's just one, but I'm certain we could identify a few more):
Be fair.  Which would you rather have in your corner?  Fighting Campbells or Fighting Camels?  (And that's putting aside the issue of care and feeding, which from what little I know of camels, is a major issue with them).  
Fighting Camels aside, for a write-up on the match from gopsusports, Click Here.
And for final statistics from the match, Click Here.