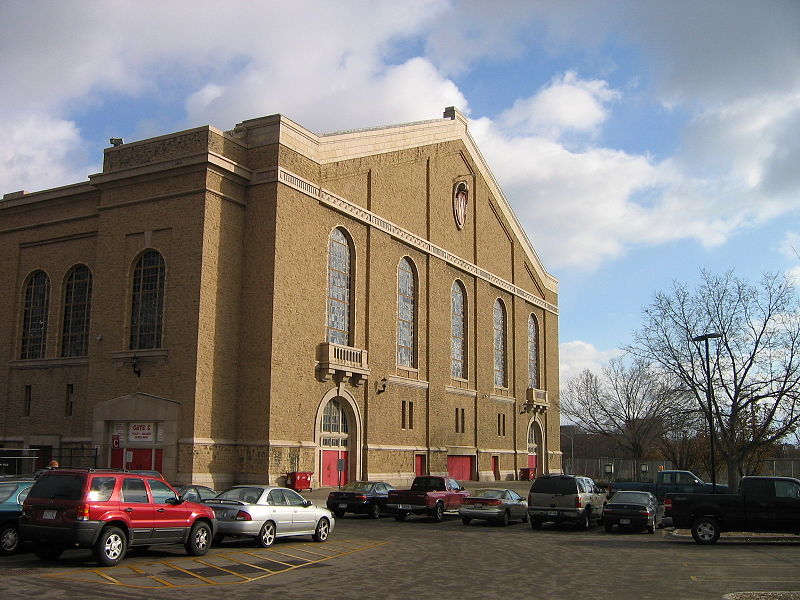 There was alot at stake for Penn State and Wisconsin in their Sunday afternoon match.  For one thing, the match will be replayed this evening on the Big Ten Network (9:00 p.m. E.T.).  And, more to the point, both teams needed a victory to avoid starting 0-2 in Big Ten play, having lost their respective Friday night openers  (Wisconsin to Ohio State,  3-2 in Madison, and Penn State to Illinois, 3-2  in Champaign).  
Wisconsin (11-2, 0-2 Big Ten) did a great job promoting the match, and a reported 5,500 fans turned out to cheer on the Badgers, including several members from Wisconsin's 2000 NCAA runner-up team:  6‐2 MB Meggan Kohnen,  5-7 DS Jill Maier,  6‐1 MB Marie Meyer,  5-11 S Morgan Shields, 6-3 RS Claudia Rodriguez, 5-4 DS Angie Sanger, 5-7 DS Jamie Gardner, 5-9 DS Sara Urbanek , and 5-10 OH Lisa Zukowski.
None of it phased the Nittany Lions, who evened their Big Ten record at 1-1 (11-2 overall) with a 3-0 sweep (25-15, 25-17, 25-21).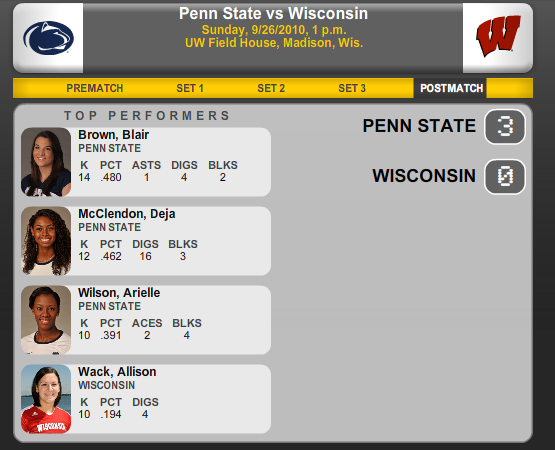 Match Highlights
Penn State — which started 6-3 Sr. MH Fatima Balza, 5-6 So. S Kristin Carpenter,6-3 Sr. MH Arielle Wilson, 6-5 Sr. Opp. Blair Brown (who came into the match with a team-leading 3.51 kills/set), 5-1 Sr. DS Cathy Quilico, 6-1 Fr. OH Deja McClendon (who was second on the team with 3.32 kills/set)  and 5-9 Sr. Alyssa D'Errico at libero — was led by Brown with 14 kills, McClendon with 12 (and a match-high 16 digs) and Wilson with 10 (along with a team-leading 4 blocks). Kristin Carpenter totalled 39 assists in setting Penn State to a .355 attack percentage.  D'Errico's 14 digs were second on the team.   
Wisconsin, which was held to .147 hitting, started 6-1 So. S Janelle Gabrielsen, 6-5 Fr. OH Elise Walch (3.23 kills/set coming into the match), 6-0 So. MB Alexis Mitchell, 6-0 Sr. OH Allison Wack (3.13 kills/set coming into the match, along with a team-leading 0.53 aces/set), 6-3 Fr. RS Julie Mikaelsen, 5-11 Fr. MB Dominique Thompson , and 5-7 Sr. Kim Kuzma at libero.
 Here are the match statistics, courtesy of CBS GameTracker: