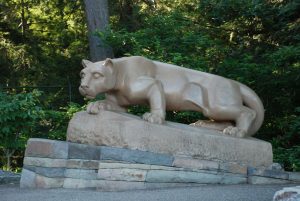 Historically, Penn State hasn't been the last school to release the schedule for its women's volleyball team, but it definitely takes its time, usually releasing the schedule some time in May of the season in question.  (In contrast, the football team's 2017 schedule is posted here, and the 2018 and 2019 schedules can be found here. Go figure.)
This season, Penn State decided to release the schedule match by match, in tweets, with 15 minutes between tweets.  Even our slacker staff moves faster than that!  Speaking of which, they (the slacker staff members) tell me that this 15-minute routine was to build suspense.  Well, thankfully, the suspense if finally over.
Here's the schedule, with commentary from GoPSUsports:
UNIVERSITY PARK, Pa. – The Penn State women's volleyball team announced its 2017 schedule on Monday afternoon, featuring 13 home contests spanning from August to November.
The Nittany Lions will once again compete among the best of the best, with the schedule including eight NCAA tournament teams from 2016 including reigning national champion Stanford and national semifinalists Nebraska and Minnesota. Additionally, seven opponents Penn State will face were among the AVCA's final top-25 poll, while eight finished the 2016 season with 20-plus wins.

For the first time in five seasons, Penn State will open its non-conference slate on the road, taking part in its opening tournament at West Virginia on August 25-26. The Nittany Lions will first face the Ohio Valley Conference's UT Martin (9-22) on Friday, before taking on Delaware (16-16) and West Virginia (12-18) the following day.

For the complete post from GoPSUsports.com, Click Here.

PENN STATE VOLLEYBALL 2017 SCHEDULE

(All game times are ET, subject to change)

Date
Opponent
Time
Location
West Virginia Tournament
Aug. 25
vs. UT Martin
4:30 pm
Morgantown, W.Va.
Aug. 26
vs. Delaware
10:00 am
Morgantown, W.Va.
Aug. 26
vs. West Virginia
7:00 pm
Morgantown, W.Va.
Texas A&M Tournament
Sept. 1
vs. Stanford
6:30 pm
College Station, Texas
Sept. 2
vs. Texas A&M
6:30 pm
College Station, Texas
Big Ten/ Pac-12 Challenge
Sept. 8
vs. Colorado
4:30 pm
Champaign, Ill.
Sept. 9
vs. Stanford
4:30 pm
Champaign, Ill.
Penn State Classic
Sept. 15
Yale
7:30 pm
University Park, Pa.
Sept. 16
Wake Forest
10:00 am
University Park, Pa.
Sept. 16
Ohio
7:30 pm
University Park, Pa.
 Big Ten Schedule
Sept. 22
Nebraska
7:30 pm
University Park, Pa.
Sept. 23
Iowa
7:00 pm
University Park, Pa.
Sept. 29
Illinois
7:30 pm
University Park, Pa.
Sept. 30
Northwestern
7:00 pm
University Park, Pa.
Oct. 6
at Ohio State
7:00 pm
Columbus, Ohio
Oct. 7
at Maryland
7:00 pm
College Park, Md.
Oct. 13
Michigan State
7:30 pm
University Park, Pa.
Oct. 14
Michigan
7:00 pm
University Park, Pa.
Oct. 20
at Purdue
7:00 pm
West Lafayette, Ind.
Oct. 21
at Indiana
7:00 pm
Bloomington, Ind.
Oct. 25
Wisconsin
7:30 pm
University Park, Pa.
Oct. 28
at Illinois
7:00 pm
Champaign, Ill.
Nov. 1
at Michigan State
7:00 pm
East Lansing, Mich.
Nov. 4
Rutgers
7:00 pm
University Park, Pa.
Nov. 8
at Iowa
7:00 pm
Iowa City, Iowa
Nov. 11
Maryland
7:00 pm
University Park, Pa.
Nov. 15
Indiana
7:30 pm
University Park, Pa.
Nov. 18
at Rutgers
7:00 pm
Piscataway, N.J.
Nov. 24
at Wisconsin
7:00 pm
Madison, Wisc.
Nov. 25
at Minnesota
7:00 pm
Minneapolis
Credits