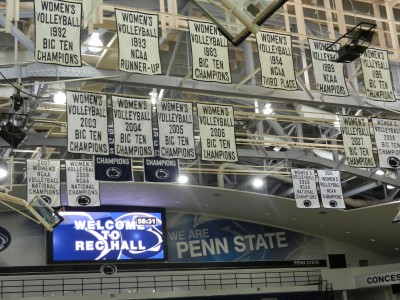 GoPSUsports.com has posted its Official 2015 PSU Women's Volleyball Roster (ours, which is, in our decidedly biased opinion, a bit more user-friendly, can be accessed here: 2015 Penn State's 2015 Volleyball Roster.)  Below is a rundown of the key developments.  You can discuss them on the DigNittanyVolleyball Forum, here: 2015 Roster: 4 New Players, 2 New Staff Members
How Do You Say "Surprise" in Serbian?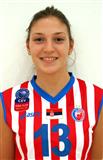 The biggest development was the surprise (to most of us) addition of Fr. Jelena Novakovic, a 6-2 lefty opposite from Belgrade, Serbia.   Apparently, Jelena had made it known last winter, through the berecruited website, that she was interested in playing volleyball for a college in the United States.  The Penn State staff did its homework, liked what they saw, and invited Jelena to play for Penn State.
As one observer put it:
Jelena lists herself at 6'3 and PSU lists her at 6'2. I'm going out on a limb and saying she is not done growing yet and will end up at 6'4ish. The addition of a nice size southpaw to the Nittany Lion program is a long desired prize. She has a high contact point and seems equally at ease cranking line as well as hitting deep cross court. I like that she attacks comfortably from behind the 3 meter line, which would be a huge plus for Penn State once they lose Megan Courtney to graduation. Having a D ball lefty can be devastating.  I would say the speed of the game will be the greatest transition that she will have to adjust to, but the girl seems really excited and eager for the new challenge and I'm thrilled that she will be in Blue and White.  She has a lot of the tools Penn State is looking for.
Jelena has had great success training and playing with teams in the Serbian National program, including playing on a European Championship team and earning a few personal accolades herself. Her extensive international experience should be a welcome addition to the Penn State program. We're told that her English is very good and that she is excited to come and play in the states for Penn State.
Here's a list of all four members of the Class of 2015, with links to complete write-ups on each:
2015 Recruiting Class - as of 6-23-15
Four other developments:
DS Skylar Dykstra is no longer with the team.  Dykstra transferred to Penn State from UCLA for the 2014 season.
DS Natalie Canulli, who had signed a LOI with Penn State for the 2015 season, is not on the roster.  Apparently, she has given up volleyball.
Jesse Tupac has been named Director of Volleyball Operations.  Jesse previously served as a

graduate assistant coach at Iowa State

. In June 2014, Tupac was technical coordinator for the Girls Youth National Team during the NORCECA World Championships Qualifiers in Costa Rica. The Americans won the silver medal, and qualification to its World Championship in summer 2015. He also served as the head coach of the Youth National A3 Training Program in Edmond, Okla.
Shawn Sangrey is the Volunteer Assistant, replacing JJ Goddu.  In 2013,

Shawn was named to the 12-man roster for the U.S. Men's Pan American Cup team

.  He was a 2012 Ohio State graduate, finished his career as an AVCA First Team All-American and was the MIVA Most Valuable Player in 2012. In his senior season, Sangrey finished first in the nation in kills per set and was a five-time MIVA Offensive Player of the Week. The Columbia, Pa., product concluded his four years among the program's best in kills, attacks, service aces and points.
Oh, and Ali Frantti has grown an inch (listed at 6-2) and Aiyana Whitney is now only listed as 6-3 (down from 6-4).