No. 11 seed Penn State women's volleyball was swept 3-0 (22-25, 15-25, 17-25) by No. 3 seed Stanford Saturday night at Maples Pavilion, falling to the Cardinal in the Elite Eight for the second straight year at Maples Pavilion.
Russ Rose will have to wait until next season for his 1,300th win at Penn State. He's now 104-32 in the NCAA tournament as head coach of the Nittany Lions. Stanford has won four straight in this series — the longest streak for either team — and takes a 13-12 lead after also beating Penn State 3-1 earlier this season on September 13 in Rec Hall.
Stanford advanced to its fourth straight Final Four and the 23rd in program history. The Cardinal have won two of the last three national championships and could take a 9-7 lead over Penn State in that department next weekend in Pittsburgh. Stanford will play Minnesota in the semifinals, while No. 1 seed Baylor will clash with Big Ten champion Wisconsin.
Sophomore outside hitter Allyson Cathey made her debut in this year's NCAA tournament and got the start after missing the first three matches. The Cardinal used a 10-1 run down the stretch of the first set and into the second to stifle what was an excellent start for Penn State, which wore its road blue jerseys.
Two-time AVCA Player of the Year Kathryn Plummer was her dominant self with a match-high 24 kills. She had 53 during regional play this weekend. Plummer hit .512 against the Nittany Lions and added five digs, two blocks, and an assist. It was only the second time Penn State had been swept this season (Pitt at Rec Hall).
Tori Gorrell was magnificent in her final collegiate match, leading the Nittany Lions offensively with 13 kills on a .667 hitting percentage. Gorrell added three digs and had just one attack error against the Cardinal. Fellow senior Kendall White finished her Penn State career as the program's all-time digs leader with 1,994 after posting a team-high 11 Saturday night.
Sophomore opposite hitter Jonni Parker started hot and helped the Nittany Lions take a 20-14 lead in the first set, but she cooled down a bit as the match wore on. Parker still had 10 kills, three digs, a block, an assist, and her 42nd ace of the season and will likely be named an All-American again when postseason honors are announced.
Serena Gray and Kaitlyn Hord combined for 13 kills and one attack error, but took only 29 swings on a night where Penn State struggled to work the ball to its terrific middle blockers. Gabby Blossom had 33 assists, six digs, two kills, and an ace that started the match. Her counterpart, Stanford's Jenna Gray, dished out 46 assists and matched teammate Sidney Wilson with two aces. Gorrell and Gray were the lone Nittany Lions to earn Stanford regional all-tournament recognition.
The Cardinal outhit Penn State .525 to .347 and had 16 more kills and 10 more digs than the Nittany Lions, who were able to get all five seniors playing time in their last match. Morgan Hentz and Meghan McClure were excellent defensively for Stanford with 14 and 12 digs, respectively.
The Nittany Lions (27-6, 17-3 Big Ten) head into the offseason having to replace a pair of significant contributors in White and Gorrell, but another deep tournament run will surely pay dividends for this young-yet-talented team as it prepares for the 2020 season. Penn State's superb sophomore class will also be a year wiser.
Post-Match Quotes
Coach Rose's opening statement:
"I thought we started out playing really well for about the first 20 points, then it slowly got closer and closer and, as a veteran team is capable of doing, they were able to kind of close the gap in the end of the first game. I think a couple of our younger kids were a little bit deflated after that. As we got a little deflated, they got a little inflated. We hit about .350 and they hit over .500. They can hit over .500 a lot easier than we can stop them from hitting .500. I think that was it. We had some growth through the year, so I'm not disappointed in the outcome. I thought at the beginning of the year that Wisconsin was the best team in the Big Ten and that Stanford was the best team in the country. I'm sticking to my thoughts at the beginning of the year. We had a chance to win the Big Ten on the last day of the regular season and Minnesota played real well and beat us. We were in a tie for second place in the conference. We played two matches with Stanford this year. I've played against that graduating senior class it seems probably six or eight times in their college career. We've beaten them sometimes and we've lost to them a number of times. I think they're terrific and I respect the way they play. I respect how they've developed and how they interact with each other and wish them the best of luck as they head to sunny Pittsburgh next week."
Coach Rose on Tori Gorrell and Serena Gray being named to the Stanford all-regional team:
"Well, that's why they're here [on the podium]. I didn't get a chance to vote, but I thought Tori was incredible today. She was our best hitter. I thought Serena competed very well today as well. Both of them did a really nice job yesterday [against Cincinnati]. Yesterday, we hit really well collectively. I thought Tori, for her last match as a college athlete playing in a new position, represented herself in as good a fashion as she possibly could. I have great respect for how she played. Serena, I thought she did a nice job from the end line serving and did a nice job at the net attacking. She's still a work in progress in some areas, but she's a big, strong, bright young lady, and she did a real nice job."
Coach Rose on the contributions of Kendall White and the rest of Penn State's senior class: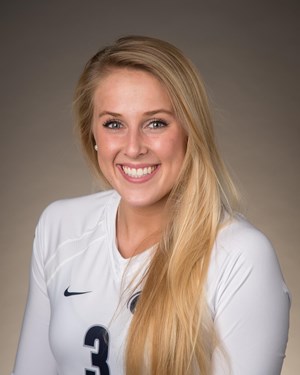 "Kendall set the digging record at Penn State, so I'm really partial to the things that Kendall did for Penn State while she was there. She was a great passer, she was a passionate kid, she came and worked hard everyday, and loved to compete, so I'm a big fan of the contributions that Kendall made to our program. Our senior class had some nice players. Not nearly as decorated as the Stanford class, because other than Tori, most of them are back-row players, but for sure Kendall made great contributions. Kristin [Krause] and Emily [Sciorra] were back-row players and Keeton [Holcomb] was a libero her freshman year and then transitioned to a back-row player. When you have kids who walk-on to your program and stay for four years and make a commitment to do things, you certainly appreciate the hard work they've put in and the commitment they make to your program. I certainly want to acknowledge, not just them, but all the seniors around the country. All the coaches feel the same way. Only one team at the end of the year gets to celebrate winning the national championship, but everybody feels a little melancholy about when your veterans leave your program. You wish them well and you wonder if you did all you could to help them in their development and hope that they left the program in a better place than they found it when they came in."
Tori Gorrell on what was working well for Penn State to start the match: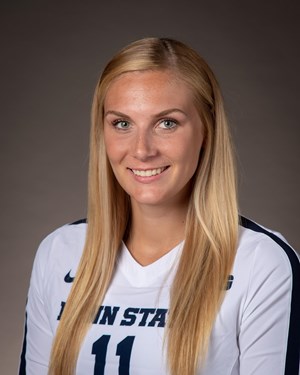 "The first game, I think we came out really fiery. I think we needed to do that. Stanford's a really good team. Obviously, you can see how they played. It was just a great match for them. I think what worked [in the first set] was just swinging on every ball. There were a lot of times, when we didn't score, it was because we were tipping or rolling. Stanford's got good defense, so I thought when we swung as hard as we could, or [took] smart swings, we scored a lot more. I think we kind of shied away from swinging in the second and third sets. I think that's why it wasn't as great."
Coach Rose on the lack of blocking on both sides:
"We only had one. In our case, it's because they were hitting over the block. I think, in their case, we didn't get many swings, because when we were serving, they were hitting over the block. That's why they hit .500. They probably didn't block us as much as they [wanted]. They had 20 blocks last night [against Utah], but both matches were different yesterday. As Tori said, I thought we came and we played real well at the beginning. We had a good lead and it slowly kind of slipped away, then at the end when it got to about 20-20, the crowd woke up. [Kathryn] Plummer is an incredible talent. I mean, to play Jordan Thompson one night and Plummer the next night, I'll look forward to flying home tomorrow. They're different players, but they're both so very talented. I would hate to comment on the top players in the country, because there are so many players who you don't know. You would hate to think you're slighting somebody's player. I would say, just having played Stanford so much, there could be days where you would say that Jenna Gray is the MVP of the team, and there are days that Morgan Hentz is the MVP, and we've played them when [Audriana] Fitzmorris was the best player. Plummer, the last two years, was the most valuable player in college volleyball. Had she played more matches this year and her numbers would have made her eligible, she may have been one of the leading candidates again. When we're fortunate enough to have great players playing the game, we should just really appreciate having them in the game when you have them. I feel the same way when I've had national players of the year who played at our program is that you know the ones who are really special. You also recognize the ones who are really good people. From the interactions that I've had with Plummer and meeting Jordan Thompson yesterday, I would say they're both great representatives of their school and college volleyball."
Coach Rose on Minnesota's chances against Stanford in the Final Four:
"We saw Minnesota and Stanford play in our gym [at Rec earlier this season]. When they played, it was the night after we played Stanford in a very hard match with a big crowd, then Stanford had an early match the next day against Minnesota [and lost]. I didn't think that Stanford was at full strength the next day. Minnesota's obviously playing very well and certainly the two coaches know each other very well and they've played each other, because we play the Big Ten/Pac-12 Challenge every year. The players are familiar with each other and the teams are accustomed to teeing it up and getting after it. I would never make a prediction, but I think it will be good volleyball. I'll look forward to hearing about it. I have no interest in going to watch it [in Pittsburgh], but I would look forward to hearing somebody say, 'Oh, it was a great match.' And I'll say, 'Huh, beautiful, glad to hear about it.'"