No. 8 Penn State women's volleyball swept Indiana 3-0 (25-21, 25-13, 25-18) Friday night at Rec Hall thanks to an extremely efficient night from its middle blockers.
Kaitlyn Hord led the Nittany Lions and tied Indiana's Breana Edwards with 12 kills in the victory, which helped Penn State improve to 54-1 in the all-time series against the Hoosiers. Hord had a match-high .611 hitting percentage, while Serena Gray hit .500 on the dot.
Gray and Tori Gorrell added 10 kills apiece on a night in which the Nittany Lions hit .301 as a team to Indiana's .125. After a relatively close first set that saw seven lead changes and Gabby Blossom switch her shoes (more on that later), Penn State poured it on in the second set with an excellent 84% side-out percentage. Blossom finished with a match-high 37 assists, 12 digs, two total blocks, and a kill for her eighth double-double of the season.
Gray and Gorrell paced Penn State from the service line with a pair of aces against the Hoosiers, who fell to 12-14 (1-12 Big Ten) on the season. Freshman defensive specialist Macall Peed tallied the other ace in what was a 5-2 advantage for the Nittany Lions in that category.
Kendall White continued her pursuit of Penn State's career digs record with 14 against her home-state Hoosiers. She's now just 126 digs away from breaking Kaleena (Walters) Davidson's mark. Jonni Parker and Allyson Cathey recorded five kills apiece in the win, while Parker added six digs, three total blocks, and an assist. Lauren Clark connected for a kill on her only swing of the night. Penn State will travel to Bloomington on Nov. 20 for a rematch with the Hoosiers.
The Nittany Lions (18-4, 11-2 Big Ten) return to Rec Hall Saturday at 7 p.m. when they host No. 15 Purdue on senior night. White, Gorrell, Keeton Holcomb, Emily Sciorra, and Kristin Krause will be recognized before the match.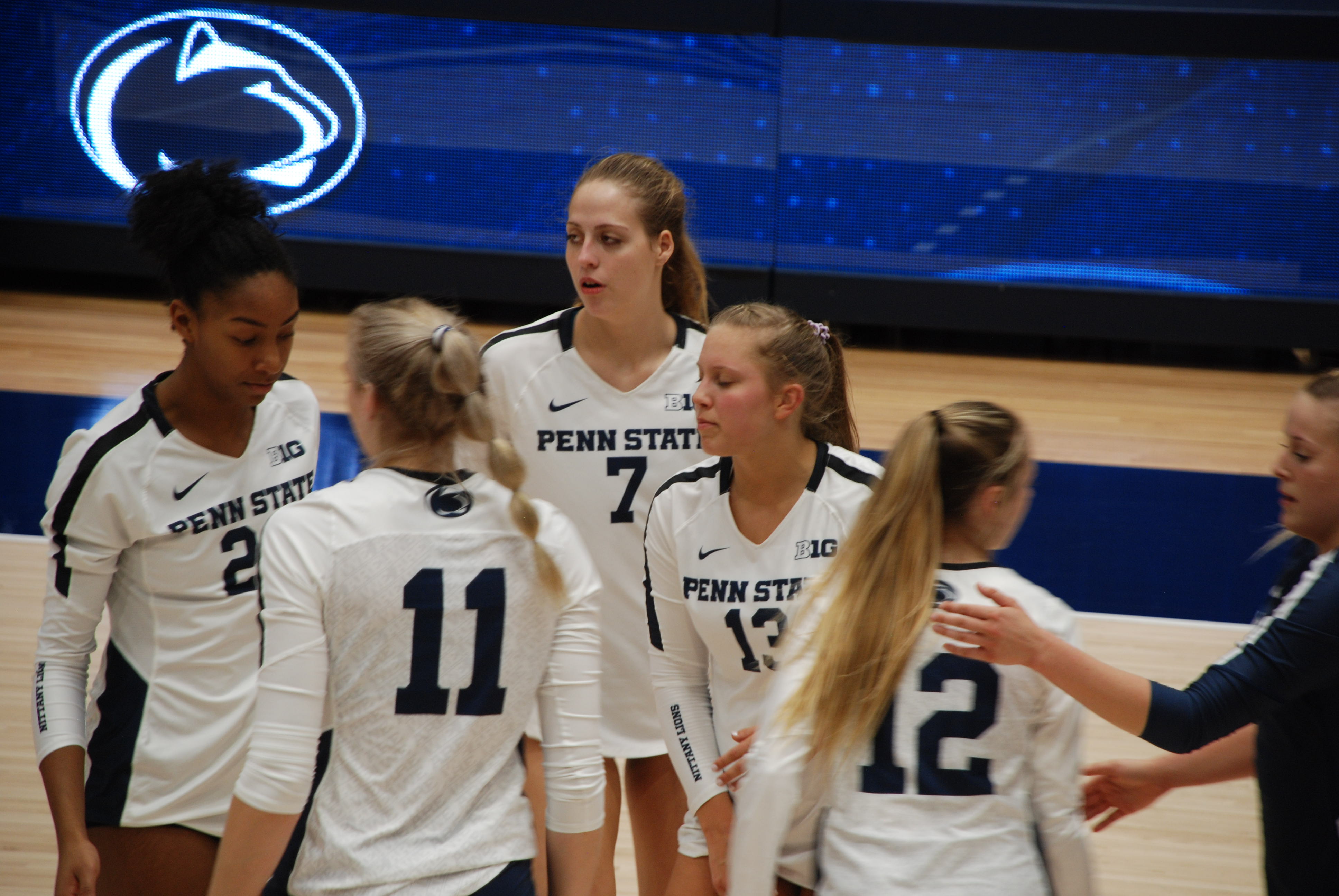 Post-Match Quotes
Coach Rose's opening statement:
"First, I want to congratulate our women's field hockey and soccer teams today on great victories in their conference championships. I'm really proud of them and their coaching staffs. They showed great perseverance and pride in getting to the position that they're both in to be in the finals of their conference championships. A lot of lessons to be gained. This was a match that I thought we got really good production from our middles. I thought Gabby did a nice job distributing the ball and Kendall did a nice job bouncing back. We had a couple kids who were pretty dinged up this week, so it was a nice effort. We're going to have to be much better tomorrow."
Gabby Blossom on changing her shoes midway through the first set:

"Well, it was kind of my fault. I broke them last weekend, but I always play in those shoes, so I was like, 'I'll see what happens.' Then the first tip came and it broke more and I slipped on it, so I was like, 'It's time to change them.' I shouldn't have probably worn them to begin with."
Coach Rose on Blossom's quick change from her blue Kobe Bryant sneakers into a pair of white Nikes:
"Well, it's lucky to be at home, because if you're on the road and something like that happens, it's a bigger challenge."
Coach Rose on whether Indiana switching from a 6-2 offense to a 5-1 changed his team's strategy:
"They have a lot of talented players with a lot of good arms, so it doesn't really change the game plan. It just means that they're going to have different distribution as far as certain players, but they were setting [Breana Edwards] an incredible amount. She had 20-plus swings after the first game, so it wasn't like we didn't know where the ball was going. She had eight kills and 20-plus swings in the first game. We needed to control the ball. I thought we made a lot of service errors in the second game. The Big Ten is tough. Everybody competes hard and everybody's got a lot of pride. Steve [Aird] was a member of our staff for a long time. Him and Dan [Gwitt] were members of the Penn State program and Krista [Vansant] was the national player of the year when she played at the University of Washington. We recruited her. They're building the program and they've got kids who are going to fight and they're going to keep battling. They went five with Purdue earlier in the year and beat Kentucky, which is one of the top teams in the SEC. You need to be ready to play. You can't worry about what system they use. You've got to worry about what's going on on your side of the net."
Gabby Blossom on what it was like to be back at home:
"We definitely love playing at home. Rec Hall and our fans are incredible, so being at home is definitely an advantage, especially in the Big Ten. You don't have to travel, you stay in school, you get to go to all your classes that week. It's more of a normal schedule without traveling. We love playing in front of our fans, so it was nice to be home."
Serena Gray on the importance of bouncing back after the Nebraska loss:

"I think we definitely needed to make an immediate change. We knew that we couldn't sit in this loss for too long, because the Big Ten is one of those conferences where you never get a break. It's also good practice for the NCAA tournament. You might be down a set, might be down two sets, almost three sets. You need to practice bouncing back. That's just one of the things we need to get good at if we want to contend with the top teams."
Gabby Blossom on Coach Rose's advice for situations like that:
"Coach always says, 'Don't let a loss beat you twice.' I don't think Monday at practice we were very good about that, so coming out tonight was more just to forget about last weekend, learn from it, and move on, because like Serena said, the Big Ten's a battle every weekend."
Kaitlyn Hord on what it means to wear Penn State on her uniform:
"It's something that's really hard to describe, because it's just an amazing feeling. You put on the jersey, you look in the mirror, and you're just like, 'Wow! I'm playing for not only the team that I'm with now, but also everyone who's done something good or been on the team in the past. It's just an amazing feeling to put on the jersey and play with these guys."