No. 10 Penn State women's volleyball lost to No. 11 Purdue 3-1 (22-25, 24-26, 25-21, 14-25) Friday night at Rec Hall.
Kaitlyn Hord (13) led a group of four Nittany Lions with double-digit kills, but the Boilermakers hit .371 in the first set to establish an early lead. Purdue outhit Penn State .241 to .172 for its seventh straight win.
Jael Johnson, Grace Cleveland, and setter Hayley Bush were exceptional offensively for the Boilermakers. Cleveland was a dig away from recording a triple-double (11 kills, 10 blocks, nine digs), while Bush, libero Jena Otec, and defensive specialist Marissa Hornung combined for 50 digs.
The Nittany Lions had 10 aces Friday night, but also surrendered 14 service errors in the loss. AC Fitzpatrick finished with a match-high three aces and joined Hord, Serena Gray, and Anastasiya Kudryashova in double figures with 10 kills and 11 digs. Gabby Blossom also had a double-double for the Nittany Lions with 46 assists and 15 digs.
Junior libero Jenna Hampton and Maddy Bilinovic led Penn State's defense with nine and seven digs, respectively. They continue to be Russ Rose's primary options in the back row in terms of serve-receive among his defensive specialists. Molly Russell came in to serve at one point and recorded her first dig of the season. Jonni Parker had eight kills and 13 digs. Blossom spoke to the team on the court immediately following the match — something Kendall White often did after a tough loss.
The Nittany Lions (4-5) will have a chance to get back on track when they host Purdue (9-4) again at 2 p.m. Saturday. The Boilermakers must feel good about their performance Friday, as they held Penn State to a negative hitting percentage in the deciding fourth set.
Russ Rose's opening statement:
"I thought it was a match where we had opportunities in the first two games. We didn't show much maturity late in the games. We were at 21 and 22 in the first game and made errors at that point in time. We were 23-23 and 24-24 in the second game and the same thing happens. If you can't win deuce games at home, then you don't deserve to win matches. I'm a little disappointed. I thought AC played really well tonight. It was nice to see Serena back on the floor. I thought she did a little better than she's been practicing. We'll see if we can play a little better tomorrow."
Q: What stood out to you about Purdue's performance tonight?
"What I think Purdue did well tonight is what they always do well. I think they handled the ball well. They keep it in play and they try to give [Caitlyn] Newton and [Grace] Cleveland an opportunity. Those two always get the majority of the swings for their team. The same as we always try to get the ball to Jonni. Tonight, those two were able to score points, and Jonni's been struggling a little bit offensively. We had a few stretches where we just hit the ball into the block and had a couple of kids tiring and I think that was it. I thought both of their middles do a nice job. Jael [Johnson] is a junior and she's been playing behind some real fine players. She's been in the gym there. [Hayley] Bush does a nice job getting her the ball. I thought it was a competitive match. The fourth game, I thought we started really flat. We hit negative in the game and that was certainly disappointing. The first three games, I thought we competed pretty well."
Q: What's your message to the team as it works its way through this recent rough patch?
"It is what it is. There are not a lot of solutions that I can look at. We've got some limitations because kids are hurt. You play with the players who are eligible on the day that they can play and you hope that people are going to get better. There are days where I think we've had a look that we're playing pretty well, and then we get some setbacks. That's just the reality of this group. I think we can look in the mirror and see this is what it is. I'm responsible for the group and it's a very disappointing thing. I'm not a fan of the experience at all."
Q: Do you notice anything that carried over from the last match on Wednesday to this game or do you think this loss kind of came under different circumstances?
"I thought we competed a lot harder in this match than we did in the Ohio State match. It helped to have Serena back. It's not like we had practice time between playing Wednesday night and having to play here on Friday. The only good thing is we didn't have to travel. There wasn't ample time to really practice. The kids are in school. We had a little practice on Thursday and an hour session today. Tomorrow, we'll have another 45 minutes or an hour on the court to talk about some of the things we did, and see if we can be a little better tomorrow afternoon at 2."
Annie Cate Fitzpatrick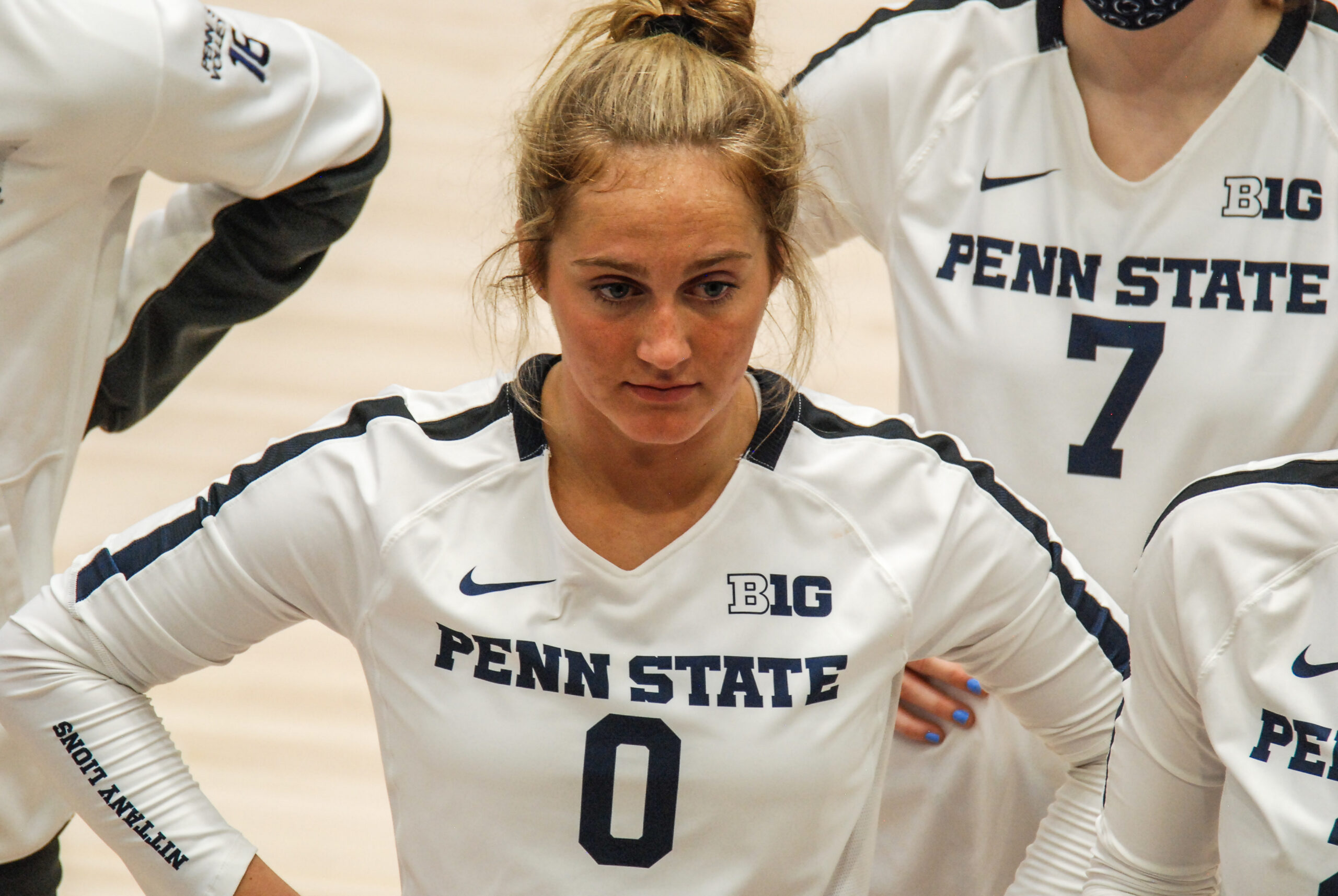 Q: What's the vibe in the locker room during this recent rough patch? What do you think is going to be most important moving forward?
"Obviously, after Ohio State, we had a talk in the locker room kind of trying to work things out. We talked a lot about complacency and holding each other accountable. The vibe pregame, we're all ready, we're pumped to go. I think it's a really good energy. It's a really good vibe. We're all ready to play in there."
Q: What do you think Purdue was able to do to gain that edge and get off to a hot start?
"In the first set, once it was 22-22, we gave them four points. They didn't have to earn any of them. We hit the ball in the net. That was all on us. We just kind of made it easy for them to close out the game when that shouldn't be the case. That's where we need to be perfect after 20, essentially."
Q: How would you assess the team's serving tonight?
"It's definitely something we need to work on. Just kind of in those moments. There was one round where somebody missed it, then Jonni missed, and then I went back and missed, and that's obviously something that I need to consider mentally. If two people miss their serves before me, I have to keep this serve in. I think we had a lot of things like that. Those are all completely controllable things. Those are all mental. We know we can keep our serves in. That's just something like, 'Take a deep breath before you hit the ball.' All of that is controllable stuff."