Match Recap
No. 8 Penn State women's volleyball rallied back from a two-set deficit to beat No. 17 Illinois 3-2 (18-25, 24-26, 25-15, 30-28, 15-13) Wednesday night at Rec Hall.
Jonni Parker and Serena Gray led the Nittany Lions with 17 kills apiece in the come-from-behind victory. Parker also tallied 15 digs to complete the double-double and chipped in four total blocks, three aces, and an assist despite being visibly under the weather.
Tori Gorrell posted 14 kills and Kaitlyn Hord added 11 more for the Nittany Lions, who overcame a slow start and showed plenty of resiliency against a a typically excellent serving team in Illinois. Not only did Kendall White tie her career high in aces with four for the second match in a row, the senior libero continued her outstanding play of late with a match-high 21 digs and two assists.
Gabby Blossom set a new career high with 58 assists against the Fighting Illini and capped off her double-double with 13 digs. Blossom's confidence is clearly at an all-time high during this six-match winning streak. She added four kills and a solo block while guiding the Nittany Lions to an extremely important victory — if only because last year's team likely wouldn't have pulled off this kind of a comeback given the same circumstances.
Penn State improved to 46-11 in the all-time series against Illinois, which fell to 9-9 on the season, thanks to a thrilling triumph in the fourth set and a match-best .368 hitting percentage in the fifth frame. Russ Rose slightly changed his starting lineup Wednesday with Allyson Cathey and Jenna Hampton getting the nod over Tori Gorrell and Keeton Holcomb.
The Nittany Lions (15-3, 8-1 Big Ten) head to College Park Saturday for a 7 p.m. rematch against Maryland. Penn State beat the Terrapins 3-2 earlier this season on Oct. 11 in Rec Hall.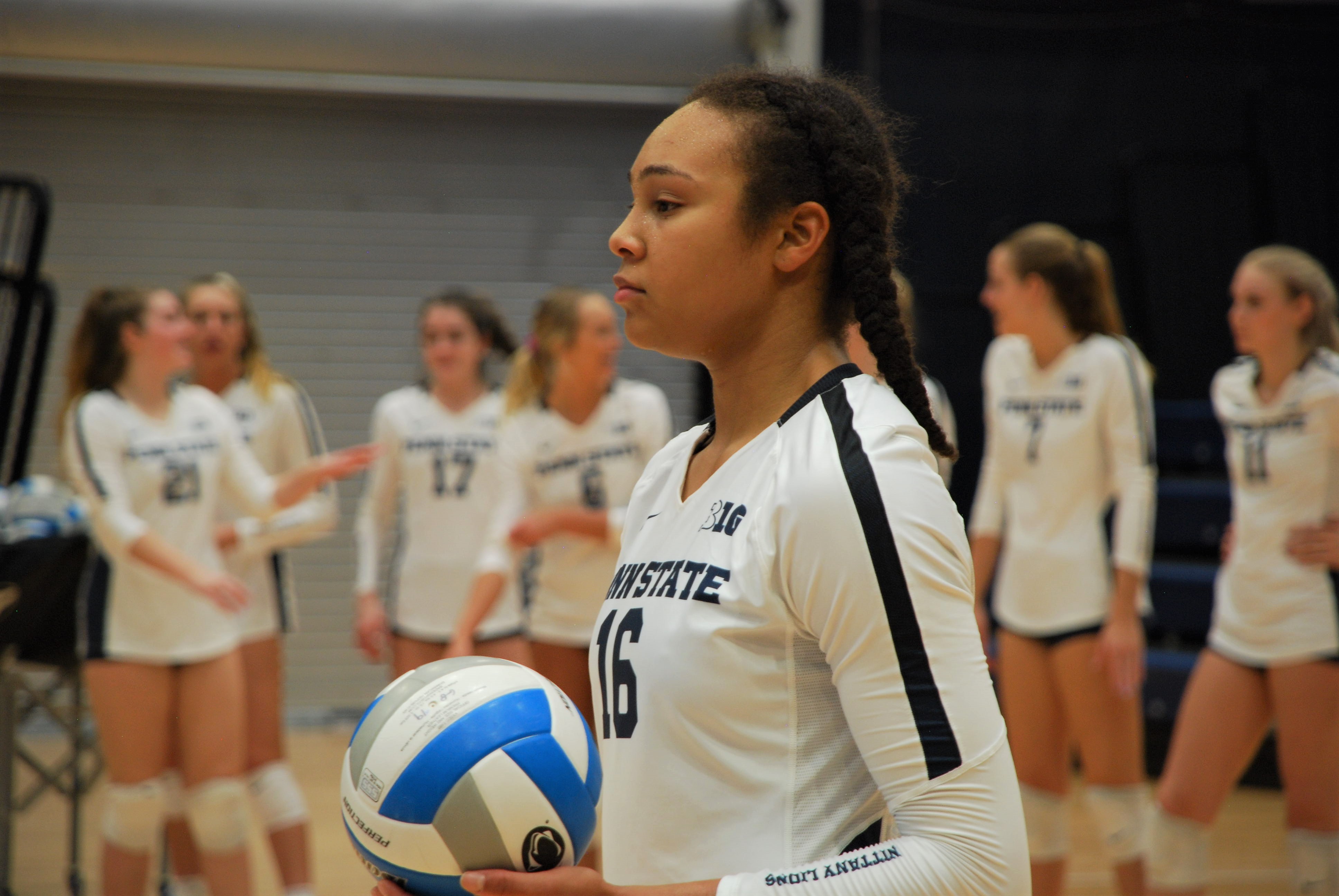 Post-Match Quotes
Coach Rose's opening statement:
"I thought it was a real gritty win and a real tough match against a fine opponent. A typical Big Ten match very similar to the one we played last year at Illinois that resulted in a five-game match where the fifth game was a 15-13 score as well. I thought we weren't very sharp at the beginning and played well and had a chance to win the second game and made some really disappointing plays. We played well in the third game and the fourth game, of course, was a deuce game. The fifth game was a deuce. It was a battle and I thought these guys competed really hard. That's why you practice every day. You talk about what it takes to compete in tough matches in a great conference, and that's what it looks like."
Coach Rose on the impact of a short week of preparation:
"This was shorter because we played on Sunday, so it's tough. Playing at 8 o'clock and finishing at 10:30 at night, more and more students leave after every game. That's the price you pay for TV and it's tougher for the travel team, but certainly, the difference being, they had Sunday off and we had to play and travel. It definitely impacts you over the course of the season. Every week is different with travel. At the beginning of time when we were in the conference, everybody played on Fridays and Saturdays, and now everybody seems to have the flexibility that if there's a home football game, they can play on Sundays. That changes everybody's week quite a bit, so it makes it a lot tougher on teams when that's the case. A lot of kids are sick. It's a big challenge."
Coach Rose on takeaways from the match:
"We set the primary hitters quite a bit. Jonni got a lot of swings, which is standard. And Serena and Tori. I thought that was kind of a lot. It was good to see Gabby get a little more active. I think we could get a little more offense from a couple of other people, but Illinois is very good. Their record is very deceiving because of who they've played up to this point in time in the conference. They've had to play Minnesota twice and they've played Nebraska. Their schedule is a little more deceiving than just looking at their record."
Gabby Blossom on what was discussed in the huddle during the fifth set:

"The fifth set is just really fast and competitive. It was kind of just get on them fast, carry on the momentum that we had those last two sets and see if we could compete. We practice it every day, but when you get into a fifth set, it's about heart. Jonni came live and Serena was live all game. The huddle was just, 'Let's go!' When you get in a fifth set, you want to win a fifth set at home."
Coach Rose on what he said (or didn't say) to the team after the second set:
"Well, actually, I didn't have a chance to hardly talk to them because I was having to do the interview with the Big Ten Network. When I was done with the Big Ten Network, they were getting ready to start. So really I didn't have a chance to say anything. Less is more."
Jonni Parker on the short turnaround:

"That's just a part of being in the Big Ten conference. You have competition day after day. You've got to get in and you've got to prepare. You've got to be mentally ready when you get in to practice and focus on what you've got to do. We've just got to be locked in during practice and do what we've got to do."
Coach Rose on having to change this week's practice and lifting schedule:
"For sure it was tough because not everybody practiced on Monday. People had to leave early and we had a short practice because we couldn't lift early in the morning, so I had them lift in the afternoon. We made practice short so they could lift in the afternoon, because I didn't want them to have to lift at 6 a.m. after being on the road for four days and getting back Sunday night. The week is just kind of in disarray. That's just part of their learning experience as a college athlete. They have to learn to budget their time and take care of themselves and rest and do the best they can to be ready for their next opponent. They'll have to play a Maryland team that we went five games with a couple days ago here in Rec Hall."