2014 NCAA Final

Click images for more info
DigNittany: One more match to go, as Penn State takes on BYU on Saturday night (7:30 p.m. ET on ESPN 2) in the Final of the 2014 Women's Volleyball Tournament. We're talking today with Club Coach and Talking Head, both of whom played the sport at the collegiate level and both of whom have enjoyed successful careers in coaching.
About the Stanford Match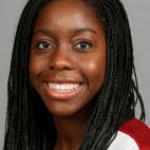 Before we get to BYU, two quick questions about Thursday night's match against Stanford: 1) were you surprised how tough it was for Penn State's middles offensively (6-2 Sr. MH Nia Grant had 5 kills, 4 errors and hit .059 and 6-3 Fr. MH Haleigh Washington had 6 kills, 2 errors, and hit .190)? and 2) were you surprised at how effective the Nittany Lions were at keeping Stanford's 6-3 Jr. MB Inky Ajanaku in check (9 kills, 7 errors, .091 attack %)?
Club Coach: While I would have anticipated that all of those players would have put up better numbers, I wouldn't say I am surprised. In the end, it was pretty clear that both teams were committed to expending energy slowing down the other team's most efficient point scorers.  The problem for Stanford was that Penn State's other players were simply better than Stanford's. It isn't uncommon at all in big matches in any sport, for the star to be someone other than the big names.
Talking Head: I think many of us thought that both sets of middles would be more effective than they were, but ultimately they seemed to cancel each other out. However, in the long run, Grant was able to step up and take control late in game 4 to make an impact. Inky is a phenomenal athlete, but didn't seem to be able to adjust at the last minute to find ways to score.
On the BYU Block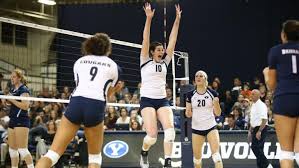 DigNittany: Stanford's middles were both very good blockers, but Penn State still enjoyed great success with 6-2 Jr. OH Megan Courtney (a career-high 23 kills on .321 hitting) and 6-1 Fr. OH Ali Frantti (16 kills, .375 attack %) hitting line instead of cross-court.
Statistically, at least, BYU is even better than Stanford – much better. After last night's win over Texas, the Cougars are averaging 3.89 blocks/set (Penn State averages 2.67 blocks/set), with 6-0 So. MB Whitney Young averaging 1.92, 6-4 So. MB Amy Boswell averaging 1.69, and 6-7 Sr. Opp/RS Jennifer Hamson averaging 1.31 blocks/set respectively.
Those are fearsome numbers. All three are obviously very good players. Do Young, Boswell and Hamson pose different problems for Penn State than Stanford's blockers did, and if so, what will the Nittany Lions need to do differently to be effective against the Cougar's block?
Club Coach: Well certainly Hamson poses a bigger problem, figuratively and literally. BYU is an exceptional blocking team — especially when they dictate the point of attack to the opponent. Passing is the way you neutralize BYU's block.
Talking Head: For sure BYU is a formidable foe and they have the ability to score everywhere on the court. Not many teams Penn State has faced can say that. The difference is that BYU isn't as elite, position-by-position.  The Cougar middles are straight on in-system hitters and blockers, and I'm not sure that BYU is nearly as effective out of system. BYU did not pass very well last night and I would imagine Penn State will try to make that an area of attack.  If the Nittany Lions can get BYU's young, inexperienced setter moving, it will be to their advantage.  I expect the PSU middles to have a major impact Saturday night.
On Hamson and Gray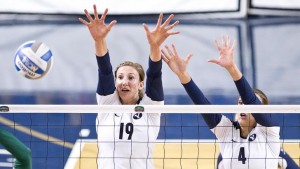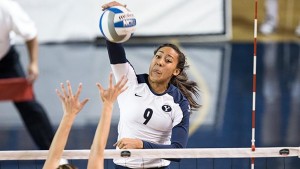 DigNittany: Looking at the BYU attack, 6-7 Opp/RS Jennifer Hamson and 6-2 Jr. OH Alexa Gray obviously stand out – they combined for 41 kills against Texas. Is this a situation like Penn State faced against UCLA, where you knew Karsta Lowe would get her 20 or so kills, and you just had to try to make sure she didn't go off against you for 40 kills? Or does the tandem of Jennifer Hamson and Alexa Gray pose different (and potentially tougher) problems for the Nittany Lions?
Club Coach: Well Hamson does for sure, because given her size, she is unlike any other RS player. I will be interested to see how Penn State tries to match up with her. Courtney is a better blocker than Frantti, but when you make a decision to match up a leftside blocker to slow down Hamson, you are also feeding that player to the wolves, as Hamson's block is scary.
Talking Head: One or two players will not be enough to beat a team like Penn State.  Jennifer Hamson is a force, but Penn State has played other very good hitters (Karsta Lowe being one of them).  Alexa Gray is a terrific player who has had a great tourney, but she has some serious tendencies that Penn State will certainly try to exploit.
On Courtney and Frantti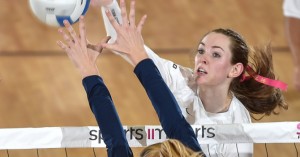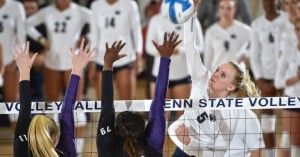 DigNittany: Back to Megan Courtney and her career-high 23 kills and National Freshman of the Year Ali Frantti and her 16 kills. What struck you the most about their performances in a pressure-filled Final Four match?
Club Coach: Really just how comfortable they both looked. Frantti's composure as a freshman is really remarkable — and she has looked like that all year. For Courtney, it certainly was a match she had in her, and when she got it going a little, Micha did a great job of getting her touches.  Again, just how in-the-moment and composed both players were was really impressive.
Talking Head:  Well, just like 6-1 Fr. OH Simone Lee had two terrific matches against Wisconsin, Frantti followed up her September 6th match against Stanford, in which she totaled 22 kills and hit .405, with another great match Thursday night.  I expect with a day's rest Ali will be even healthier.  Megan is in the zone in all aspects of her game, and is a Most Outstanding Player candidate.
On Dom Gonzalez and Lacey Fuller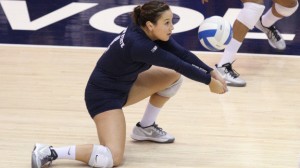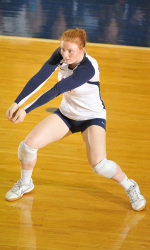 DigNittany: It's the last Penn State match for 5-6 Sr. libero Dom Gonzalez, who came up with a match-high 23 digs (the sixth time this season she's reached the 20 dig mark), and also for 5-6 Sr. DS Lacey Fuller, who totaled 12 digs. Both of these players have meant so much to Penn State's success over the past four years, with so little recognition. We sometimes wonder if that's partly due to how well-positioned they are – so that the digs sometimes look routine. Your last chance this season to weigh in on Gonzalez, and Fuller. Your thoughts?
Club Coach: If you look at Penn State's title runs — and particularly the matches they have really been tested — backrow players like 5-8 libero Roberta Holehouse, 5-9 libero Alyssa D'Errico, 5-1 DS Cathy Quillco, and now Dom and Fuller have stolen the show. Its interesting to me that the kids under 6'0 are having as much to say about the outcome as the big kids with all the hardware. I thought both Pierce kids did a great job when they were in there as well. Penn State has had as many as 2-3 backcourt kids on scholarship at one time, and as many as seven on the roster. It's beyond me why other programs aren't using the sub rules and taking advantage of better servers and defenders.
Talking Head:  As seniors, the game has slowed down for them . . . . even Fuller (lol).  Dom has become a student of the game and studies her opponent as well as any player in that position.  What she may lack in blazing speed, she more than makes up for by so often being way ahead of the play and seemingly ready to play every ball.  She put on a "never quit on the ball" clinic last night that any young.player should take a look at. Lacey may get caught out of position at times by being so aggressive, but her cat-like reflexes allow her to recover.  Against BYU, defense will be a key to victory for Penn State, just as it was Thursday night.
Crystal Ball
DigNittany: OK, Crystal Ball time. Who wins, what's the difference-maker, and how many sets?
Club Coach: Penn State In 3 or 4.  The Nittany Lions are too good, too deep, and too experienced. I really like and admire this BYU team, but in the end, the Lions get it done (again).
Talking Head: Penn State 3-0.  I don't believe BYU has the caliber of attackers to be consistently effective when they get out of system — and I think Penn State will stress them on serve receive.
DigNittany: Thanks so much to both of you. We really appreciate the time you take to share your thoughts with us. Go Lions!
Stat Joust
We've put together three tables comparing the individual and team stats for Penn State and BYU for attack, serving, and blocking/points.
Attack Leaders: Penn State - BYU
Name
Team
SP

MP
(MS)
K
K/S
E
TA
%
Hamson,
Jennifer
BYU
118
n/a
450
3.81
111
1044
.325
Gray,
Alexa
BYU
113
n/a
415
3.67
123
997
.293
Frantti,
Ali
Penn
State
119
38
(38)
384
3.24
110
872
.315
Whitney,
Aiyana
Penn
State
123
38
(32)
361
2.93
105
715
.358
Washington,
Haleigh
Penn
State
76
25
(21)
205
2.70
36
360
.469
Grant,
Nia
Penn
State
122
38
(38)
281
2.30
66
501
.429
Nobles,
Tambre
BYU
105
n/a
222
2.11
89
761
.175
Boswell,
Amy
BYU
118
n/a
192
1.63
48
440
.327
Penn
State
Penn
State
124
38
(38)
1825
14.72
483
3890
.345
BYU
BYU
118
34
1585
13.43
469
4052
.275
BYU
Opp.
BYU
Opp.
118
34
1494
12.66
853
4364
.147
Penn
State
Opp.
Penn
State
Opp.
124
38
(38)
1272
10.26
711
3821
.147
Serving Leaders: Penn State - BYU
Blocking/Points Leaders: Penn State - BYU
____________________________
Photo Credits