Penn State women's volleyball lost to No. 3 seed Pitt 3-1 (22-25, 25-23, 22-25, 23-25) Saturday night at Petersen Events Center in the second round of the NCAA tournament.
Kayla Lund led the Panthers with a match-high 21 kills in Pitt's first NCAA tournament win over Penn State. Leketor Member-Meneh also had a strong performance with 19 kills and 14 digs. The Nittany Lions had advanced to the Sweet 16 the last 18 seasons before seeing their streak snapped. Pitt went on a 4-0 run to close out a come-from-behind fourth set.
Jonni Parker and Erika Pritchard paced Penn State's offense with 12 and 11 kills, respectively, but the Nittany Lions finished with a .195 hitting percentage in the loss. Pitt also outblocked Penn State 12-10. Senior libero Jenna Hampton led all players with 16 digs.
Kaitlyn Hord tied Parker for the most blocks among Penn State players with five apiece, but struggled with eight attack errors versus nine kills against the Panthers. Adanna Rollins and Allie Holland each had five kills on a night where Parker took the majority of Penn State's swings with 48 to Rollins' 25. There were 44 tie scores and 21 lead changes during the match. Full stats can be found here.
The Nittany Lions (21-11, 13-7 Big Ten) will head into the offseason with plenty of questions surrounding what the 2022 team will look like and how many seniors, if any, decide to return next fall with their extra season of eligibility. It's the first time in three semesters that the players will not be in season.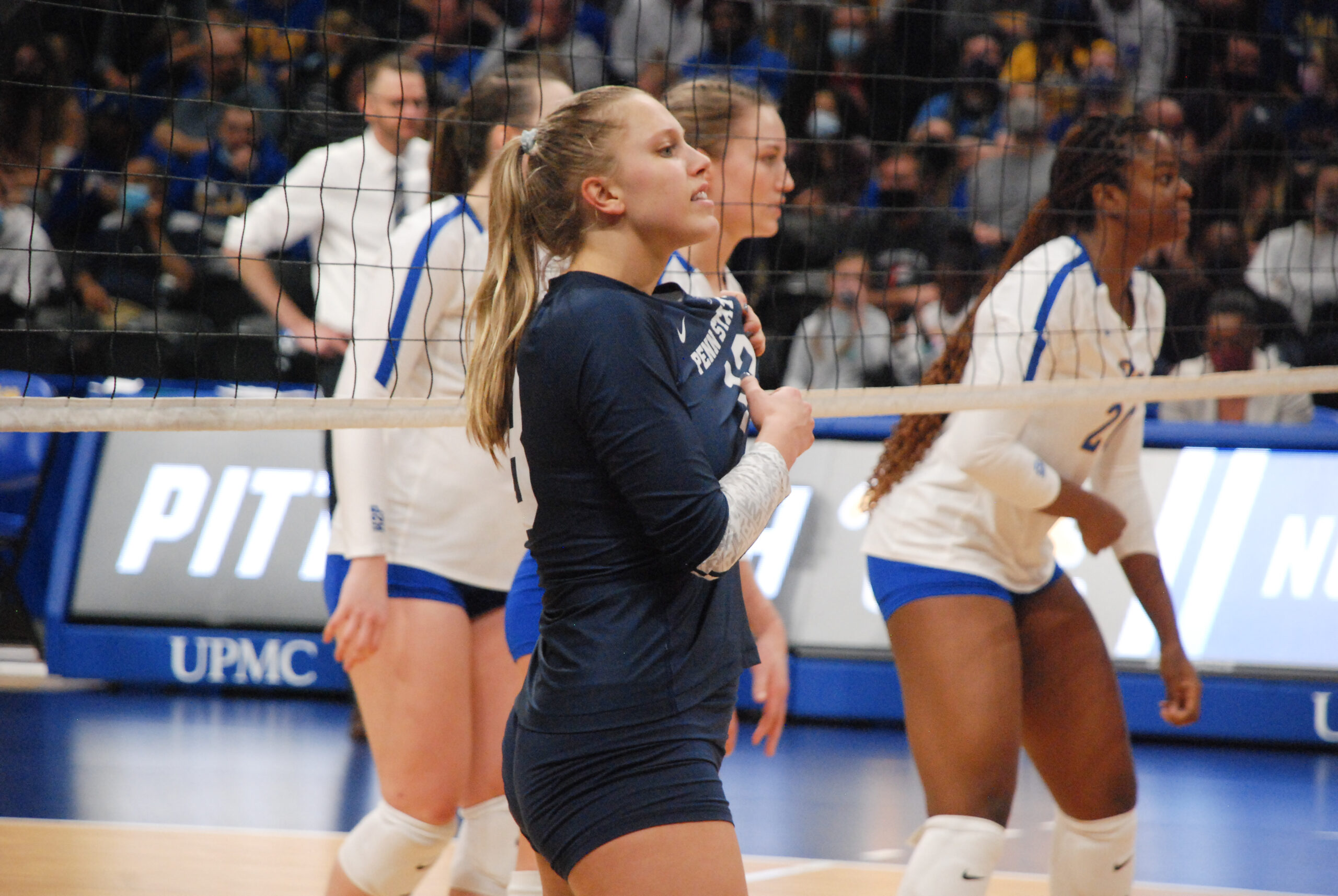 Russ Rose's opening statement:
"I would like to congratulate Pitt and their program and senior class on advancing to the regionals and take an opportunity to commend our players, who I thought put in a good, competitive effort today. As I indicated to them, there's one team at the end of the year that wins a championship. That's always the goal of the program. I thought that we had certainly opportunities throughout the year, as well as in all four of the games today."
Your blocking seemed to be effective tonight. What made you think that you would be able to create some opportunities there against Pitt's offense?
Parker: "Like you said, we were getting some good block touches and stuff like that, but Pitt's also a good team. They started to mix up their shots and we didn't really adjust so well to that in the beginning. That's where we missed some of those opportunities in order to keep rolling with the game, but Pittsburgh's a great team and I wish them the best of luck the rest of the tournament."
Coach, what kind of challenges did Kayla Lund pose for you guys tonight?
"Well, I mean, she's just a veteran player. The scouting report was pretty clear and specific to the things that she does well for them. She's an emotional leader, she's a solid passer. She scored 25 points in the match where she probably hit half a dozen balls hard. She was able to keep scoring by hitting the ball off the block and keeping it in play. That's what a fifth-year kid can do. That's why her and Chinaza [Ndee] came back. I think they provide a great foundation for the younger players."
Jenna, what were the emotions like in the huddle while they were reviewing the final play?
"I mean, it all comes down to one play at the end of it. I think we all were just telling each other, 'No matter what happens, we love each other and we're going to stick together.' Unfortunately, the play didn't go our way, but it's just a great group of girls, and I wouldn't have wanted to go down [fighting] with anyone else."
Pitt middle blocker Serena Gray and coach Dan Fisher:
Serena, what kind of challenges did Penn State pose and what was it like playing against your former teammates?
"There were two challenges, the physical challenge and the emotional challenge. Whenever you're playing against a group of people you love so much, it's very difficult to want to just go in kind of like no-mercy style. And then the physical challenge — Penn State's roster is full of a bunch of superstars and they have depth. You've seen how big their bench is. Going into this week, we worked really hard on scouting. I think we did four scouts this week, really locked into the hitters' tendencies, watched so much film. Their hitters were definitely a physical challenge, but I think we kept things somewhat under control and were able to get the result we wanted."
Coach, what were some things Erika Pritchard did well tonight, in your opinion?
"Yeah, we didn't really have an answer for her. She had a big match. We were able to get to her a little bit in serve receive at times, but she was pretty low error. She just made good decisions offensively, so good match by her."