No. 20 Penn State women's volleyball swept UConn 3-0 (25-13, 25-15, 28-26) in Friday night's season opener at Rec Hall.
Freshman defensive specialist Gillian Grimes and graduate senior setter Seleisa Elisaia made their first career starts for the Nittany Lions (1-0) and put together impressive performances on a night where the home team hit .313. Grimes had six digs.
Taylor Trammell and Zoe Weatherington also played well in their Penn State debuts, which saw the Nittany Lions bring in Anastasiya Kudryashova, who had eight kills and hit .444, Cassie Kuerschen, and Quinn Menger as substitutes. Allie Holland led the Nittany Lions with a match-high 10 kills, while Trammell added nine. Sophomore outside hitter Anjelina Starck had six kills and seven digs.
Maddy Bilinovic, who wore the blue libero jersey against the Huskies, led all players with 12 digs in the win. Elisaia finished with 36 assists, seven digs, and three kills in her first match in Rec Hall leading Penn State's offense. The Cal State Bakersfield transfer looked comfortable distributing the ball around to the team's different hitters.
Holland, Weatherington, Elisaia, Grimes, and Kuerschen all had an ace against UConn, which hit .105 but received solid performances from Allie Garland and Kennadi Jake-Turner, who had seven and six kills, respectively. The teams tied with six blocks apiece.
The announced crowd for Katie Schumacher-Cawley's first match as head coach of the Nittany Lions was 3,195. The contest lasted just under an hour and a half. Penn State will be back in Rec Hall Saturday for a doubleheader against Loyola (Maryland) and West Virginia to close out the Penn State Invitational.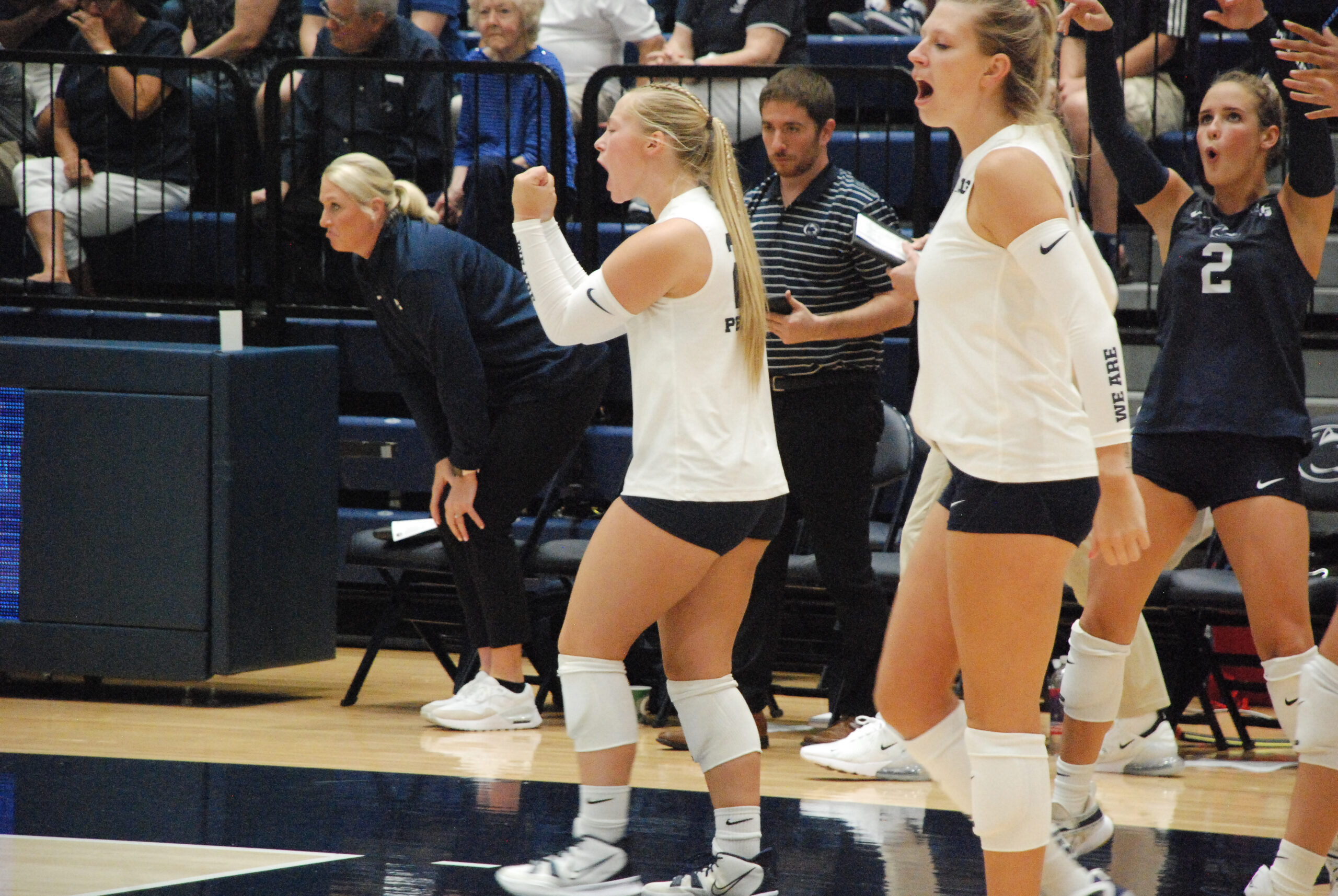 Schumacher-Cawley's opening statement:
"Thanks for coming and supporting us and wanting to write some great things about these girls. I think the team worked hard and found a way to win in that third set. I'm happy for them."
For Maddy and Allie, first match having Zoe since she transferred here. She had all three set-ending kills. What was it like having her on the floor with you?
Bilinovic: "I think that Zoe is, obviously, producing a lot for us offensively. She also is a really good leader. You always hear her on the court. She's really good at talking, like individually pulling players to the side, making sure we're all on the same page, and that's all we could ask for."
Holland:
"Yeah, I think she's such a great teammate. The talk is there when I'm up there blocking with her. She's setting a great block for our defense, so again, not only her offensive side, but her defensive side. And she's just a really great teammate on and off the court."
What are some things that stood out to you about Gillian's performance tonight?
KSC:
"I thought Gillian did a good job. She communicates well on the court. I think our serve-receive tonight was very good. I thought Maddy and Gillian and Anje did a great job passing."
Can you talk a little bit about the energy in the stands and how that affects you on the court?
Holland:
"It's so amazing seeing the amount of people back in Rec Hall. It truly feels like home. Anytime we get to be in main gym is truly an honor. It's amazing to play in there, but when all these people come, my friends and family are there, the band is there, it just raises it up, and it's so great."
Bilinovic: 
"Yeah, I agree. I think there's no better place to play than Rec Hall. I think, like she said, friends and family, they're huge supporters for us, and they show out every single time for us. We can't ask for anything else."
It seems like you are an offense-dominated team, but defense was a part of the team that really stood out today. What have you been doing throughout the offseason to prepare for that?
Bilinovic:
"I think that the hitters, we do a lot in practice, blocking drills. Like she was saying earlier about Zoe, they set up a great block for our defense to play behind. In Rec Hall, it's pretty easy back there."
Holland:
"Yeah, the blocking is a big part of it, but the defenders in the back, that's what's getting me up and letting me hit is them getting the balls up. Knowing that I can trust the people behind me to get the balls up and then I can get up and take a swing is major. It's just really a big trust aspect there."
Allie, what did you think of Leisa's performance tonight? What's your connection like you her?
Holland:
"She's great. She's a great teammate, again, on and off the court. She's super experienced. She came in, she's a great teammate. We worked a lot on our connection. I still think we are. But she's great. She's getting up, she's pushing the ball to the middle, she's getting us active. She's always talking to me, I always know where she is, she always knows where I am. I think the relationship is really good."
Coach, what does this first win mean to you?
KSC:
"I'm happy for the team. I'm happy for the team. It's like these guys said, playing at Rec Hall, there's nothing like it. I thought the crowd was great, the energy was awesome, the band, as usual. Their fellow athletes supporting each other and the wRECking Crew, I think it's a great place to be. I'm just happy for them to get this first win."