No. 11 Penn State women's volleyball swept UAlbany and Coastal Carolina in Saturday's doubleheader at the Penn State Classic to wrap up non-conference play undefeated.
UAlbany Box Score                  Coastal Carolina Box Score

The Nittany Lions (11-0) had 15 different players get involved in a 3-0 win (25-12, 25-16, 25-10) over the Great Danes Saturday morning, as Katie Clark started in place of Taylor Trammell at middle blocker to give Trammell some rest. Kash Williams made her first start of the season.

Freshman Katie Hurta got some reps at setter and right-side hitter in the win, showcasing her versatile skill set. Hurta and starting setter Leisa Elisaia shared the court for a few points, giving Penn State's opponents something else they need to be prepared for. Elisaia finished the day with 49 assists, nine digs, eight blocks, six kills, and an ace.
Penn State hit .301 in the morning match and .413 against Coastal Carolina, beating the Chanticleers 3-0 (25-17, 25-13, 25-13) in the nightcap. The Nittany Lions returned to their typical starting lineup and didn't rotate quite as many players, but freshman Alexa Markley played in both matches and had six kills and three blocks on the day.
Zoe Weatherington tied Allie Holland for the team lead in kills with six Saturday morning, then Weatherington led the Nittany Lions again with nine kills against Coastal Carolina. Weatherington (107) currently leads a group of three Penn State players who have surpassed 100 kills so far this season, joining Anjelina Starck (105) and Kash Williams (103).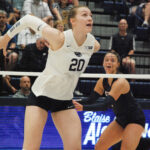 Holland was named MVP of the Penn State Classic after recording 24 kills, nine blocks, and only two attack errors all weekend, while Weatherington and Elisaia joined her on the all-tournament team. The Nittany Lions will begin Big Ten play at home next weekend against Indiana Friday at 7 p.m. and Michigan Saturday at the same time.
Allie Holland, Zoe Weatherington, Anjelina Starck, and head coach Katie Schumacher-Cawley answered questions following Penn State's sweep of Coastal Carolina. The transcript of their responses can be found below.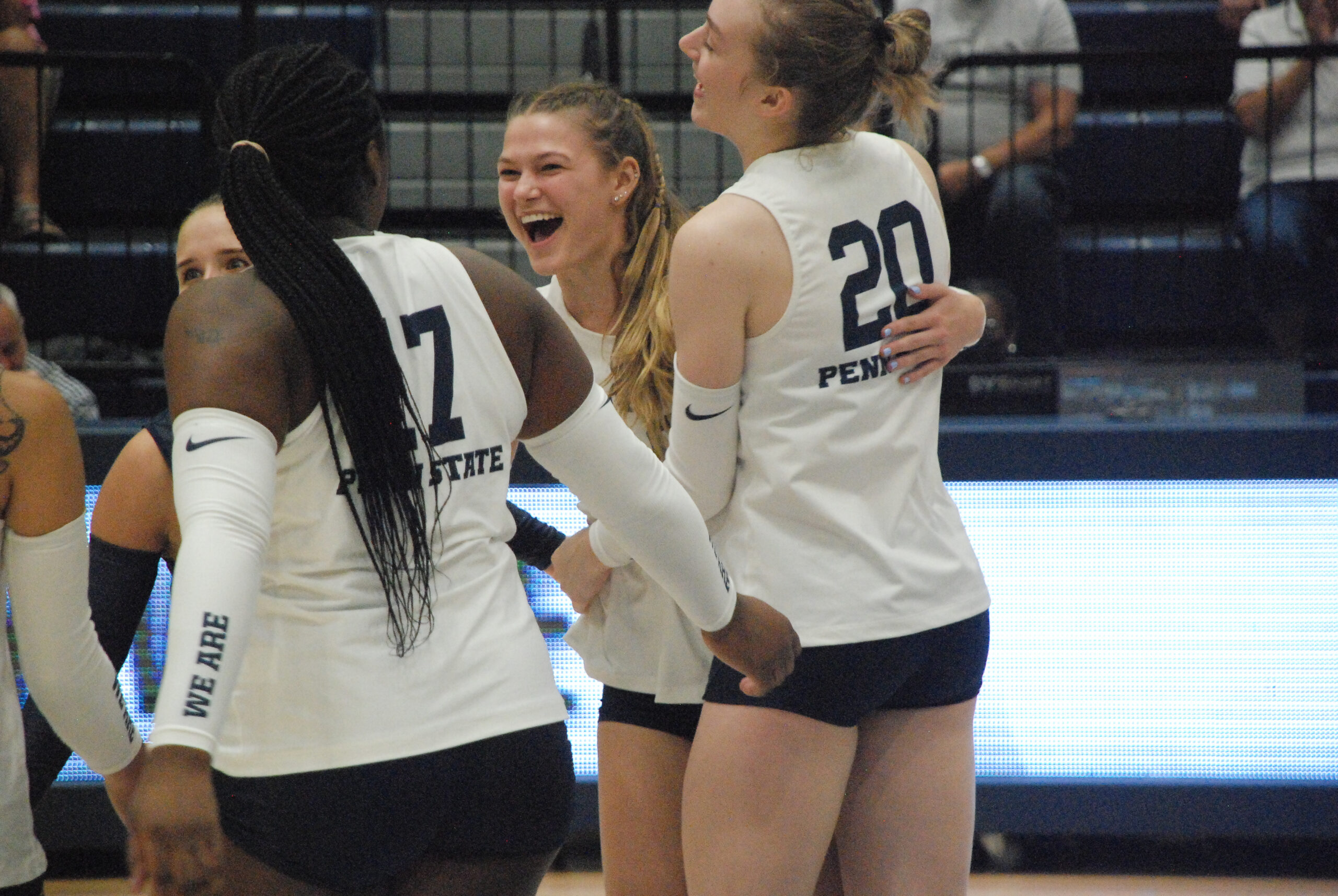 Schumacher-Cawley's opening statement:
"Zoe's going to start us off. Let's go, Zo."
Weatherington's statement:
"This has been an amazing preseason. I think that, obviously, there's room for improvement, because that's just the standard for us, and we just work hard. If 11-0 is still room for improvement for us, I'm proud."
Coach, you mentioned on Tuesday how important it is to serve aggressively. What did you think of the serving today and this weekend?
KSC: "I thought we did a good job. I thought we scored some points on the end line, and that's something that we're going to have to continue to get better at for the Big Ten season. It's something we'll do every day, and we need to continue to push them to focus and to get better."
What are some of the qualities you most admire about this year's team?
KSC: "Well, they're really funny. No, it's just a great group. I think they really enjoy being around each other, and they're really supportive. They're putting in the time and the effort. I think they understand that it's a great preseason we had, but now, it's a whole new season. It starts over again. It's the Big Ten starting next week. We'll take what we learned from preseason and build on that and continue to improve."
What was the mindset heading into this weekend to close out preseason?
Starck: "We were working in practice just fine-tuning the small things that we wanted to work on, and just working on continuing to play well together."
Holland: "I think, going into the end of preseason, the biggest thing that we've been seeing is the team chemistry. From day one of preseason practice until this final match, I think our chemistry has come a long way. After that, the little things just fall into place."
Weatherington: Oh, just foot on the gas. There's no reason to stop. This is just the beginning."
Allie, there were a lot of younger players who had a chance to get in today. What was it like to see them contribute?
Holland: "Oh, it's so exciting. Like I say in every single interview, these are my best friends. I love them all. Seeing them go in makes me so over-the-moon happy, because I look back to when I was younger, looking at the older players, like, this is major. Those moments are major. All of the girls who got to go in, I think that they did great off the bench, and I'm super proud of all of them."
You got off to a little bit of a slow start in the first set. How do you guys, as a team, respond to adversity?
Holland: "I think Penn State volleyball is all just about hard work, foot on the gas 24/7. No matter what's up on the scoreboard, no matter who our opponent is, we're foot on the gas all the time."
Coach, how important was it for you to get all of the girls in to play finally through this series?
KSC: "I think everyone's been working hard in practice. I think having the opportunity to get everyone in for a little bit, because, as I keep saying, it's going to take all 17 of them to help this team win and to be successful — being able to go in for a couple points here and there I think is crucial. I know it's hard to come in off the bench and do that, but our expectation is that you can do it, and you're going to have to."
You hit .413 as a team tonight. What does that tell you about the offense?
Holland: "I mean, that's very exciting, but again, credit to the passers, credit to our setters. Because I, personally, as a middle, wouldn't be able to get up unless we were passing dimes and Leisa was feeding me the ball. So again, it's a team effort. The hitting percentage looks great, but the passing and the setting was also phenomenal."
Anjelina, what are some of the positive things that the team is doing so far that you've noticed?
Starck: "I think we do a good job of, no matter what the score is, like everyone said, we just put our foot on the gas. And we've also gelled really well. Every time we step on the court, we have fun, and we always work hard and play hard."
The offense proved to be very strong this weekend. What's it like in practice going through preparations and running drills?
Weatherington: "When we play sixes, it gets pretty aggressive in there. We're firing on all cylinders constantly. It's never really a dull moment."