No. 15 Penn State women's volleyball swept Iowa 3-0 (25-22, 28-26, 25-19) on senior night Saturday at Rec Hall.
The Nittany Lions recognized Iowa's senior class before the match with a bouquet of flowers, then the program held a formal ceremony for its own nine seniors and their families afterward. All nine of them saw playing time in the match.
Kaitlyn Hord and Jonni Parker led Penn State offensively with 16 and 12 kills, respectively. Hord surpassed 1,000 career kills in the win. Gabby Blossom had her 17th double-double of the season with 46 assists and 10 digs, while Jenna Hampton put together another strong performance with a match-high 18 digs. Allie Holland had eight kills.
Iowa's Courtney Buzzerio led all players with 17 kills and was one of three Hawkeyes to hit above .300 Saturday night. Neither team had much success generating aces from the service line, as Iowa finished with two and Parker had Penn State's only ace of the match. Full box score can be found here.
The Nittany Lions (20-10, 13-7 Big Ten) will tune in Sunday at 8:30 p.m. ET when the NCAA tournament bracket is announced on ESPNU. Penn State may not host the first weekend of the tournament as it has every year since 1990, excluding last spring's event in Omaha, Nebraska.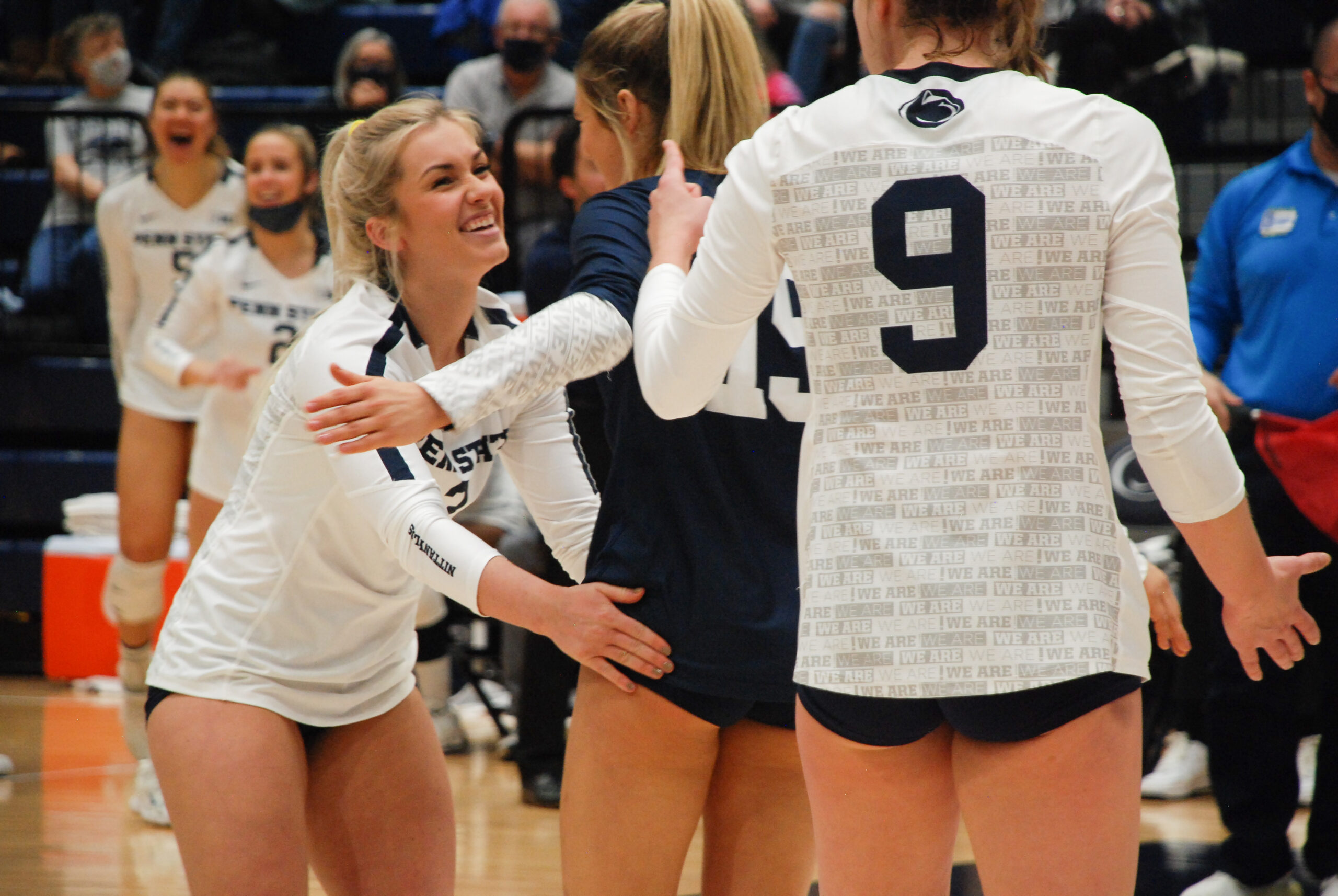 Russ Rose's opening statement:
"I thought for a couple of games, players were a little caught up in the senior night activity, but I thought we settled down. Kait had a very strong match. Jonni had a strong match offensively, and Allie did. Those three people did a nice job offensively. I think the other positions struggled, but, you know, it's good to get the season wrapped up and hope that people can get a little healthier and we can get back to how we were playing a couple weeks ago."
Sophie Walls had a nice service run in the second set. What was it like to get her and all of the seniors in?
"It was nice to get all of the seniors in. Sophie's a wonderful young person who hasn't had lots of opportunity to play, but is just really a quality young person and I'm glad that she had the chance to do that. The second time she went in, she missed her serve, but the first one, she had a little mini run, so that was nice."
What were some positive takeaways from tonight's match that maybe you didn't see last night?
"Every team is different in the Big Ten. Minnesota poses certain challenges because of the style they play and the impact that [Stephanie] Samedy has on the game. Certainly, tonight, Buzzerio is a similar type of player who has the ability to score both in the front row and the back row, and she did that as well. Every team is a little bit different. We'll hopefully get a little bit healthier and wait tomorrow night and hope that things turn out favorably."
What were some things that Iowa did particularly well tonight?
"I thought, obviously, Buzzerio had 17 kills. She had another great match. I've always felt that [Amiya] Jones is a really strong middle and [Hannah] Clayton. I've been in the conference since they came in as freshmen, and they've developed really well. When they get a good pass, the setters get them the ball and they both take good swings. They compete hard. [Mari] Hinkle is a nice addition to their team, transferred in. We knew we were going to have to play at a little higher level than we played yesterday."