No. 9 Penn State women's volleyball swept Indiana (25-17, 25-21, 25-23) in Friday night's Big Ten opener at Rec Hall.
Kash Williams came off the bench and led the Nittany Lions (12-0, 1-0 Big Ten) with a team-high eight kills, while Cassie Kuerschen and Maddy Bilinovic combined for 19 digs in the win. Kuerschen had a season high with 10.
Penn State's offense hit .303 in the first set, but struggled to generate the same level of efficiency in the second and third sets. The Nittany Lions outblocked the Hoosiers 12-7 and finished with a narrow 4-3 advantage in aces, as Bilinovic chipped in a match-high three.
Anjelina Starck and Zoe Weatherington had seven kills apiece, while Allie Holland and Taylor Trammell combined for nine more. Holland led all players with seven total blocks, three more than Weatherington and setter Leisa Elisaia, who were the next-closest stat leaders in that category.
Mady Saris led the Hoosiers with a match-high 14 kills. Both Elisaia and Indiana's Camryn Haworth had exactly 28 assists Friday night. Paula Cerame paced Indiana's defense with a match-high 13 digs and five assists. Penn State freshman Katie Hurta was in street clothes on the bench and didn't participate in warm-ups.
Penn State commits Izzy Starck, a 2024 setter from Colorado Springs, Colorado, and Jocelyn Nathan, a 2023 defensive specialist from Wilmington, Delaware, were in attendance for the match and chatted with the coaching staff on the court afterward. Starck and Nathan posed for photos with Katie Schumacher-Cawley following her press conference, which also featured Bilinovic and Gillian Grimes, who had four digs.
The Nittany Lions will be back in Rec Hall Saturday at 7 p.m. when they host Michigan (10-1, 1-0 Big Ten) for the program's Stripe Out match. The Wolverines swept Rutgers on the road Friday evening before traveling to State College.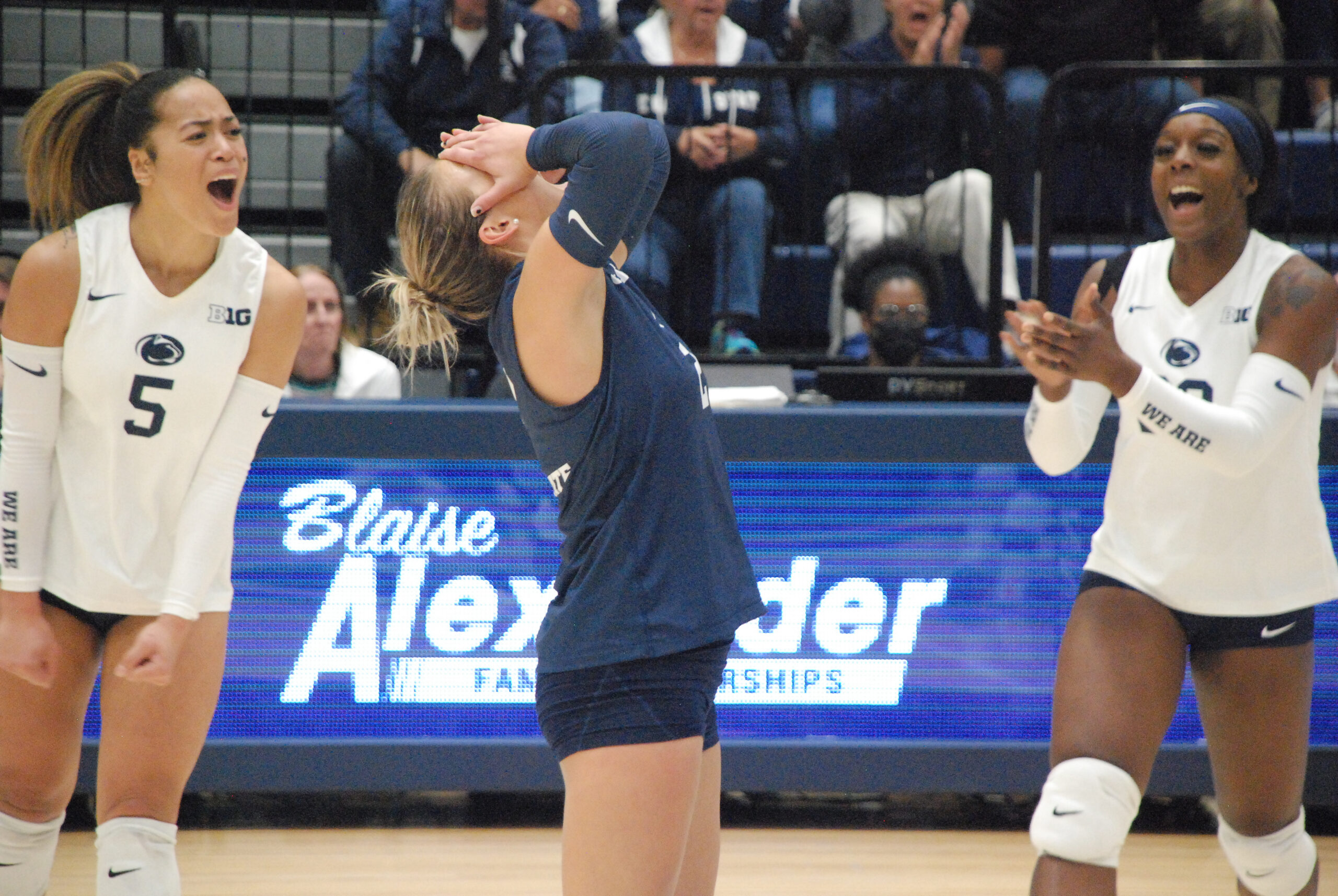 Schumacher-Cawley's opening statement:
"Like I just told the girls, any win in this conference is a great win. I thought IU played hard. We'll take it. I thought our ladies battled and found a way to win at the end when it got pretty tight. We'll take this win and learn from it and move on."
You talked earlier this week about Big Ten play being the start of a brand-new season. What did you see from the team that indicated some growth in the preseason?
KSC: "I think our passing. I'm on these two all the time in the gym. We pass every day. I think that when they're passing well, Leisa can do some things and get hitters one-on-one. If our passing stays consistent, I think, for these two, it's gotten better every set they've played, so yeah."
For the players, what do you enjoy most about playing for Penn State?
Bilinovic: "I think that the support that we get from, obviously, our families, our teammates are always on our side, but there's nothing like that atmosphere out there, so I would have to say the support."
Grimes: "I would agree. With the atmosphere and the band, it's just crazy to be on the court, and just a dream, really. It's just so much fun."
You showed a lot of resiliency, especially in the second and third sets. What does it mean to pick up a gritty win like this?
Bilinovic: "I think that IU's a really good team. I thought that they definitely weren't going away. They were making us earn every point, but that's what we want. We don't want to play teams that are just going to hand us games. In order for us to get better and do the things we want to do this season, every point has to be a grind."
Grimes: "I agree with that, but also, I think our confidence was really high. We knew we wanted to go in there and get stuff done, so that's what we did toward the end."
It seemed like you really found your rhythm in the second half of the second and third sets. What was the main reason you were able to find those stretches of momentum?
Bilinovic: "I thought that we had some good serving runs. I thought, like coach said, our passing was on. Also, when things are meshing, passing, obviously, Leisa has options, and then we can terminate the ball."
Grimes: "I also think, in all three sets, our block was insane, so that gave us a good pep in our step."
Coach, what are you hoping to see your team tighten up heading into tomorrow's match against Michigan?
KSC: "I think we have to start a little bit quicker. I think we have to start a little bit quicker and be the focus, but Michigan's a great team as well, so we have to get our minds right and have a good morning practice and take some time to rest and be ready."
Maddy, you had three aces tonight. What are some of your keys to serving tough?
Bilinovic: "Honestly, it's just a matter of putting in the work that I'm doing every day outside of the game, and just trying to implement that into the game, and just being aggressive."
What stands out about playing with Gillian?
Bilinovic: "Gill's awesome. I think that, we've talked about it a lot this season, but the trust aspect is definitely there. And then also, sometimes I lose my voice, and she's right there behind me screaming her head off, so that's a really big role to fill."
On a lot of broken plays and long rallies, the backrow and you guys, especially, picked up some big digs tonight. How crucial is that to help set up the offense?
Grimes: "I think it's also a trust thing, too. When we don't get a block, I think Maddy and I do it well. And the other defenders, too, if they don't get a block, we're there to dig, so I think that's a big part."