No. 15 Penn State women's volleyball beat Michigan 3-1 (22-25, 25-22, 25-22, 25-23) Friday night at Rec Hall thanks to a career performance from senior outside hitter Adanna Rollins, who tallied a match-high 21 kills in the win.
Rollins hit .400 and added 10 digs for her fourth double-double of the season, while Jonni Parker and Kaitlyn Hord had 14 kills apiece. Hord hit .407 and led all players with six total blocks against the Wolverines, who fell to 13-9 on the season and 6-7 in the Big Ten.
Freshman outside hitter Anjelina Starck came off the bench and delivered a huge outing for the Nittany Lions with eight kills and 17 digs. Starck was very efficient with only one attack error and also notched one of Penn State's four aces on faculty/staff appreciation night.
Gabby Blossom and Jenna Hampton continued their strong form with match-high figures in assists (54) and digs (26), respectively. Blossom appeared to be favoring her right shoulder at times during the match, but played through the discomfort and led the Nittany Lions to a particularly impressive .444 hitting percentage in the third set.
Penn State made several spectacular plays to keep the ball alive throughout the match, showcasing tremendous hustle and instincts in big moments that could have swung the outcome either way. Defensive specialists Quinn Menger, Cassie Kuerschen, Maddy Bilinovic, and Keatan Broughton were Penn State's only substitutes outside of Starck. Full box score can be found here.
The Nittany Lions (16-7, 9-4 Big Ten) return to Rec Hall Saturday at 7 p.m. when they host Michigan State in the program's second Silent Set match, which honors and raises awareness for the deaf and hard of hearing community.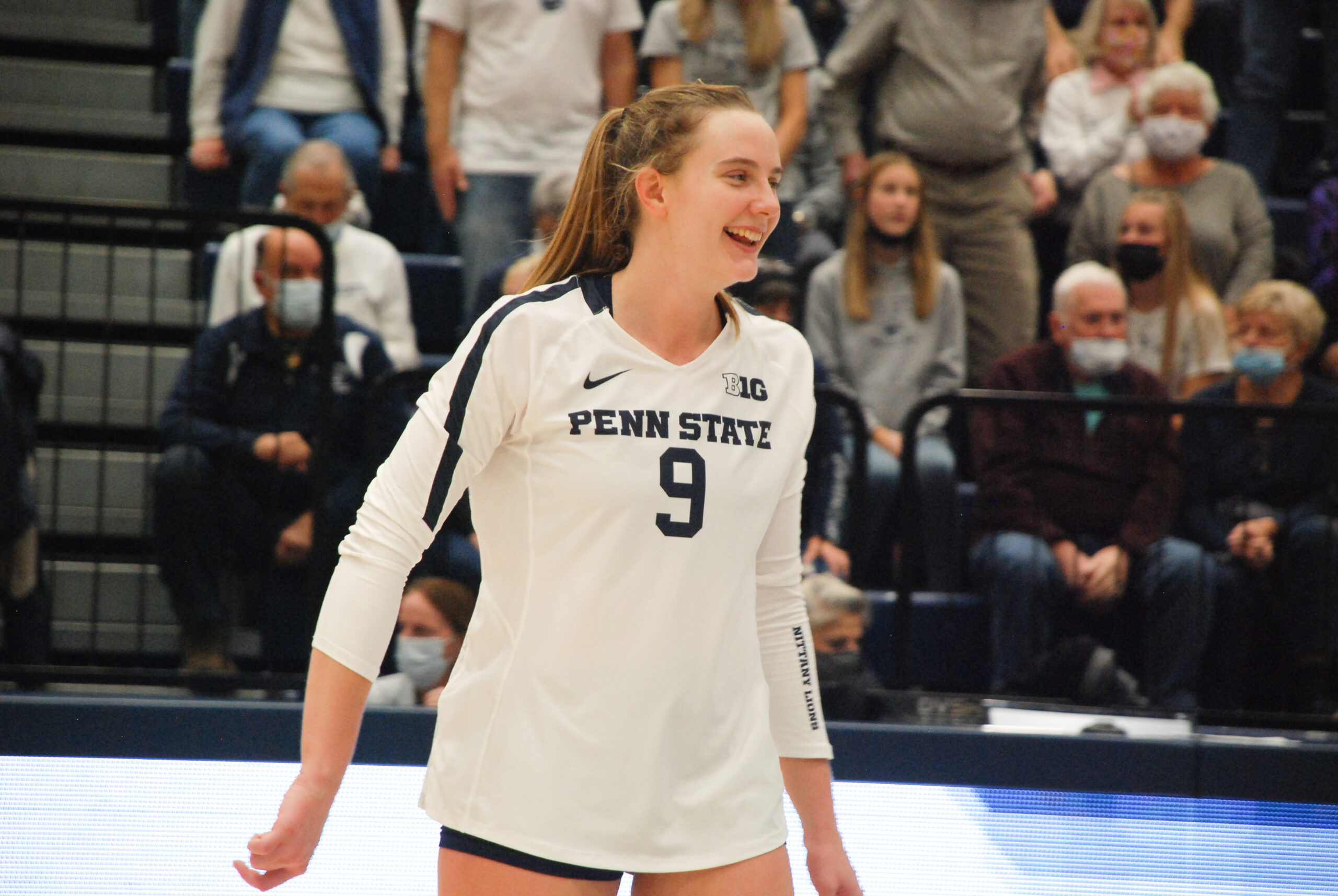 Russ Rose's opening statement:
"I thought it was a tough, two-hour match against a really fine opponent that does the things that they do well. We knew where the ball was going. [Jess] Mruzik and [Paige] Jones are great offensive players, and [Kendall] Murray was replacing a senior who was in a boot, and that kid played terrific tonight. I thought we were saved by Adanna having a career match, at least, at Penn State with 21 kills. I thought Anje came in and did a great job passing and just being steady. It was a good team effort tonight. Way too many mistakes by the back-row players. That seems to be a reoccurring theme, but I'm pleased with the results and especially how these two individuals played."
Anjelina, what are some things you've learned from Adanna?
"I've learned just where to hit the ball, because it's so much different now in the Big Ten. It's harder to score. During practices, I'll talk to her and ask her what she does or what she thinks of when she's hitting and playing defense and passing. That's really helped."
For both players, what makes Penn State fans special?
Starck: "Just always being there to support us. Just coming out, no matter how we're doing, they're always there, they're always cheering. I think that's the biggest thing."
Rollins: "Yeah, I think the atmosphere is really nice. It just feels comforting knowing that the crowd is behind us and the fans are there for us. We know that they're with us, even when we're down or up. No matter what, they're with us. It feels comfortable."
Coach, what happened in the first set and what did you change in the remainder of the game to bounce back?
"Well, I mean, we made a few hitting errors. We hit .200 and they hit .300. You combine the missed serves in that game and that was pretty much the difference, but we started missing serves later as well. Michigan is very good, so I don't think it's a matter of what happened. What happens is everybody in the Big Ten plays with a lot of pride and passion. We go to Michigan next Friday night. We'll see the same thing coming from them."
Coach, what can you say about your team's effort and ability to keep the ball in the air?
"I thought we had two or three plays where we were scrambling well and kept the ball in play and actually won those rallies. That's the difference between winning some games. Obviously, one of the games was deuce and the other three were 22. That's one swing and one missed serve and the other team wins. We have to be better about our serving, but again, I thought it was a great night for Adanna to have a great night offensively for us."
Adanna, what was working well in the third set for you guys?
"I think just trying to bounce back. I feel like we were a little tense out there, so just trying to feel comfortable all the time, just trying to get our groove, and handling the easier plays. That's something we're really trying to work on, so I think those things were a little better for us."
What are some things that you think Anjelina does particularly well?
Rollins: "She's just really steady. I think, as outsides, sometimes we have to be steady and not try to get all the kills, but she does both. She's kind of like a silent assassin, you know what I mean? You don't see her, but she's coming. She does a really good job."
Rose: "And she had 17 digs. She played a great match in a really important time. If she didn't play well, we didn't have another plan B. She was already plan B."