With Blair Brown (13 kills, .273 attack %, 3 aces, 5 digs), Deja McClendon (14 kills, .407 attack %, 10 digs), Arielle Wilson (8 kills, .412 attack %, 6 blocks), and Cathy Quilico (12 digs)  leading the way, Penn State polished off the Michigan Wolverines in three sets (25-20, 25-22, 25-20).  Kristin Carpenter totaled 30 assists in leading Penn State to a .327 attack % for the match.  Freshman Katie Slay may have had her best match of the season, with 5 blocks and 2 kills. 
It was a numbers game in more ways than one, as Penn State moved to 13-2 on the season (3-1 in the Big Ten), extended its Rec Hall winning streak to 82 consecutive matches, defeated Michigan for the 16th consecutive match (and moved to 22-0 against the Wolverines in Rec Hall), and gave Head Coach Russ Rose his 1014th career victory at Penn State.
Michigan, which hit .217 for the match, was led once again by Jr. OH Alex Hunt, who banged down 13 kills on .150 hitting.  Freshman OH Molly Toon had a stellar match, recording 7 kills on .583 hitting, as did 6-4 Fr. MB Jennifer Cross, who also registered 7 kills on .333 hitting.  Sr.  All-American S Lexi Zimmerman totaled 31 assists and 5 kills.  
Match Summary
Here's the Match Summary, courtesy of CBS GameTracker: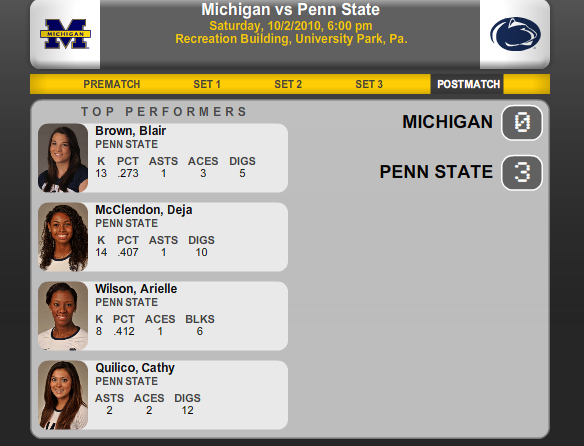 Penn State Stats
Here are the Penn State Stats, courtesy of CBS GameTracker:


Michigan Stats
Here are the Michigan Stats, courtesy of CBS GameTracker: