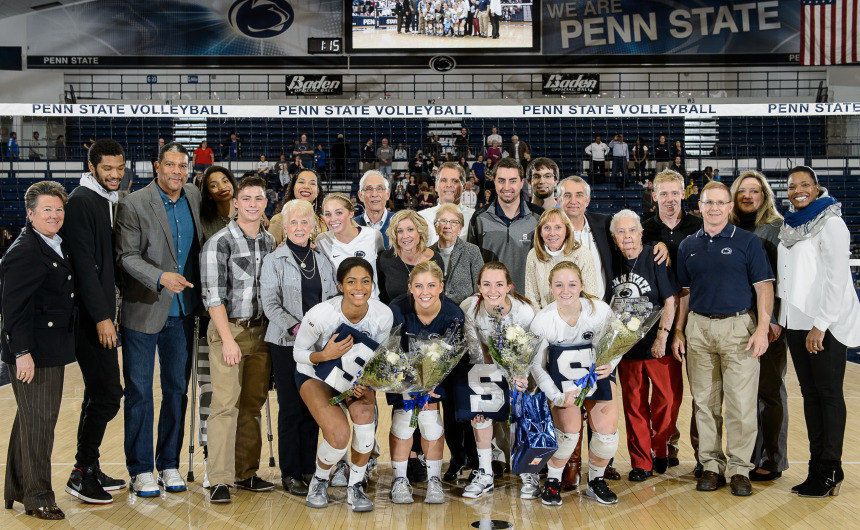 It was Senior Night in Rec Hall, as #7 Penn State (26-4, 15-4 in the B1G) won its rematch with Northwestern (14-16, 6-13 in the B1G) 3-0 (25-18, 25-14, 26-24), and the four Seniors (or, in the case of 6-4 MB Aiyana Whitney, Super Senior, to reflect her fifth-year status), — acquitted themselves quite nicely:  Whitney had 10 kills, a .643 attack %, and 4 blocks; 6-2 OH Megan Courtney totaled 9 kills, 7 digs, and 2 blocks, 5-5 libero Kendall Pierce recorded a team and career-high 12 digs, and 5-4 DS Lara Caraway played in all three sets, serving well and recording 1 dig.
The rest of the team played very well too, as 6-2 So. OH Ali Frantti totaled 13 kills (.500 attack %), 4 digs, 2 blocks and 1 service ace, 6-1 So. RS  Simone Lee pounded 7 kills (.583 attack %) and 3 blocks, and 6-3 So. MB Haleigh Washington added 6 kills and a team-high 5 blocks.  6-0 RS Fr. setter Bryanna Weiskircher was no slouch either, as she guided the Nittany Lions to their season-best attack % in B1G matches (.408) distributing 41 assists and totaling 4 kills, 2 blocks and 2 service aces. 5-8 Fr. DS/setter Wilma Rivera put together another solid match, finishing with 8 digs (second on the team).  Penn State out-blocked the Wildcats 9.0-4.0.
Coach Rose's Post-Match Comments
After the match, Coach Rose was very complimentary of the team's play, and of the crowd of 3,076 (which pushed Penn State's home attendance to 61,282 for the season):
I thought we played really well, especially in the first two games. It was great to have such a nice crowd on a night where the students are gone.  I thought the seniors really had an opportunity to have a special evening.
Coach Rose also commented on the play of Wilma Rivera in recent matches and of her growth as a player:
Alot of times with young kids, they kind of get lost in the whole experience.  In pre-season, I would have said she was going to be the starting setter.  I think she wasn't ready at the beginning of the year.  She's really one of our best defensive players, has a really good volleyball IQ, and really would enable us to go to a 6-2 if we would ever get some good production from some of the guys on the other side of the net in practice.  I feel good about Wilma's ability to go in and play.  We'll see how she does in Nebraska, with 8,000 people screaming, but she's a little more comfortable [now].
The Seniors: In Their Own Words
Each of the four seniors commented on what the evening and the match meant to them.
Kendall Pierce

It was brilliant — it was a really fun experience.  We didn't know how many people would show up, so we knew we had to create our own energy, and the crowd ended up helping us in more ways than thought. To have so many people show up the day before Thanksgiving is really a blessing.
Lara Caraway

The crowd was great tonight.  We played really well as a team tonight.  I think that felt the best for all of us.  With everything else going on for Senior Night, we played as a cohesive unit.  We all got along, we had energy — that's something I think we've been lacking, and I think we did really well on that today.  I'm really happy with that.
Aiyana Whitney

It was an emotional day, for sure.  The crowd was awesome — they helped us alot — and I think we really played together tonight, which is definitely something [Coach Rose] has been harping on in practice.  So it was awesome.

Megan Courtney
Being a senior on a team like this, that's had its ups and downs, but we're on a roll right now, and [we're] having people that have been able to step up in big moments.  I think Ali [Frantti] played phenomenal today.  I thought Bryanna [Weiskircher] played great too.  And [people are] making plays that they're used to making, then they may have lost their confidence and they haven't been making in a while.  So it was awesome to see that people that we expect alot from were able to handle the load and really do well tonight.  And there's no better time to do it . . . it's great to know we're all firing on all  cylinders, and we're not going to let our senior year end.  I think it was really good to have the collective fight that we had tonight.
Match Stats
(Courtesy of GoPSUsports.com)