Penn State opened its weekend homestand with a workmanlike win over Michigan State, 3-0 (25-21, 25-17, 25-17).  Arielle Wison (14 kills, .524 attack %, 3 blocks), Deja McClendon (14 kills, .276 attack %) and Blair Brown (10 kills, .333 attack %, 5 digs, 5 blocks) led the way for the Nittany Lions.  
Other than 5-11 Jr. OH Becca Zlabis , who led the Spartans with 11 kills (.250  attack %),  MSU struggled, as 6-1 Jr. S Natalie Emro (6 kills, .200 attack %) and junior Kyndra Abron  (6 kills, .143 attack %) were the next two most productive Spartan attackers.  Emro led Michigan State with 19 assists, while 5-4 RS So. DS Mandi Karaba  was tops on the Spartans with 7 digs and 6-3 RS Fr. Alexis Mathews had a team-best 5 blocks.  Penn State hit .293 for the match, while holding Michigan State to .093 hitting.  
Here's the Match Summary from GameTracker: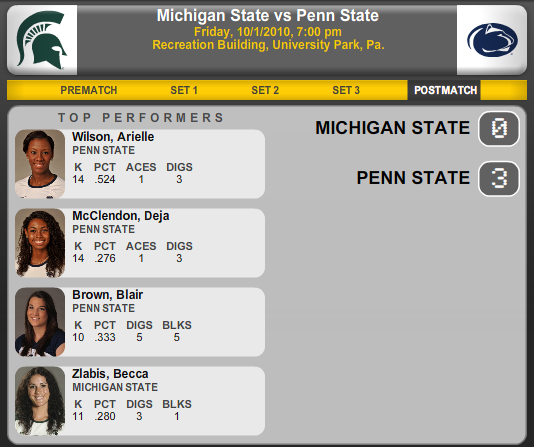 Match Stats
Here's the match stat sheet, courtesy of gopsusports: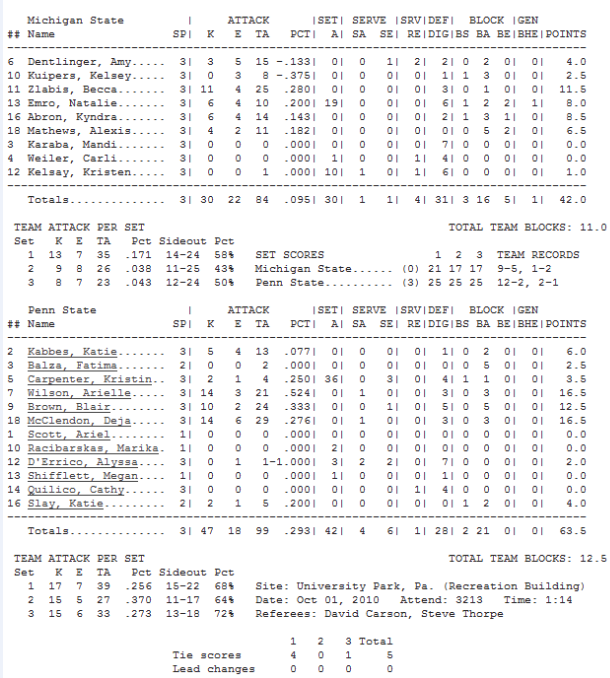 Video Feedback 
This was our first match watching streaming video from Big Ten Network on Demand.  We'd rate it as follows:
Video: B+. When the production team had the HiDef switch in the "On" position, the video and sound were great.  Occasionally (when there was a time-out, or break between sets), the switch appeared to have been set in the "Off" position, and everyone was pixelated (though there were no 6-0 foot white rabbits in sight, only a guy dressed in a white cloth costume). 
Announcers: B.  We think the announcers did a pretty good job — sometimes very good. (The biggest gaffe we noticed was when one of them said that Kristin Carpenter was a pretty good outside hitter "in her amateur days."  Ummm, guys, she's still in her amateur days). 
However, in Set 2, the Big Ten Network scoreboard disappeared, and the announcers decided not to tell viewers the score, until it was 15-6.  Set three was better, in that the scoreboard reappeared, and the announcers did give the score from time to time, but the scoreboard was wrong as often as it was right, so viewers were still left with lingering doubts as to what the score really was.  The biggest gaffe  
All in all, we're glad we forked over the cash (or, perhaps more accurately, we think it will be a pretty good deal if they can maintain the video quality).