Quote of the Day
"I think we're fortunate to have the draw we have, but I feel like we earned a draw like this because we've challenged ourselves to play good teams,"  "We've learned to be more stable and we're building confidence, so our practices will now be focused on winning six more games one at a time." Penn State's Sr. setter Micha Hancock, in an interview with GoPSUsports.com.
NCAA 1st & 2nd Rounds
Date (Time)
Opponent
Site
Media
Coverage
12-06-14
7:30 p.m. ET
Dayton (30-5)
Rec
Hall





The Penn State Women's Volleyball team didn't get much time to celebrate Saturday night's 3-0 win over Nebraska, as Sunday evening the NCAA announced the brackets for the 2014 NCAA Tournament.  Penn State earned the #5 seed, and if they progress past the first two rounds — to be held Friday, December 5th and Saturday, December 6th, will be sent to the Louisville Kentucky Regional.
Penn State will kick off the tournament by hosting MAAC conference champion Siena (19-14) on Friday at 7:30 p.m. ET at Rec Hall.  The opening contest, at 5:00 p.m. on Friday, will feature Dayton (29-5), which won the Atlantic 10 championship, versus American (26-6) , winner of the Patriot League. The winners of those two matches will face each other in the second round on Saturday, December 6th at 7:30 p.m. in Rec Hall.
This will be Siena's sixth NCAA Tournament — their first since 2008, when California defeated them in straight sets. Siena and Penn State have met once in the NCAA Tournament, in 2007, a match won by Penn State, 3-0.  Siena will be hoping to break two streaks on Friday: it has lost all five of its previous NCAA Tournament matches, and has never won a set (0-15) in the NCAA Tournament.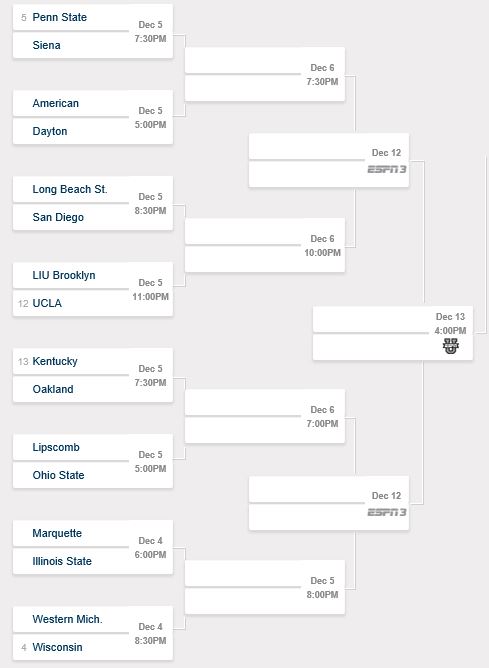 ______________________