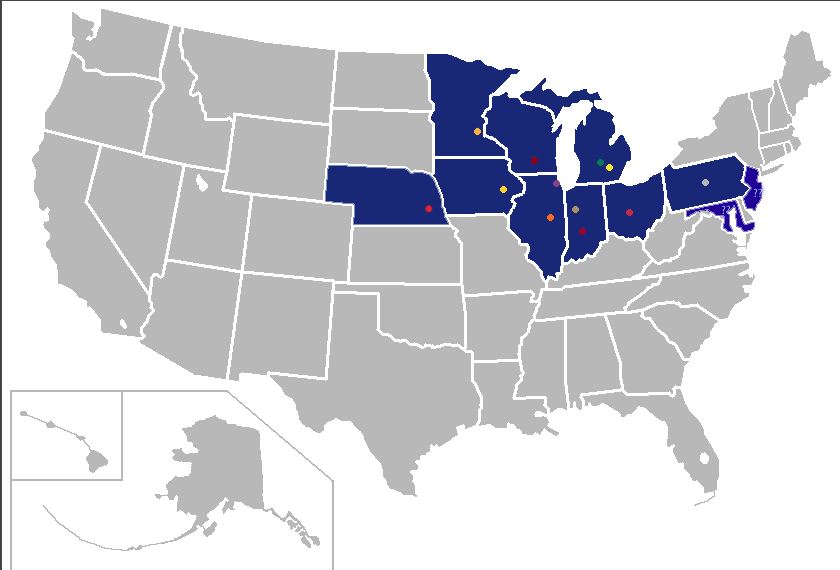 Tough Serves by Courtney, Fuller, Gonzalez, and Racibarskas Lead Lions to Victory
This one wasn't going to be easy (as if any of them truly are), and if anyone thought it would be, they saw the error of their ways when, after the Nittany Lions had won the first set 25-16, Purdue took set 2 25-22.  But Penn State dug deep when it counted, and held on for the 3-1 win (25-16, 22-25, 25-19, 25-21) over the #21 Boilermakers.   
Once again, Penn State was led by 6-4 Jr. RS/Opp Ariel Scott's 18 kills (.548 attack %), and 6-1 Jr. OH Deja McClendon's 13 kills (.250 attack %). McClendon was tops for Penn State with 9 digs, while 5-6 So. L Dominique Gonzalez had 8, as did 6-2 Fr. OH Megan Courtney (who also had 8 kills on .350 hitting).  
The Nittany Lions hit .317 as a team, with 6.5 team blocks, while holding Purdue to a .157 attack %.  The Boilermakers had 6.0 team blocks.
Match Stats
(Courtesy GoPSUsports.com)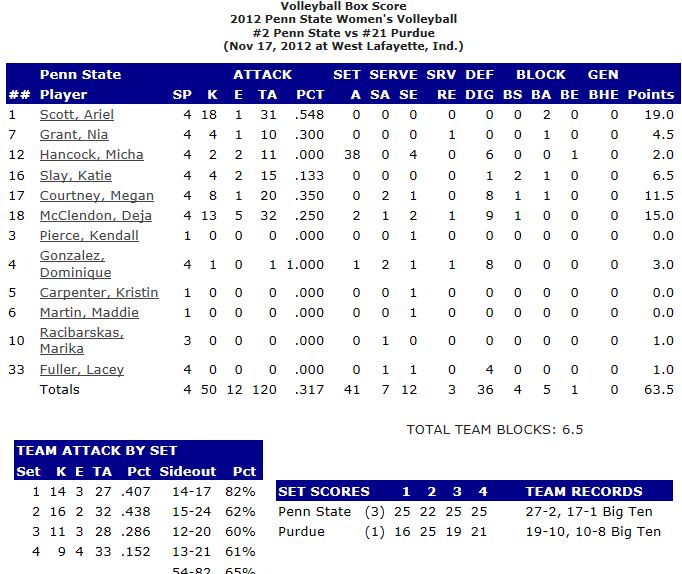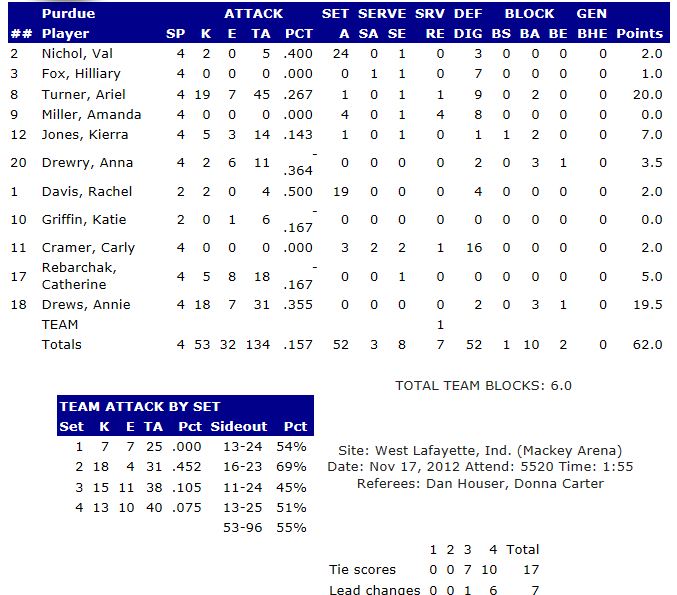 Is the B1G Getting B1GGER? 
Some of you may have noticed that our Big Ten map is different from the one we featured yesterday.  How? It includes Maryland and New Jersey.  That's because ESPN is reporting that the Big Ten is in discussions with both the University of Maryland and Rutgers to join the conference, with further details (or a bucket of cold water to extinguish the rumors) expected this coming Monday.   
Sensible people realize the only relevant question about this possible expansion is "What will it mean for women's volleyball?" and that to answer that question intelligently, one really needs to dig deeper and answer the fundamental question of "What will it mean for Penn State women's volleyball?"  We'll wait until Monday (at the earliest) to answer either of those questions, but for now, we know at least one difference it would make for Penn State: more banners in Rec Hall.  Just when they had the new ones lined up so well.